Author:
OSD
[ Edit | View ]
---
Date Posted:
01/26/10 16:43:37
---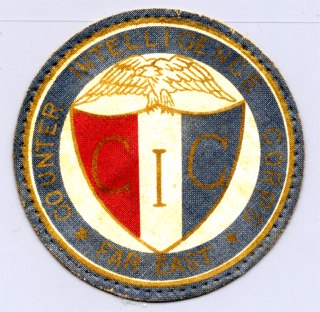 CIC Patch used in World War II worn by CIC Agent (Sergeant) Albert L. Slater of Niles, KS.
...................................................................
On 25 August 1944 in Brisbane, Australia, the 441st Counterintelligence Corps Detachment, and one subsection, the 319th Military Intelligence Company, was organized under TO&E 50-500. (It later became the 441st Military Intelligence Detachment (Airborne in 1966). The responsibility for the conduct of counter-intelligence operations within units or agencies of the United States Army in Australia was vested in the Commanding General, USAFIA (original counterpart of the United States Army Pacific).

On 20 November 1944 the 441st Counterintelligence Corps (CIC) Detachment was reassigned to the New Guinea campaign with the following missions: Cryptographic and disaffection investigations, ship paneling and allied port security measures including the checking of native craft moving along the coast, investigation of incidents and sabotage cases, and provisions for the general security of installations. The detachment inaugurated a highly effective native police-boy system in cooperation with the Netherlands Indies Civil Administration. These youths contacted village chiefs, led reconnaissance patrols, helped interrogate native suspects, and assisted in special investigations and in maintaining an informant net.

The balance of the New Guinea campaign saw a repetition of previous actions by the 441st. The detachment landed at Noemfoor Island, Sansapor, New Britain, and Morotai. On the eve of the invasion of Leyte Gulf, the 441st could look back on ten months of 1944 during which its officers, agents and other CIC detachments from other units had functioned in staging, combat, and post-operational phases with 15 divisions, one special task force, one regimental combat team, four corps, and two armies.

The battle of Okinawa opened with the initial assault on 1 April 1945. Fourteen CIC agents lost their lives in support of the Okinawan operation. Overall, the CIC conducted its mission with great skill and appreciation of the poten­tially explosive situation on Japanese home territory.

Training and planning were under way for CIC participation in operation "Olympic" and "Coronet", the invasion of the Japanese homeland, when VJ-Day came. Armies, corps and divisions that were geared for combat moved into Japan to occupy it peacefully. CIC detachments accompanied the tac­tical units into mainland Japan, but their mission was not clear, since no one knew how the Japanese public would react to the American occupation. The 80th Metropolitan CIC detachment landed at Yokohama on 2 September 1945 and advance elements of the 441st CIC detachment on 15 September 1945. The 441st CIC detachment entered Tokyo and officially set up headquarters.

On 26 September 1945, I Corps units landed at Wakayama, accom­panied by a CIC detachment which moved into Osaka, Kyoto, Nagoya, and other Japanese cities. By 1 November 1945, it was apparent that the occupation was to be peaceful, and CIC detachments were detached from combat units and set up on a regional and area basis.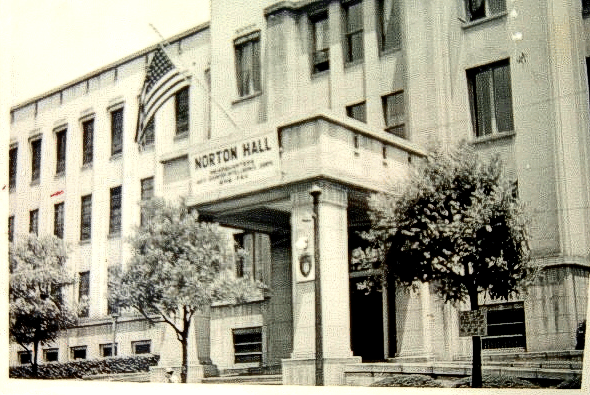 441st Headquarters, Norton Hall, Tokyo, 1946
..........................................................................................
At the end of World War II, the 441st Counterintelligence Corps (CIC) Detachment was assigned to Japan. Along with the 319th MI Company, the 441st proved to be the most important operating agency of the Civil Intelligence Section. These two organizations formed the major investigating agencies in the field. The missions included: covering foreign espionage, treason, sabotage, sedition, subversive actions, security violations, and any act inimical to the policies of the occupation forces.
............................................................................................
441st CIC Detachment (Theater Headquarters)
Galloway, Dennis R
Carlson, Russell
Wilkins, Lloyd H
Stewart, Roger S
Earle, Richard G
Colbach, Roman H
Wilson, Alton A
Blackley, Horace A
Bellatti, Walter R
Johnson, Arthur W
Warren, Edmund A
Corkery, Gerard J
Major, Thomas H
McCloskey, John D
Brooks, Walter
Hogg, Calvin R
Cartwright, Peter C
Maloney, Peter J
McNally, Robert W
Malapit, Mariano S
Evans, William D
Bank, Vernon C
Reyes, Edward
Murphy, Francis J
Wickson, Edward J
Born, Harry E

[ Post a Reply to This Message ]