Author:
PHOTO of the Parks in happier times.

[ Next Thread | Previous Thread | Next Message | Previous Message ]
---
Date Posted: Friday, April 13, 02:40:27pm
In reply to: Actor 's message, "Archive: Larry Parks, Apr. 13, 1975" on Friday, April 13, 01:30:09pm

---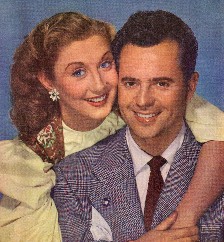 ...While appearing in Los Angeles, Betty Garrett was invited to perform a comedy sketch at the Actor's Lab in Hollywood. It was there she met Larry Parks, who was producing the show. He invited her to join him for a drink, then drove her to the top of Mulholland Drive and told her, "You're the girl I'm going to marry." During the next two weeks, the two were inseparable. Garrett departed for a nightclub engagement in Chicago. Eventually Parks joined her and introduced her to his mother, who lived in nearby Joliet. Parks returned to Los Angeles to begin filming Counter-Attack and Garrett continued to New York to prepare for Laffing Room Only with Olsen and Johnson, but before rehearsals began she called Parks and proposed marriage. ...


...The two were wed on September 8, 1944, four months after their initial meeting.
Actor Lloyd Bridges served as best man. Garrett and Parks spent a month honeymooning
in Malibu Beach, and then lived apart for the next two years while pursuing their careers.

Garrett and Parks remained married until his death in 1975. ...


...Barret was survived by two sons actor Andrew Parks, and composer Garrett Parks
and his wife Broadway actress Karen Culliver, and their granddaughter, Madison Claire Parks.

Link ...
https://en.wikipedia.org/wiki/Betty_Garrett#Personal_life

---
[ Next Thread | Previous Thread | Next Message | Previous Message ]