Author:
Tough supporting TZ actors like Ch. Lane and Estelle Winwood were older.

[ Next Thread | Previous Thread | Next Message | Previous Message ]
---
Date Posted: Friday, August 02, 12:08:20am
In reply to: Colt 's message, "Aug.2nd~Happy Birthday! Actor Richard Fancy (76) Actress Joanna Cassidy (74) Actress Kathryn Harrold (69) Actor W.K. Stratton (69) Actor Butch Patrick (66)" on Thursday, August 01, 09:06:05pm

---
American retired actor appeared in more than 200 TV series,
films and plays in his career spanning 52 years. ...



Nehemiah Persoff
(born August 2, 1919)

Early life …
Born in Jerusalem, Persoff emigrated with his family to the United States in 1929 and graduated from the Hebrew Technical Institute in 1937. After serving in the United States Army during World War II, he worked as a subway electrician, maintaining signals while he began to pursue his acting career in the New York theater. In 1947, he was accepted into the Actors Studio , and was one of the 26 members of the beginners' class taught by Elia Kazan, along with James Whitmore and Julie Harris. He began his acting career in 1948.

Acting career ...


...One of his first notable roles was as the gangster boss "Little Bonaparte", a parody of Benito Mussolini in Billy Wilder's film classic Some Like It Hot (1959). He also appeared in supporting roles in films such as The Greatest Story Ever Told (1965) and The Comancheros (1961). In the film Yentl (1983), Persoff portrayed the father of Barbra Streisand's character. …



He appeared in the comedy film Twins (1988), and in the American Tail animated-film series as
'Papa Mousekewitz'. His last movie was 4 Faces (1999), which was the last film to be directed by Ted Post. …



His many television credits include Five Fingers ("The Moment of Truth"), The Big Valley ("Legend of a General", Parts I & II, episode), Alfred Hitchcock Presents ("Heart of Gold" episode), The Twilight Zone ("Judgment Night"), The Untouchables, Naked City, Route 66 (two episodes), Seaway ("Last Voyage" episode, 1965), The Legend of Jesse James, Voyage to the Bottom of the Sea, Gunsmoke, Gilligan's Island, The Wild Wild West, The High Chaparral ("Fiesta" episode, 1970), Hawaii Five-O (7 episodes), Ellery Queen ("The Adventure of the Pharaoh's Curse" episode), Mission: Impossible (3 episodes), Adam-12 ("Vendetta" episode), The Mod Squad and Barney Miller (2 different characters in a total of 3 episodes).

Persoff in classic TWILIGHT ZONE episode 'Judgment Night' (Dec. 4, 1959)…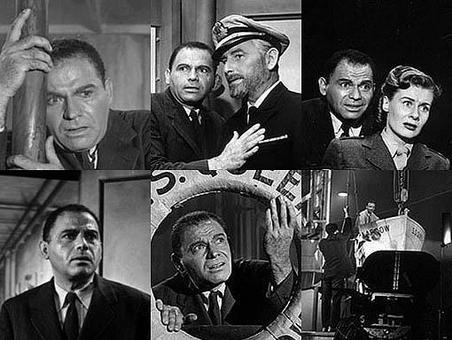 Personal life …
In the mid-1980s, when health problems decreased his acting
workload, Persoff pursued painting, specializing in watercolor. …



He retired from acting in 1999 and devoted full-time to his painting,
and currently lives with his wife, Thia, in Cambria, CA. They have four children. …



Links …
https://www.imdb.com/name/nm0675490/
https://en.wikipedia.org/wiki/Nehemiah_Persoff
http://www.aveleyman.com/ActorCredit.aspx?ActorID=13689

---
[ Next Thread | Previous Thread | Next Message | Previous Message ]