Author:
Melbourne, Australia

[ Next Thread | Previous Thread | Next Message | Previous Message ]
---
Date Posted: Thursday, August 15, 12:07:17pm
In reply to: Rona Newton-John was once married to Olivia's GREASE co-star Jeff Conaway (1950-2011). 's message, "(Not so) FUN FACT: Sister Rona was diagnosed with brain cancer in April 2013, dying a month later -on their mother's birthday. Their older brother Hugh (a doctor), died 8 weeks ago!" on Thursday, August 15, 11:45:04am

---

Olivia Newton-John devastated after death of her brother Dr. Hugh Newton-John. …
by Sarah Carty / Senior Lifestyle & Entertainment Producer
May 23, 2019

Olivia Newton-John has devastatingly revealed that her brother, Hugh Newton-John, has passed away.
The 70-year-old Aussie star took to her Instagram to share the sad news with her 18,000 followers.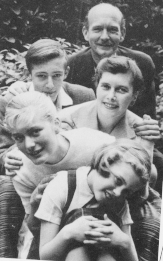 "My dear, sweet, gentle, clever, brother Hugh passed away May 7, 2019,
in Melbourne, Australia after many years of decline. I love him so and will miss him terribly.

Love & light, Olivia,"

She went on to say that Hugh, who was an infectious diseases clinician at Fairfield Infectious
Diseases Hospital in Melbourne, passed away after a 'long battle with debility and decline'.

"Hugh was also a talented musician and artist who shared his gifts with many
friends, colleagues and associates throughout his entire life," she continued.

"As a clinician-investigator Hugh led many key research projects, particularly among patients requiring care in the hospital's intensive care unit. These included the optimal means of managing tetanus, helping identify the link between recent Campylobacter gastroenteritis and the subsequent development of Guillain-Barre syndrome and improving the ventilation methods for polio patients who required long-term ventilation, as well as developing new approaches to preventing airway obstruction among patients with chronic upper airway weakness."

Hugh was also a keen photographer and 'enjoyed recording patient stories about their illnesses and how they managed'.

"Recent years have not been kind to Hugh, but although he is now at peace,
his memory and legacy will live on among those who worked and trained with him
and the many patients who benefited from his fabulous care," Olivia finished the post.

Olivia has had her own health struggles and is currently battling cancer for the third time.

Back in September 2018, the star told Sunday Night she had decided to treat this cancer with 'modern'
medicines and natural remedies, as well as cutting out sugar completely and taking cannabis oil for the pain.

She said the treatment was going 'really well' and she's optimistic for the future.

Link …
https://www.findagrave.com/memorial/199412910/hugh-newton_john
https://au.lifestyle.yahoo.com/olivia-newton-johns-brother-hugh-newton-john-passes-away-040329933.html?guccounter=1&guce_referrer=aHR0cHM6Ly93d3cuZ29vZ2xlLmNvbS8&guce_referrer_sig=AQAAANThxyQmhmNfeULrb74ZODWFxuqpDFyoCCRF14hb2_s5bEes6LZtMzr2biXkChyVOaw-U1j3ZW_-jcb2DVeN5YgwNhRozP4kPlP_LbACN-idLDX2SN8siTrGluOzkZWSaTBXsi5ZocXfya8NFDgjMjuuSRmPm2sVrfdezSgdT0vf

---
[ Next Thread | Previous Thread | Next Message | Previous Message ]