Author:

Ashley1017 (Reminiscing)
[ Edit | View ]
---
Date Posted:
19:43:41 05/12/22 Thu
---
Brianna's Birthday
Hello everyone! In my last two blog posts, I mentioned my daughters birthday, which happened in March, and wanted to know if it was worth recalling. I was reached out to by a few mothers, so, allow me to recall the date!
I won't name which day in March it is, but in the days leading up to her birthday Brianna's excitement only grew. It was a big year for her, and she was definitely excited to celebrate!
There was some pre-birthday bratty-ness, however. On the morning the day before the party, I wake up to a warm morning. When my eyes open, I find a piece of paper taped to my dresser, detailing exactly what Brianna wants for her Birthday, including a "Thanks Mommy!" Written at the bottom.
First of all, she's not supposed to get out of bed until I come get her to see if she's wet. Also. The day before was quite late for such a long list, and I had already bought most of her gifts! There were some small makeup items which I went out to buy after she was changed, but there were some larger items which I definitely couldn't buy for her such little time, nonetheless pay for after I had already bought her so many!
When I told her this, I got the classic pleading routine, and she even started whining about how I liked Heather more!
"No sweety, but Heather DID give me a birthday list a week before, instead of a day! We need to work on your preparedness. It would probably help with your grades, too!"
Brianna blushed, remembering the C's and D's on her report card last week. She was in diapers because of them, and would be for another week. But, I let it go, and went on with the day.
We had already sent out plenty of invitations to Brianna's friends for her party tomorrow. It would take place here, and I figured the girls would stay busy with the trampoline we have and some party games I had planned.
Brianna wanted a pink themed party, so the whole house was decorated in pink streamers! I was hanging some on the sides of the table when I hear Brianna approaching from behind.
"What is it, sweety?", I say, not turning away from where I'm taping one end of the pink streamer.
"Mommy, um, I don't…"
As she fumbles over her words, I turn around to face her.
"Can I not wear my diaper for the party?" She blurts put, fingering the edge of her skirt. Sensing my hesitation, she quickly keeps talking. "I can have it back on right after, but I don't want my friends to see!" She pauses. "I can wear it for a day extra!"
I finish taping the streamer, and undo the roll to cut another while I think. I want her to have a fun party, and I suppose she's earned it. How about some regular checks?
"Alright Brianna, I'll change you into panties tomorrow morning," (I hear a little squeal of excitement) "but, diapers go right back on after the guests have left, and every hour I'll be calling you to the restroom to have your panties checked.
I stand up, still unraveling streamer, and look at Brianna, who's smiling but attentive. "If I find even a hint of wetness, the consequences will be VERY big. Do you understand?"
She comes in, and I hug her as she squeezes my chest. "Thank you mommy! I won't wet, I promise!" She releases me, then skips upstairs. I laugh a little as I watch her diapered bottom skip happily away, and finish hanging the streamers.
The night before I give both the girls dinner, and give Heather permission to go over to a friends house tomorrow during Brianna's party, otherwise she'd probably be bored! She fails to put her plate away, though, and I have to call her back to do so.
After making sure Heather is in bed, I change Brianna into a fresh diaper for the night and zip her into footie pajamas. The feet are always a little tight, which is problematic, but only causes a slight hiccup before I put her to bed.
That night, I wrap all of her presents and set them carefully beside my bed. We'll probably open some tomorrow, but I'll save most for after the party!

After a calming nights rest, I wake up to a brilliant morning and go to Brianna's room first. She's already awake, all excited! I unzip her pajamas and find she's made quite the mess. Hopefully that will be all her mess for today!
I get Heather up next, and send her off to her friends house after a breakfast of pancakes. Brianna eats a whole lot, the syrup dripping slowly down her pajamas, and I have to remind her that she won't be in a diaper today! She continues to eat, with an absenminded "Mhm!"
When the party time is close, I have everything out- food, chocolate dipped strawberries for the girls, balloons, even a little chocolate fountain! Costco does sell some interesting items! I make sure the trampoline is sweeper off, and as I come in from the backyard Brianna is coming down the stairs. She's dressed in a pink t-shirt and black cloth leggings, with a black short skirt on top. There's no bulge in the back and front this time, though- just the smooth outline of her bottom!
Brianna is very excited, and greets the first guest with hugs. I talk to all the mothers as they flow in, how they've been getting along, and how their daughters are doing. Most of them spank, and some use diaper punishment, so it was nice talking to mothers who were open to that. If you need advice or anything like that, email me at jaybird2657@gmail.com .
Anyway, the Mothers are soon to filter out, with the promise to be back in a few hours. Then, it's just the girls, who mill around the kitchen excitedly! They've dropped their presents off at the counter, along with cards, and start digging in to the chocolate.
"Alright, girls, save some for later! Let's go bounce on the trampoline, okay?"
They oblige excitedly, with Brianna leading the charge into the backyard. They all hop on the trampoline, and it's fun to watch them bounce!
It was nice to see Brianna having fun with her classmates and friends! While they were outside, I set up the next party game- Pin the Tail on the Donkey. I had done it so much as a child, and I'm sure Brianna would enjoy it!
As I finish setting it up, I hear the girls start to come back into the kitchen.
"Welcome back, girls! Why don't we play some Pin the Tail o-"
"We're gonna open presents now," Brianna cuts me off, smiling a little strangely. "We already decided."
I hear a little snicker from the small crowd of girls. "Besides, who wants to play pin the tail on the donkey anyway?" One of the girls says.
Im still standing there in my apron, a little shocked by their attitude.
"Hehe, exactly!" Brianna says, taking a seat in front of her present pile, and the girls crowd around.
Im shocked further as Brianna picks up a bag with a card on top, and tosses the card aside. She quickly dives in the bag, and removes a small makeup set. "Hm, I already have LOTS of this!" She says nonchalantly, before setting it aside.
I start to get a hint about what's going on. Maybe.. a distraction?
"Brianna, take a break from present opening and come with me. Your friends can enjoy their snacks!"
I see Brianna freeze while reaching for the next present, but for just a moment, and I wouldn't have noticed if I wasn't staring at the back of her head. "Mm, no thanks. I don't need to."
This puzzles her friends a little, but she continues calmly pulling a present towards her.
"Brianna, Now."
I don't say it loudly, but with emphasis and volume. "Ugh, fine!" She pushes off from the table so she scoots back, and gets up out of her chair. I turn and walk swiftly to the stairs, ensuring I can hear her footsteps behind me before ascending up them.
The noise of the party grows quieter as we reach the top. But, I open the bathroom door for Brianna and step inside before saying anything.
"Brianna, how could you talk to me that way? And you're not being nice to your friends by ignoring their card!"
She turns around, her arms crossed and her feet firmly planted. "I'm not even being mean! It's not like cards matter, either." She stamps her foot. "And I don't need to be checked!"
"I'll be the judge of that, young lady," I chastise, and she turns around, arms still crossed, so her bottom faces me. I see the hint of a bulge in the black fabric, but say nothing.
"This is so stupid! My panties are completely dry," as I pull her skirt off and place my hands on her waistband, she adds, "Lets just go back to the party!"
"Mhm!" I gently pull down her leggings. Her satin polka-dot panties look fine, until.. a big brown bulge, about the size of a golf ball, bulges out from her lower bottom. I can tell the fabric is wet and sticky, and wrinkle my nose in disgust.
"Mommy, it's nothing!" She says defensively. "Just let me go back to the party!"
"Oh, we won't be going back to the party for a little while, Brianna, so get very comfortable!" I pull up her leggings tightly so they go back over her soiled panties. I stand up and take her arm to lead her into her bedroom.
As I pass the stairwell, I can still hear sounds of the girls enjoying themselves with the chocolate fountain. It should keep them busy while Brianna gets ready!
I take her immediately to the bed, and remember the new spanking position I had developed earlier. I sit on the edge of the bed, and extend one of my knees. I turn Brianna around and face her towards me, and then, lifting her by her waist, set her crotch down on my knee. She's close enough to wrap her hands around my waist so she doesn't fall off as I start to bounce her in her dirty leggings.
"Oooh, mommy, this feels terrible!" She whines , and I bounce her more, feeling her dirty panties squish. I place my hands on her lower back, and with the other lay down spanks on each of her bottom cheeks once every two or three bounces.
"Hmm, I'm sure it does! How does it feel to squish in the little mess you've made?" I continue bouncing her and laying down spanks. "Mommy, please, it's spreading around!" She talks close to my ear, and I can hear her quick breaths as she receives each spank. It's not the same as spanking her bare bottom, but I feel it's a worse feeling combined with bouncing in dirty panties! It makes a dull, solid sound, compared to the sharp slap of the bare bottom.
Once I feel she's bounced enough, I take her off my knee and set her on her back on her bed. Her hands go to her crotch, and she grimaces.
I fold my arms. "Do you need some spanks on your bare bottom before diapering time?" I smile and she shakes her head. "No, just the diaper, please, mommy!"
I smile, realizing I just got her to ask for a diaper, after her disrespect downstairs.
I go over to her dresser and remove the biggest diaper I have for her; A Rearz Princess (email me if you need the link!). It's pink and extra padded, and when she sees me withdraw it she covers her face with her hands. "No mommy, not the Rearz!" She whines, shifting her weight back and forth.
"Oh yes, I think it's exactly what you need today!" I bring over wipes, powder and cream, and set it all down beside her. I start to carefully remove her leggings when I hear a soft knock on the corner of the door.
I turn around to see it's one of Brianna's friends. She's blonde, and her eyes stare widely at Brianna, whose diaper lies beside her chest.
"Can I help you, sweety?"
"Um, yes-" she stumbles, but recovers her words quickly- "I was wondering where your bathroom is."
I point to the door across from Brianna's. "Right in there, sweety."
"Oh, thanks."
She departs quickly, and I hear her shut and lock the bathroom door, flicking on the light. When I turn back to Brianna, her face is back under her hands!
I pull a few times until her leggings slide to her ankles, and from there i remove them and set them on the floor. Then, I peel off her panties, carefully, and pull them off of her legs.
Her bottom is nice and pink around the top where she had been spanked.
"Ooh," I realize I didn't put a towel down! "Well, we'll just have to hope you don't stain your nice pink sheets!"
Brianna groans, and peeks out from under her fingers as I lift her bottom up, and slide the Rearz under it. That should protect the bedspread as I clean her up!
I won't go into the details, because every parent knows what it's like to clean a bottom. Once there's no trace of her accident, I powder her and apply cream, before lifting the front of the diaper and wrapping it tightly around her crotch. Once the sides are secured, I go to put the materials away, while Brianna crosses her arms.
"Okay, I have a diaper now," she says a little whinily. "Can I have my leggings back and go back to the party now?"
I pause before turning back to her. "You know, Brianna," I say calmly, "after alllll that brat times at the party, you'd think I'd want to punish you further!" I see her cross her arms a little tighter, and I set the powder down on her dresser with a thump. "But, I think it takes a lot of work to be bratty, so, I think you should open one of my presents early instead! How does that sound?"
She pauses, a little confused. "Alright, I guess?"
I instruct her to stay put while I go to my room to grab a box labeled "To Brianna, From Mommy." It's already wrapped, and I carry it ceremoniously into Brianna's room, where she sits on the edge of the bed in her shirt and diaper.
"What is it?" She asks, but I just set it down in front of her. She gets up, and sets the box on the edge of the bed, her diaper puffing out as the padding absorbs air in the back.
She opens the box, and carefully removes what I had spent so long trying to find- a little denim Princess leotard! It's tight and has a zipper in the front, along with the embroidered words, "Princess". The denim material turns into a frilly denim skirt, under which the leotard bottom can be connected at the crotch with two white buttons! (I dig it out of her closet recently- here are pictures!)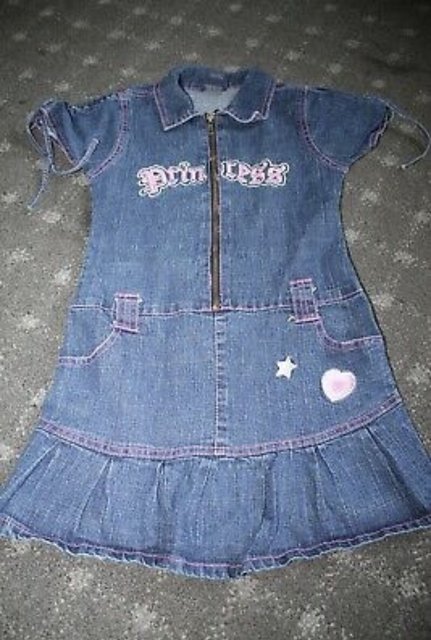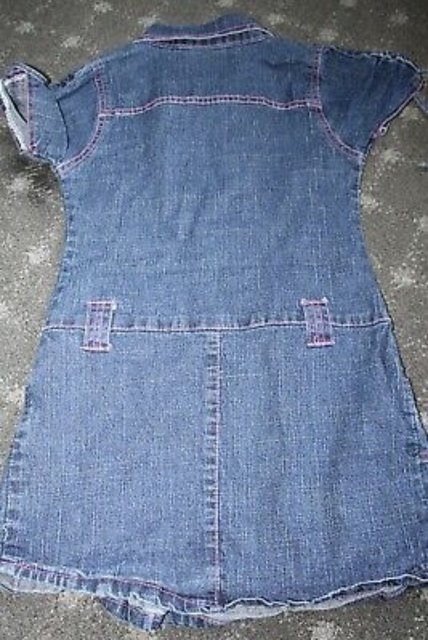 She stamps her foot, and her thigh jiggles and she examines it. "Mommy, I'm not gonna wear this! It'll show my diaper!"
"We'll, you've already proven that you need one, so why hide it?" Her eyes widen a little. "Plus, it'll make Mommy know that you're her baby who will not be bratty to her at all!"
She scowls as I pull it over her head after unzipping it, and shifts uncomfortably as I button it around her big diaper, which is very clearly visible under and around the skirt! The back is nice and puffy, and bits of pink from her diaper peeking out show where the cloth ends and her thighs begin.
"Now, let's rejoin the party!"
"Mommy, noo!" She pulls back against my arm, one hand on her bottom, but I tug her enough that she's dragged along. The blonde girl left the light on in the bathroom, which I quickly flick off before taking Brianna downstairs.
"Alright everyone," I announce as I start to hear the party chatter. "Time for cake!"
It's met with cheers and yays, which turn into giggles as I emerge with Brianna in tow.
I let go of her arm and go to the fridge to pull out the ice cream cake. As I take it to the table and light candles, Brianna stands, knees bent, among the girls, covering her diapered bottom with her hands as the other girls touch her skirt and sleeves. Words like "diaper" and "dress" float around ubiquitously. They continue to giggle, even as Brianna (glad to sit down) blows out her candles and we all cheer. It's a nice big sheet cake, with happy birthday and Brianna's name inscribed in pink frosting.
As I turn the lights on after the cheers subside, I'm quick to get everyone's attention. "Now, girls," I say, standing so they surround me. "Before we all have cake, I think Brianna needs to be fed first." I take some plastic forks out of the package and begin doling them out to the girls. "Let's all help her get the nutrition she needs!"
The girls take forks excitedly, before jabbing them into the side of the cake and taking out large chunks. I turn Brianna's chair around, and the large group of girls starts lining up to feed her. I stand by to make sure she accepts each and every bite, and she crosses her arms defiantly, even as she has mere seconds to swallow before another piece of cake is shoved in. The girls quickly deliver their bite, then run back to the cake, grab a big forkful, and get back in line. Before long, the line has turned into a crowd, and Brianna is having forks of chocolate cake and pink icing and ice cream put in her mouth from the sides and front. Her mouth starts to get all messy, with icing and cake sticking to her cheek, spit and chocolate ice cream dribbling down her chin.
One girl gets right in front, and quickly grabs the front of Brianna's diaper while shoving some cake into her mouth, and Brianna's eyes widen. I pull her hand off, which firmly grasps the front of Brianna's diaper, and she just smiles before going to get another bite.
By the time the girls are finished, half of the large sheet cake is gone. Most of it is in Brianna's stomach, who's eyes water, and scattered all over the front of her leotard. There's some icing on the fabric covering her diaper, and all over her face! She's clutching one hand to her stomach, and one is under her diaper.
I cut the cake for the girls, and slip one piece into the front of Brianna's diaper, much too her dislike, to squish around.
"Did you like your cake, Brianna?" I ask. "Mmh," she responds, shifting uncomfortably with the cake in her diaper. As the girls are enjoying the ice cream cake, the doorbell starts to ring. As it turns out, the time the party was supposed to end has just arrived! I greet each mother again, and thank them for having their daughters over. Each one greats their mother happily, and the mothers are happy they had a great time! I follow the girl who grabbed Brianna's diaper, and follow her to her mother. I tell her about what happened, and the girl, who I realize is the blonde with wide eyes from before, reddens.
"Oh really?" the mother says, looking down at her daughter and back at me. "We'll, I can't say it's the first time, but hopefully it will be the last. We'll be getting a longg spanking when we get home, won't we Kitty?" The girl sways as her mother pats her bottom. She catches a glimpse of Brianna in the kitchen, and questions me about diaper punishment. I advise a few brands, and practices, and we exchange emails before she leaves.
Once I've said goodbye to all the Mothers, I go back to the kitchen, where Brianna is standing, clutching the back of her diaper, which now has icing and ice cream stains all over it! I get a wet paper towel and wipe her face, before patting her bottom and asking her if she needs a change.
"No mommy," she says hurriedly, before racing upstairs, her skirt flapping up and down with each step. I smile, and start on the birthday clean-up.
Well, that was the birthday story it's taken me so long to write down! Thanks for reading the whole thing, it means a lot since I had to edit it and refine details to my memory.
I've also recently installed this bouncer for the girls, thinking they could bounce in it after a spanking with just their bare bottom. Let me know what you think through email, along with any other questions.




Next post coming soon!