GET YOURS NOW BEFORE
YOUR COMPETITION DOES!!


* APA WINNING GRAPHICS *
NATURAL AND GLITZ!

HIGH DIFF PORTS / COMPOSITES / BACKERS / SERIES / TOUCH-UP

****ADD POINTS TO YOUR SCORE***
Creating TOP NATIONALS
WINNING COMPOSITES!!
Large Size Series & Comp Photos
Natural & Digital Portfolio Pics
ORDER YOURS TODAY!!
NOW DOING NATURAL TOUCH-UPS!!!

COME GET YOUR AWARD WINNING
LILY-ANN DID!!! 2011 NES 0-4 GRAND SUPREME
ALONG WITH SO MANY OTHERS!!


aaperfectangel@yahoo.com
Click on Banner to visit APA TODAY!!
Or email me at:

aaperfectangel@yahoo.com for more information!



APA Web & Banner Design



[ Post a Reply to This Message ]
[ Edit | View ]

MISS HEART OF AMERICA NATIONAL -- No name (Joyful), 16:50:58 09/15/11 Thu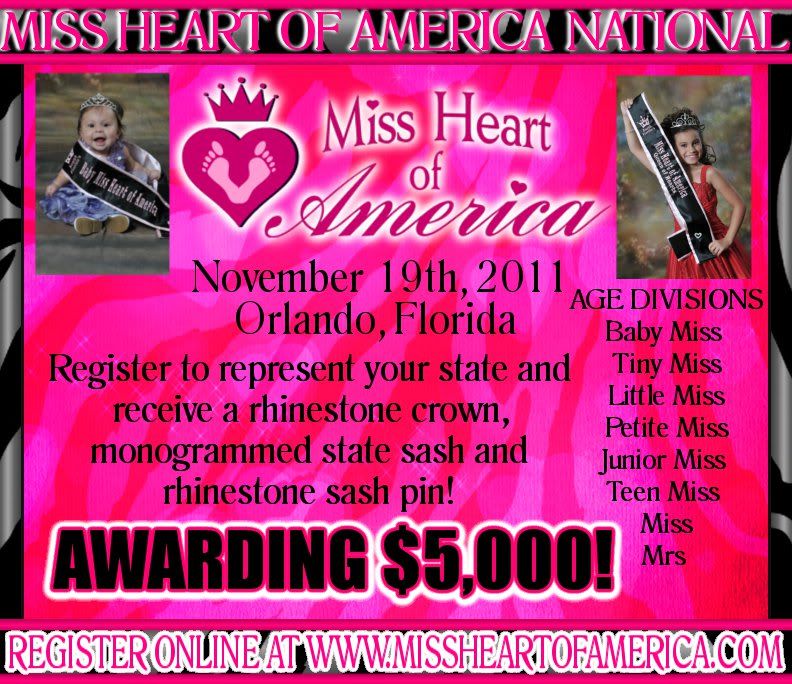 ~* Register today for one of our upcoming pageants *~

UPCOMING PAGEANTS

Orlando's Miss Heart of America

October 15th, 2011

Orlando, Florida

South Florida's Miss Heart of America

October 16th, 2011

Ft. Lauderdale, Florida

McDuffie County's Miss Heart of America

October 29th, 2011

Thomson, Georgia

Lexington County's Miss Heart of America

October 30th, 2011

Lexington, South Carolina

REQUEST MORE INFO AT www.missheartofamerica.com



[ Post a Reply to This Message ]
[ Edit | View ]

rainbow pageants -- sss, 11:30:12 08/31/11 Wed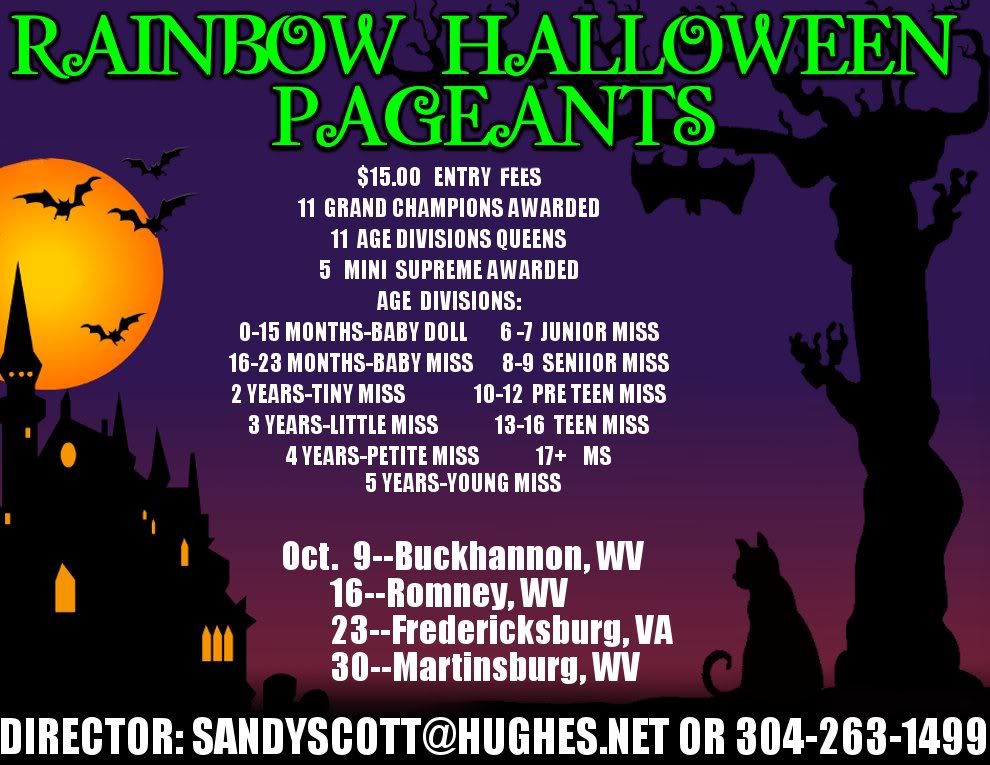 [ Post a Reply to This Message ]
[ Edit | View ]

MY LITTLE MIRACLE, OCT. 22ND, 2011 , CHESAPEAKE, VIRGINIA -- No name, 13:40:26 08/25/11 Thu



Make your own banner at MyBannerMaker.com!




JOIN US FOR A ONE DAY EVENT!!! IT'S FUN!! IT'S COMING IN OCTOBER 2011!! IT'S MY LITTLE MIRACLE!!! PAGEANT DATE: OCTOBER 22ND, 2011 IN CHESAPEAKE, VIRGNIA. EMAIL: IMAPAGEANTGIRL@HOTMAIL.COM TO RECEIVE AN ENTRY FORM BY MAIL OR EMAIL, THANKS

[ Post a Reply to This Message ]
[ Edit | View ]

*DO YOU NEED YOUR BANNER SEEN BY EVERYONE AND ON EVERY BOARD..THEN AFFORDABLE POSTING IS HERE* -- affordable banner posting, 13:51:02 08/13/11 Sat

*WE HAVE SOME OF THE BEST POSTING DEALS AROUND!..TAKE A BREAK FROM POSTING BUT GET THE EXPOSURE YOUR PAGEANT OR BUSINESS DESERVES*..*CONTACT US TODAY!..WE WILL EVEN CUSTOMIZE A POSTING PACKAGE FOR YOU IF YOU DON'T WANT ANY OF THE PACKAGES LISTED BELOW*..*PLACE YOUR ORDER NOW*
**EMAIL AMB_00_01@HOTMAIL.COM
**NEW..NEW..NEW**
**YOU MAY SWITCH YOUR BANNERS AT ANY TIME DURING THE POSTING PROCESS, JUST LET ME KNOW THAT YOU WILL BE SWITCHING YOUR BANNER AND SEND ME THE CODE**
***CHECK OUT THESE HUGE, HUGE, HUGE DEALS*** ***DON'T DELAY*** ***STOP SPENDING ALL DAY DOING IT YOURSELF***
***1ST BANNER POSTED: FULL PRICE, GET TWO BANNERS POSTED, SECOND ONE IS ½ PRICED, GET THREE BANNERS POSTED, FIRST ONE (FULL), SECOND ONE (HALF), THIRD ONE (FREE)***
*THAT'S RIGHT!..THERE ARE NO TYPOS IN THE DEALS BELOW!..BELIEVE YOUR EYES!..GREAT DEALS ON POSTING FOR THE YEAR!*
***YEARLY PACKAGES ARE ALSO AVAILABLE (JANUARY-DECEMBER)
-2000 BOARD POSTING/MONTH (ENTIRE YEAR) - $200.00
-3000 BOARD POSTING/MONTH (ENTIRE YEAR) - $250.00
-4000 BOARD POSTING/MONTH (ENTIRE YEAR) - $300.00
***ALL NEW: (MAY THROUGH DECEMBER): POSTING TO AT LEAST 60 BOARDS DAILY FOR 7 DAYS A WEEK UNTIL THE END OF THE YEAR: FOR ONLY $80.00***
**YEAR OF POSTING (MAY THROUGH DECEMBER): POSTING TO AT LEAST 60 BOARDS DAILY FOR 7 DAYS A WEEK UNTIL END OF THE YEAR FOR TWO BANNERS: ONLY $120**
**YEAR OF POSTING (MAY THROUGH DECEMBER): POSTING TO AT LEAST 0 BOARDS DAILY FOR 7 DAYS A WEEK UNTIL END OF THE YEAR FOR THREE BANNERS: ONLY $140**
**EMAIL AMB_00_01@HOTMAIL.COM...EMAIL
*DAILY: 50 BOARDS/DAY: $2.50, 100 BOARDS/DAY: $3.50, 250 BOARDS/DAY: $7.50, 300 BOARDS/DAY: $8.50*
**WEEKLY POSTING:
*WEEKLY PLANS* 200 BOARDS/WEEK: $5.00, 500 BOARDS/WEEK: $10.00
*MONTHLY PLANS* 1000 TIMES/MONTH: $15.00, 2500 TIMES/MONTH: $30.00 ***MEGA MONTHLY DEAL: 3750 TIMES/MONTH: $45.00***
*REGIONAL PLANS*
Regions: Mid-Altantic (MD, VA, DE, WV, DC), Out of the West (CA, NV, OR, AZ, and other western states) , Up North (NY, ME, CT, PA, NJ, MI, and all northern states), Down South (AL, GA, MS, SC, NC, TN, and all southern states), Middle of the Country (MN, TX, ND, SD, and middle range states) These regional packages will include posting to 75 boards Monday, Wednesday, and Friday in your region and daily posting to 50 popular boards with 8 or more archives and daily posting to Bravo 2 times a day
**WEEKLY: $13.00, **MONTHLY: $45.00**
**SPECIALS ON PLANS**
*Daily Plans: Order a 250 boards plan and get a 50 boards plan for FREE *Weekly Plans: Order a 500 boards plan and get a 200 boards plan for FREE *Monthly Plans: Order a 2500 boards plan and get a 1000 board plan for 1/2 off *Regional Plans: Order a Monthly plan and get a weekly plan for 1/2 off *Order a Mega Package and get a week of unlimited posting after your package has been completed*
*REFERRALS: Refer friends to use my services, if they order a monthly package, then you will receive a weekly package for FREE!* Refer 3 friends and two of the 3 get monthly packages then you can receive any package you want for FREE!*
**THE DIRT CHEAP PACKAGES**..ALL OF US COULD SAVE MONEY EVERY NOW AND THEN...
10 boards per day for one week: $1.50, 10 boards per day for one month: $3.00
20 boards per day for one week: $3.50, 20 boards per day for one month: $5.50
30 boards per day for one week: $5.00, 30 boards per day for one month: $10.00
NOTE: 1. BANNERS ARE NOT POSTED TOGETHER AS A GROUP..ALL BANNERS ARE POSTED INDIVIDUALLY 2. ALL CLIENTS WILL RECEIVE A LISTING OF BOARDS POSTED FOR VERTIFICATION PURPOSES!
3. ALL INFORMATION USED, SUCH AS E-MAIL ADDRESSES, SUBJECT TITLES, AND NAME ARE OF YOUR OWN CHOOSING..I DON'T USE MY INFORMATION IN THOSE SECTIONS!
**EMAIL AMB_00_01@HOTMAIL.COM

[ Post a Reply to This Message ]
[ Edit | View ]

*FINAL DAYS TO ENTER..NO ENTRIES WILL BE ACCEPTED AFTER 8/20..ENTER NOW* -- nes, 13:50:33 08/13/11 Sat









Win HUGE fees off at the State Level
to go to Nationals where someone
wins a $16,000 bond in honor of our
16th year anniversary!

NES will become a lifelong
tradition in pageantry.

Newly Added guaranteed CASH prizes as listed on PPW - Never prorated
The Amazing "Mr. Tim" to host

VENDORS

H&M by Mykel Baca - hottiesbymykel1@aol.com,
Leigh Strohmetz - leighmurphy73@yahoo.com - 478-538-8678,
Aimee McBurnett - elitetanning@aol.com 678-986-2138
(Aimee and Leigh are both available for tanning also)

Off Stage Shot Looks available from Kristy Hargis - rmh78@blomand.net - 931- 235-8690

Newly added and guaranteed CASH prizes in addition to the many other amazing ones.... And the HUGE discounts to Nationals where someone will win a $16,000 bond in honor of our 16th year anniversary.


Please contact Amy Silvers at nespageantgadirector@yahoo.com for further information or visit www.nespageants.com and click on the state links.






Banner by Glitz n' Glitter Graphics:








[ Post a Reply to This Message ]
[ Edit | View ]

Miss Heart of America -- No name, 17:07:46 08/10/11 Wed

2011 Abbeville's Miss Heart of America Preliminary
1st United Methodist Church
100 East Kelley Street Abbeville Alabama 36310
Saturday, August 13, 2011 2 p.m.

THIS IS A NO REGISTRATION FEE PRELIMINARY!!
(15 CANNED FOOD ITEMS GETS THE CONTESTANT IN TO COMPETE!)

Miss Heart of America events are truly
"Pageants with Purpose"
All our pageants are food drives. We are not
a glitz program. We are a Fun, Family Friendly, Non-cost restrictive,
Community Service Program
Baby Miss thru Ms Divisions
AWARDING $3000 at STATE & $5000 at NATIONAL

More information and to Register visit at
www.missheartofamerica.com/abbeville

[ Post a Reply to This Message ]
[ Edit | View ]

Clothes For Sale -- Jamie, 18:55:09 08/05/11 Fri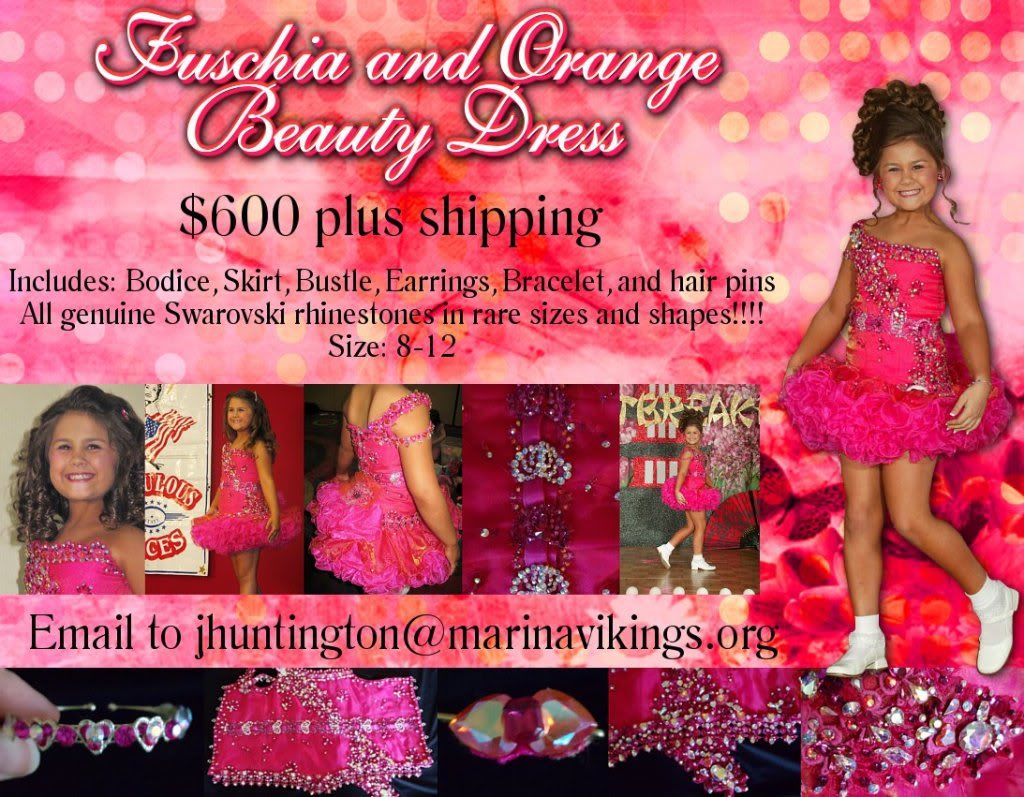 [ Post a Reply to This Message ]
[ Edit | View ]

Miss Heart of America -- No name, 20:09:05 08/04/11 Thu

Coming to your area……
2011 Wiregrass Area Miss Heart of America
Headland High School
Headland Alabama
Saturday, August 27, 2011
Pageant begins at 2 p.m.
THIS IS THE LAST PRELIMINARY BEFORE THE ALABAMA STATE COMPETITION
Miss Heart of America events are truly "Pageants with Purpose"
All our pageants are food drives. We are not a glitz program. We are a Fun, Family Friendly, Non-cost restrictive, Community Service Program
Baby Miss thru Ms Divisions
AWARDING $3000 at STATE & $5000 at NATIONAL
More information and to Register visit at
www.missheartofamerica.com/wiregrass

**********
2011 Gulf Coast's Miss Heart of America Preliminary
Saturday, August 20, 2:00 p.m.
Bay Point Marriott
Panama City Beach Florida
THIS IS THE LAST PRELIMINARY BEFORE THE NORTH FLORIDA STATE COMPETITION
Miss Heart of America events are truly "Pageants with Purpose"
All our pageants are food drives. We are not a glitz program. We are a Fun, Family Friendly, Non-cost restrictive, Community Service Program
Baby Miss thru Ms Divisions
AWARDING $3000 at STATE & $5000 at NATIONAL
More information and to Register visit at
www.missheartofamerica.com/gulfcoast
Please tell them that G.H. referred you. Thank you.

[ Post a Reply to This Message ]
[ Edit | View ]

2011 Abbeville's Miss Heart of America Preliminary -- G.H., 01:42:57 08/03/11 Wed


Coming to your area……

2011 Abbeville's Miss Heart of America Preliminary
1st United Methodist Church100 East Kelley Street Abbeville Alabama 36310Saturday, August 13, 2011 2 p.m. This is a very Low Cost Preliminary!

Miss Heart of America events are truly "Pageants with Purpose"All our pageants are food drives. We are not a glitz program. We are a Fun, Family Friendly, Non-cost restrictive, Community Service Program Baby Miss thru Ms DivisionsAWARDING $3000 at STATE & $5000 at NATIONAL More information and to Register visit at www.missheartofamerica.com/abbeville
Posted by G.H.

[ Post a Reply to This Message ]
[ Edit | View ]

rainbow pageants -- sss, 05:32:29 07/23/11 Sat

center>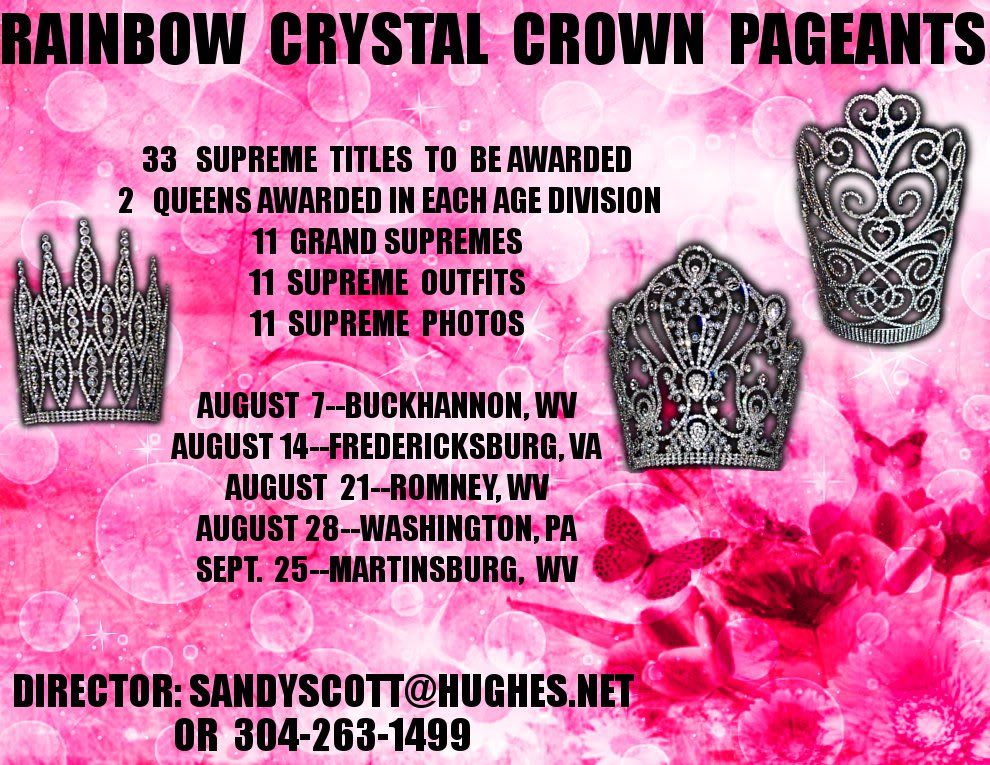 [ Post a Reply to This Message ]
[ Edit | View ]

Miss Heart of America ... -- G.H., 18:26:36 07/22/11 Fri

Coming to your area……
2011 Abbeville's Miss Heart of America Preliminary 1st United Methodist Church 100 East Kelley Street Abbeville Alabama 36310 Saturday, August 13, 2011 2 p.m. This is a very Low Cost Preliminary!
Miss Heart of America events are truly "Pageants with Purpose" All our pageants are food drives. We are not a glitz program. We are a Fun, Family Friendly, Non-cost restrictive, Community Service Program Baby Miss thru Ms Divisions AWARDING $3000 at STATE & $5000 at NATIONAL More information and to Register visit at...www.missheartofamerica.com/abbeville
Coming to your area……
2011 Walker County's Miss Heart of America Preliminary Saturday, July 30, 2011 Jasper, Alabama
Miss Heart of America events are truly "Pageants with Purpose"All our pageants are food drives. We are not a glitz program. We are a Fun, Family Friendly, Non-cost restrictive, Community Service Program Baby Miss thru Ms Divisions AWARDING $3000 at STATE & $5000 at NATIONAL More information and to Register visit at...www.missheartofamerica.com/walkercounty
Posted by G.H.

[ Post a Reply to This Message ]
[ Edit | View ]

2011 Walker County's Miss Heart of America Preliminary... -- GH, 19:30:07 07/17/11 Sun

Coming to your area...
2011 Walker County's Miss Heart of America Preliminary
ALL YOUNG LADIES FROM NORTH WESTERN ALABAMA COUNTIES ARE WELCOME TO PARTICIPATE IN THIS PRELIMINARY! JASPER ALABAMA SATURDAY, JULY 30TH, 2011 2 P.M WINNERS ADVANCE TO 2011 ALABAMA STATE!
Miss Heart of America events are truly "Pageants with Purpose"All our pageants are food drives. We are not a glitz program. We are a Fun, Family Friendly, Non-cost restrictive, Community Service Program Baby Miss thru Ms Divisions AWARDING $3000 at STATE & $5000 at NATIONAL More information and to Register visit at...www.missheartofamerica.com/walkercounty
posted by GH

[ Post a Reply to This Message ]
[ Edit | View ]

2011 Abbeville's & Henry County's Miss Heart of America Preliminary... -- Miss Heart of America..., 20:58:17 07/16/11 Sat

Coming to your area…
2011 Abbeville's Miss Heart of America Preliminary…
1st United Methodist Church100 East Kelley Street Abbeville Alabama 36310
Saturday, August 13, 2011 2 p.m.
This is a very Low Cost Preliminary!

Miss Heart of America events are truly "Pageants with Purpose"All our pageants are food drives. We are not a glitz program. We are a Fun, Family Friendly, Non-cost restrictive, Community Service Program Baby Miss thru Ms DivisionsAWARDING $3000 at STATE & $5000 at NATIONAL More information and to Register visit at… www.missheartofamerica.com/abbeville

Coming to your area…
2011 Henry County's Miss Heart of America Preliminary
Saturday, August 27, 2011Headland High School Headland, Alabama 36345 Lost Cost Preliminary!

Miss Heart of America events are truly "Pageants with Purpose" All our pageants are food drives. We are not a glitz program. We are a Fun, Family Friendly, Non-cost restrictive, Community Service Program Baby Miss thru Ms Divisions AWARDING $3000 at STATE & $5000 at NATIONAL More information and to Register visit at… www.missheartofamerica.com/henrycounty

[ Post a Reply to This Message ]
[ Edit | View ]

At Large Delegates Now Being Accepted for the 2012 American Spirit Pageant -- Denny (the excited), 08:32:30 07/13/11 Wed

At Large Delegates Now Being Accepted for the 2012 American Spirit Pageant

American Spirit Pageants is now accepting applications for "At Large" Delegates to our next national competition will be held April 4-7, 2012 at Disney's Coronado Springs Resort in Orlando, FL. If a state pageant has already been scheduled for the state you hope to represent you will need to compete in, and win, that pageant in order to compete in the national competition. If not, you can apply for consideration as an "At Large" Delegate by filling out the application at: http://www.americanspiritpageants.com/delegate-application/. You can check to see if a state pageant has been scheduled on our State Links Page.

There are four competition divisions: Teen, Miss, Ms. and Mrs.

If you are interested in securing a state directorship and holding your own state pageant please visit the following for franchise information: State Directorship Application.

For more information please visit www.americanspiritpageants.com or call 888-801-8855.



[ Post a Reply to This Message ]
[ Edit | View ]

rainbow pageants -- sss, 06:12:06 07/10/11 Sun

center>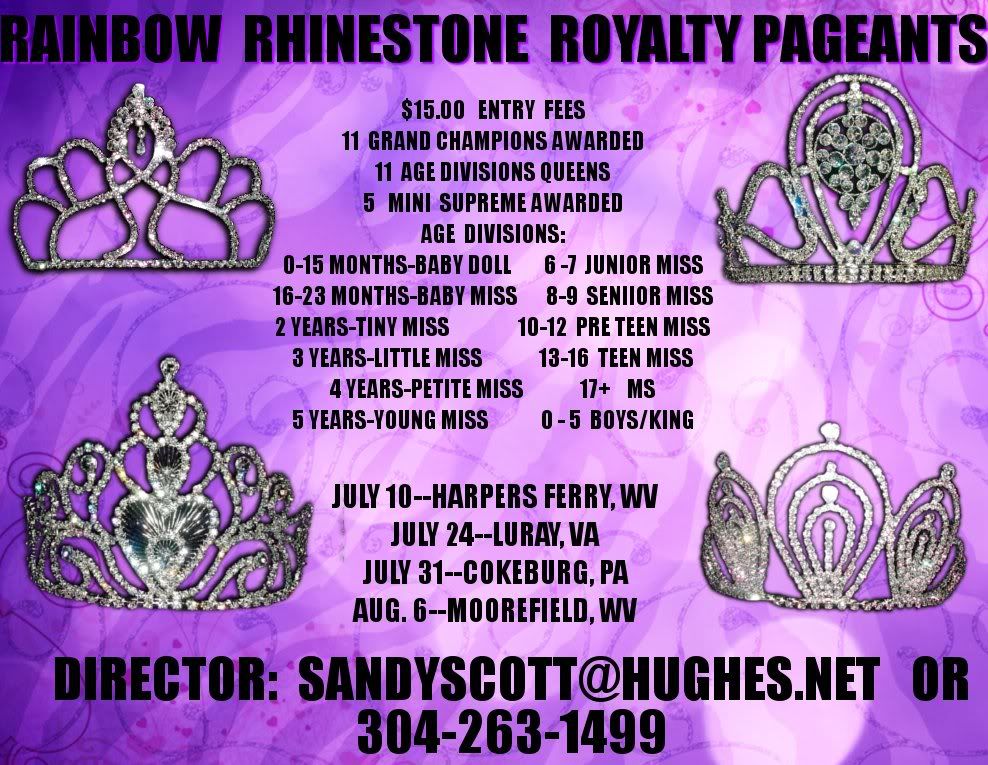 [ Post a Reply to This Message ]
[ Edit | View ]

miss heart of america prelim by nikea smith -- No name, 10:18:28 07/09/11 Sat

Coming to your area……
2011 DeFuniak Spring's Miss Heart of America Preliminary
DeFuniak Springs Community Center
361 North 10 Street
DeFuniak Springs Florida
Sunday, August 7, 2011
Miss Heart of America events are truly
"Pageants with Purpose"
All our pageants are food drives. We are not
a glitz program. We are a Fun, Family Friendly, Non-cost restrictive,
Community Service Program
Baby Miss thru Ms Divisions
AWARDING $3000 at STATE & $5000 at NATIONAL
More information and to Register visit at
www.missheartofamerica.com/defuniaksprings
**********
Coming to your area……
2011 Pike County's Miss Heart of America Preliminary
Saturday, July 16, 2011
Park Memorial United Methodist Church
750 Elba Highway
Troy, Alabama 36081
Miss Heart of America events are truly
"Pageants with Purpose"
All our pageants are food drives. We are not
a glitz program. We are a Fun, Family Friendly, Non-cost restrictive,
Community Service Program
Baby Miss thru Ms Divisions
AWARDING $3000 at STATE & $5000 at NATIONAL
More information and to Register visit at
www.missheartofamerica.com/pikecounty

[ Post a Reply to This Message ]
[ Edit | View ]

miss heart of america pageants by nikea smith -- No name, 23:02:53 07/01/11 Fri

2011 Enterprise's Miss Heart of America
M.N. Jug Brown Recreation Center
Enterprise Alabama
Saturday, July 23, 2011
Pageant begins at 2 p.m.
Miss Heart of America events are truly
"Pageants with Purpose"
All our pageants are food drives. We are not
a glitz program. We are a Fun, Family Friendly, Non-cost restrictive,
Community Service Program
Baby Miss thru Ms Divisions
AWARDING $3000 at STATE & $5000 at NATIONAL
More information and to Register visit at
www.missheartofamerica.com/enterprise
**********
Coming to your area……
2011 Gulf Coast's Miss Heart of America Preliminary
Saturday, August 20, 2:00 p.m.
Bay Point Marriott
Panama City Beach Florida
Miss Heart of America events are truly
"Pageants with Purpose"
All our pageants are food drives. We are not
a glitz program. We are a Fun, Family Friendly, Non-cost restrictive,
Community Service Program
Baby Miss thru Ms Divisions
AWARDING $3000 at STATE & $5000 at NATIONAL
More information and to Register visit at
www.missheartofamerica.com/gulfcoast

[ Post a Reply to This Message ]
[ Edit | View ]

rainbow pageants -- sss, 04:00:08 07/01/11 Fri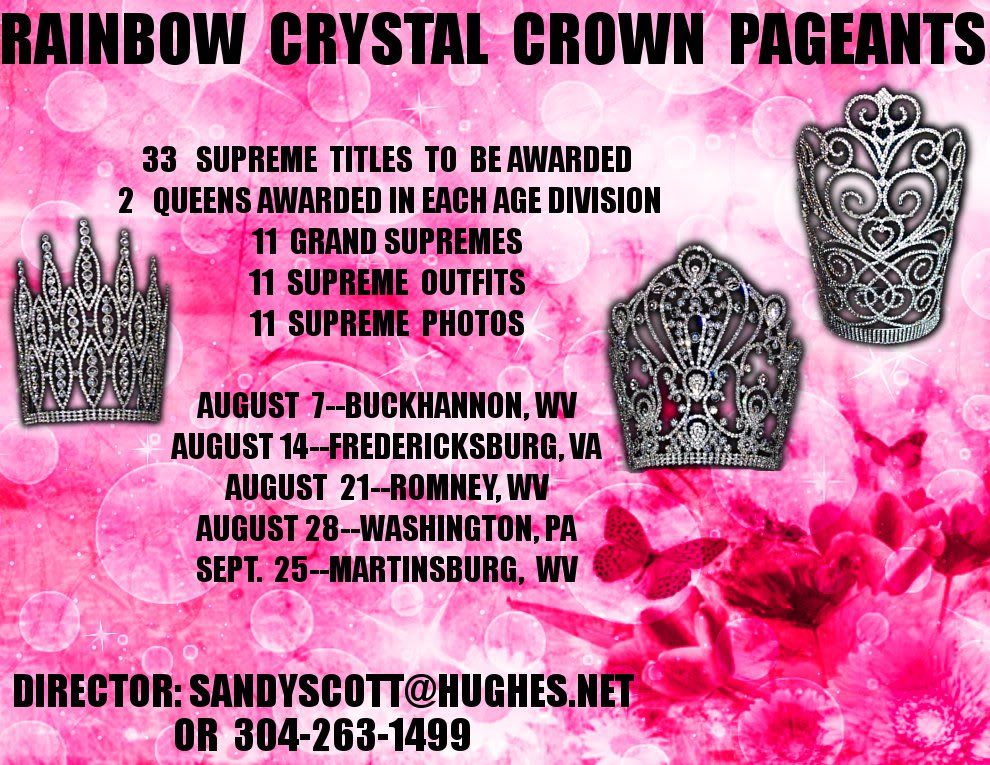 [ Post a Reply to This Message ]
[ Edit | View ]

American Spirit Pageants Now Accepting State Delegate Applications -- Denny (incurable optimist), 14:29:57 06/28/11 Tue



American Spirit Pageants is a wonderful system that allows young women an opportunity to showcase themselves, network with other people and give back to their community all at the same time. This year we are hoping to have as many state pageants as possible. However, we are accepting "At large" Delegate applications for each state until a state director has been selected and a state pageant scheduled. To determine if a state pageant has been scheduled for your state visit http://www.americanspiritpageants.com/state-links/ and click on your state. If there is a state pageant scheduled it will be posted there and you will need to compete in the state pageant and win in order to compete at our national pageant. If there is no state pageant yet scheduled you may apply for an "At large" berth by going to http://www.americanspiritpageants.com/delegate-application/ and filling out the application.

There are four divisions in each state (Teen Miss, Miss, Ms. and Mrs.) which will compete at the national pageant.

The national American Spirit Pageant will be held April 4-7, 2012 at Disney's Coronado Springs resort. All state delegates (state pageant winners and "At Large" selectees) will participate in a number of events and photo opportunities. ASP Queens shall be expected to make appearances on behalf of their state for their full reign. ASP is the only national pageant system that incorporates fundraising into the competition.

Please feel free to apply online right away at americanspiritpageants.com or call National Director, Dennis VanDerGinst, at 888-801-8855 for more information.



[ Post a Reply to This Message ]
[ Edit | View ]

rainbow pageants -- sss, 13:48:27 06/24/11 Fri

center>