Author:
dies of cancer

[ Next Thread | Previous Thread | Next Message | Previous Message ]
---
Date Posted:
April 12, 2003 4:14:26 EDT
---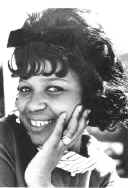 Best known for the 1960s hit, "The Locomotion," rock and roll legend Eva Narcissus (Boyd) Harris died Thursday at Lenoir Memorial Hospital.

"She'd brighten a room," her daughter, Josetta Hines, of Kinston said. "She had a guided spirit. You could feel her presence."

In her 59 years of life, her mother continued singing through her battle with cancer up until the end, Hines said.

For the last 24 years, Harris lived in Kinston.

Her manager and friend of 13 years, Brenda Cape, described Harris as a charming, delightful person to everybody.

"All the entertainers loved her," Cape said. "She wasn't demanding. She was a doll."

Born in Belhaven, Harris moved to New York City at a child and worked as a baby-sitter for Louise Goffin, the daughter of Brill Building songwriters Gerry Goffin and Carole King.

One day when King was working out a song on the piano, Harris began a dance step that gave Goffin an idea for lyrics. The result was the dance song, "The Locomotion."

Although Harris had very little vocal training, she impressed King and Goffin.

Harris appeared with such big-name music legends as Chuck Berry, Jerry Lee Lewis, Little Richard, Chubby Checker, and many others at venues worldwide such as The Greek Theater in Los Angeles, The Meadowlands in New Jersey, The Nassau Coliseum in New York, The Taj Mahal in Atlantic City, Wembley Arena and Royal Albert Hall in London according to Cape.

"The Locomotion" became a chart topper three times, in the '60s with Little Eva, Grand Funk Railroad in the '70s and Kylie Minouge in the '80s.

Harris had minor hits including "Keep Your Hands Off My Baby" and "Let's Turkey Trot."

Cape said Harris was known for shopping wherever she went, being very devoted to her family and an avid member of her church, The Vision of Hope in Kinston, where she was a member of the choir.

The funeral service will be held Tuesday at Swinson Funeral Home in Kinston.

---
[ Next Thread | Previous Thread | Next Message | Previous Message ]