Author:
and picture

[ Next Thread | Previous Thread | Next Message | Previous Message ]
---
Date Posted: April 15, 2003 6:31:19 EDT
In reply to: dead @ 39 's message, "Tom King, Wall Street Journal Columnist," on April 15, 2003 3:28:06 EDT

---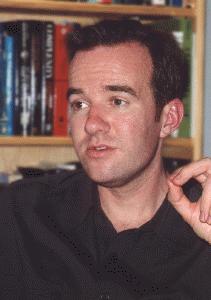 Entertainment journalist Tom King, who wrote the Wall Street Journal's influential "Hollywood Journal" column and a best-selling biography of mogul David Geffen, died Sunday. He was 39.

King was in the Hamptons in New York visiting Broadway producer Jeffrey Seller ("Rent"), a friend of King since they attended a summer theater program for high school students in 1981.

Seller said that King had been in good spirits but had complained of a headache, although it seemed nothing out of the ordinary. Seller said he discovered King shortly before 8 a.m. Sunday collapsed on a bathroom floor. King was taken to Southampton Hospital, where he was pronounced dead. Initial reports said the death was due to natural causes, but an autopsy will be conducted to determine the exact cause.

King's last column, about veteran TV producer Barry Kemp's struggles to land a new prime-time hit, appeared Friday.

King's death stunned the Hollywood community and his colleagues. Jonathan Friedland, the Journal's Los Angeles bureau chief, said it was "a terrible shock -- Tom was a great guy, seemingly in great health."

King had a quick wit and disarming charm that often came through in his work. He wrote a first-person account for the Journal in 1998 of taking up "spinning," an intense aerobic workout on a stationary bike set to such music as disco queen Gloria Gaynor's "I Will Survive."

"Gullible dupes like me pay a small fortune for what amounts to torture," King wrote.

"He had an attractive, self-effacing style that made him an effective interviewer," said Pulitzer Prize-winning biographer A. Scott Berg, a friend of King. "He had an ability to lure people into conversations, probably saying more than they thought they were saying."

It also could mask an ability to skewer. In 1995, King wrote a blistering front-page story about the Kevin Costner film "Waterworld," whose budget was out of control. The film featured Costner's character sporting gills. King's story saddled the Universal Studios film with the nickname "Kevin's Gate," evoking the notorious bomb "Heaven's Gate," while its headline dubbed the film "Fishtar" after another cinematic debacle, "Ishtar."

Published in 2000, King's "The Operator: David Geffen Builds, Buys and Sells the New Hollywood" was the product of nearly 300 interviews, lauded as a highly readable portrayal of one of Hollywood's most powerful and feared executives. A Times story called it "an unflinching portrait," and the San Francisco Chronicle called it a "detailed portrait of Hollywood's premier manipulator."

King was especially praised for forging ahead with the book amid a heated falling out with Geffen midway through his reporting. As King recounted in the forward of his book, Geffen initially gave him extraordinary access to his life, even authorizing his psychiatrist to be interviewed.

But their relationship turned chilly when King mentioned he would be interviewing Geffen's brother, Mitchell, with whom the mogul wasn't speaking.

After granting eight revealing interviews, Geffen abruptly told King he would no longer cooperate. Geffen didn't return calls seeking comment Monday.

Journal Assistant Managing Editor Laura Landro, who formerly oversaw the newspaper's media coverage, called the Geffen book "a great piece of reporting. He was courageous to take on a sacred cow of the industry."

In a memo to the staff, Journal Managing Editor Paul Steiger said: "His splendid work on both coasts, his wit and good humor, and his irrepressible spirit all energized our lives and made the paper a better place."

A native of Cedar Rapids, Iowa, King joined the Journal as a news assistant in December 1986, after graduating from the University of Iowa.

He became a reporter in 1989, covering advertising. In 1991, King transferred to Los Angeles to cover Hollywood. After taking a leave of absence to write the Geffen book, King returned in 1999 to start the Hollywood Journal column in the newspaper's Weekend Journal on Fridays.

Veteran Hollywood executive Tom Sherak of Revolution Studios met with King on Thursday to discuss the summer movie season.

Sherak said he admired King's broad knowledge of the industry and considered his work a must-read, adding that he succumbed to King's charm even when he didn't like what he wrote.

"You could never stay upset with him for very long," Sherak said.

King is survived by partner Ken Miller of Los Angeles; parents June and Don of Cedar Rapids; sister Joan King of Atlanta; and brother Bob of Utah.

A memorial service is scheduled at 10:30 a.m. Saturday at St. Paul's United Methodist Church in Cedar Rapids. Donations may be made to the Tom King Memorial Fund, University of Iowa Foundation, P.O. Box 4500, Iowa City, IA 52244. Local services are pending.

---
[ Next Thread | Previous Thread | Next Message | Previous Message ]