| | |
| --- | --- |
| | Message Board Style, Format, & Color Samples |
VoyForums - Message Board Style, Format, & Color Samples
The following image displays a limited number of selected samples only.
Here we display all 4 Formats, and samples of both Text and Table styles. However, with our Themes Selector, along with the custom control of colors, and advanced Tables/Borders section, there are an infinite number of ways to display your forum.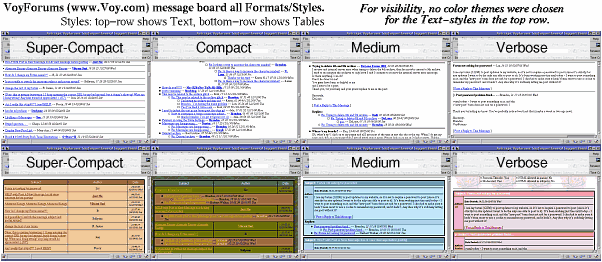 Your forum Format, Style, and Colors/Theme can be changed at any time.
The images above are samples of VoyForums Styles, Formats, and color Themes.
These settings can be changed at any time while you have a forum.
Styles: Text (no boxes) or Table (boxes). Either style may have colors set for the background, text, links, etc.; however, for our tiny-sample above, we decided the plain-text forums were easiest to see in the default colors.
Formats: The formats are Super-Compact, Compact, Medium, and Verbose. They choose what portion of messages you wish to display, and how you wish to display them. For new users, we recommend you create your forum, then try the various formats. There is extensive help available in our Help section for later viewing.
Colors/Themes: We are showing only a few of our themes above. Themes are used to select pre-set colors, but advanced users can freely modify the colors in our Advanced -> Tables/Borders Settings area.
---
VoyForums(tm) is a Free Service from Voyager Info-Systems.
Copyright &copy 1998-2019 Voyager Info-Systems. All Rights Reserved.