---
Welcome to the 4pageants message board. Please feel free to post your ads, congratulations, anything pageant related. This is a positive board-so bashers can post somewhere else. Attention Posters-Please do not use HTML code to change the font/color/size of your message because it will change all messages below it. If you do it-your message will be deleted.

---
WOW -- Anonymous, 16:53:36 02/25/17 Sat



Crowns and Tiaras!



New Styles JUST ADDED
Find a great selection of pageant tiaras, rodeo crowns, sashes, scepters, doll tiaras, full round crowns and more at discounted pricing.






[ Post a Reply to This Message ]
[ Edit | View ]

---
---
Glitzy Girls Events -- Anonymous, 07:21:49 09/02/14 Tue



Glitzy Girls has something new for 2015
Springtime in Paris.

Click on banners to visit our website or use these links



Paperwork is downloadable at: http://www.glitzygirls.com/events.html

[ Post a Reply to This Message ]
[ Edit | View ]

---
---
MAD POSTER!!!!!!!!!!!!!!!!!!!!!!!!!!!!!!!!!! -- Anonymous, 07:38:48 06/28/14 Sat




Tropical Dream Stars USA National
September 26-28th 2014 ~ Atlanta






Beauty + ONE = Supreme!
Kristen knows what fun TDS is!
She took home $1,000 CASH when she won Grand Supreme!
Paperwork is on our site at www.tropicaldreamstars.com
Join us on Facebook


::: CONTACT FOR MORE INFO! :::
Visit www.tropicaldreamstars.com for paperwork







Banner by Glitter Banners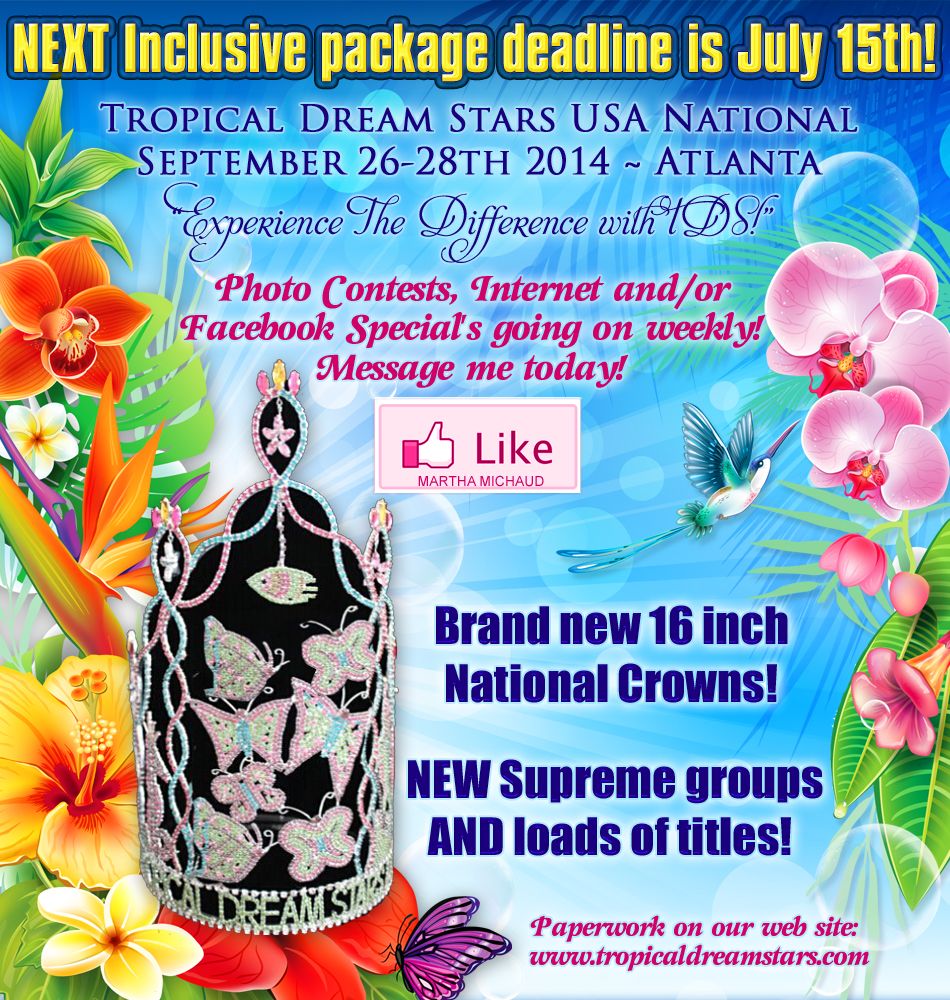 [ Post a Reply to This Message ]
[ Edit | View ]

---
---
---
---
Forum timezone: GMT-8
VF Version: 3.00b, ConfDB:
Before posting please read our privacy policy.
VoyForums(tm) is a Free Service from Voyager Info-Systems.
Copyright &copy 1998-2017 Voyager Info-Systems. All Rights Reserved.