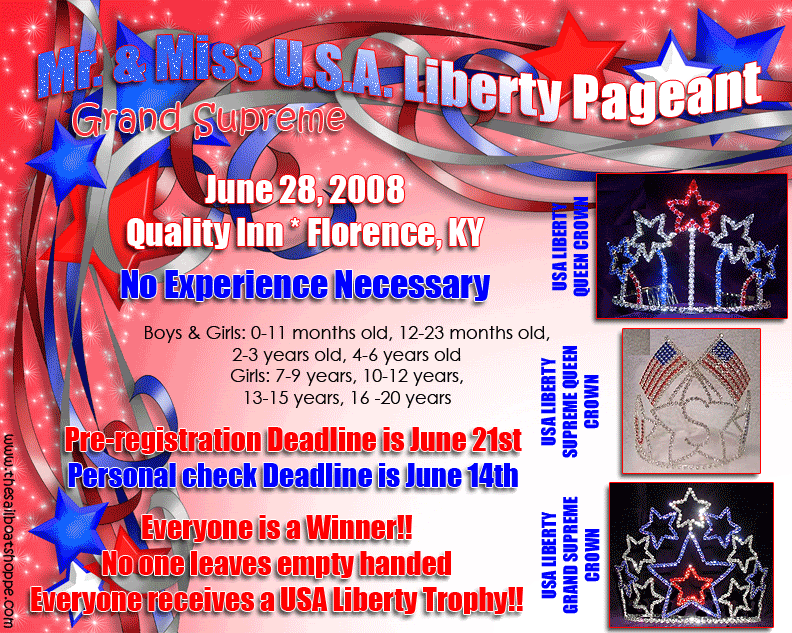 CLICK ON BANNER FOR MORE INFO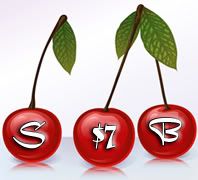 Now Offering: Photogenic Back Covers, Comp Cards and Banner Posting



[ Edit | View ]

Join the Elite!! -- Elite All American Miss, 10:42:57 05/23/08 Fri [1]


We're back with a DOUBLE PAGEANT, GLITZ and NATURAL with a lower entry fee, but more Awesome Prizes!
Beautiful 10" Rhinestone Crowns! Royal Blue / Gold Velvet Robes, Cash, Monogrammed Sash, Rhinestone Scepters, TV's, Boombox w/CD changers, Bratz Party Scene, DVD Players w/ Carrying Case, Cordless Telephones, Disney 3 Wheel Scooters, Dora Playhouse, Doodle Pro, Karaoke Machine w/Monitor, Talking ABC Computer, Pooh Luggage, Barbie Laptop, Fisher Price Bike, 3-n-1 Learning Center, Disney Princess Bicycle, "Guess" Purse's, Bratz Mall, 20" Bratz Doll, Makeup Cases, Bratz Webcam, Personal CD Player, Guess Jewelry, Tommy Hillfilger Jewelry and much, more!!

We Have Never Prorated!
***DON"T FORGET THE EARLYBIRD "SUPERSAVER" - $575.00 - ALL EVENTS - EVEN TALENT!!
If You're A Total Package Contestant or a Natural Contestant, Looking for A Fun, Fair National - Join "The Elite"!!

***VENDORS - PLEASE EMAIL TO BE ADDED TO OUR "WEBSITE"*** eaampageants@aol.com or miaerq@infionline.net
~~Elite All-American Miss ~~~
Holiday Inn Koger * Richmond, VA * August 22-24, 2008!
***We're back with a lower entry fee, but more Awesome Prizes! ~~ Beautiful
10" Rhinestone Crowns! Royal Blue / Gold Velvet Robes, Cash, Monogrammed
Sash, Rhinestone Sceptors, TV's, Boombox w/CD changers, Bratz Party
Scene, DVD Players w/ Carrying Case, Cordless Telephones, Disney 3 Wheel
Scooters, Dora Playhouse, Doodle Pro, Karaoke Machine w/Monitor, Talking
ABC Computer, Pooh Luggage, Barbie Laptop, Fisher Price Bike, 3-n-1
Learning Center, Disney Princess Bicycle, "Guess" Purse's, Bratz Mall,
20" Bratz Doll, Makeup Cases, Bratz Webcam, Personal CD Player, Guess
Jewelry, Tommy Hilfilger Jewelry and much, more!!


Elite All-American Miss is looking for contestants that loves a fun,
fair pageant! ~~We have never prorated!! ~~ And our door options are "free"
to enter, with awesome national prizes awarded!
***VENDORS - PLEASE EMAIL TO BE ADDED TO THE "VENDOR'S LIST" ON OUR WEBSITE***