Author:
VICKIE
[ Edit | View ]
---
Date Posted:
07:57:50 08/13/08 Wed
---
September 26-27, 2008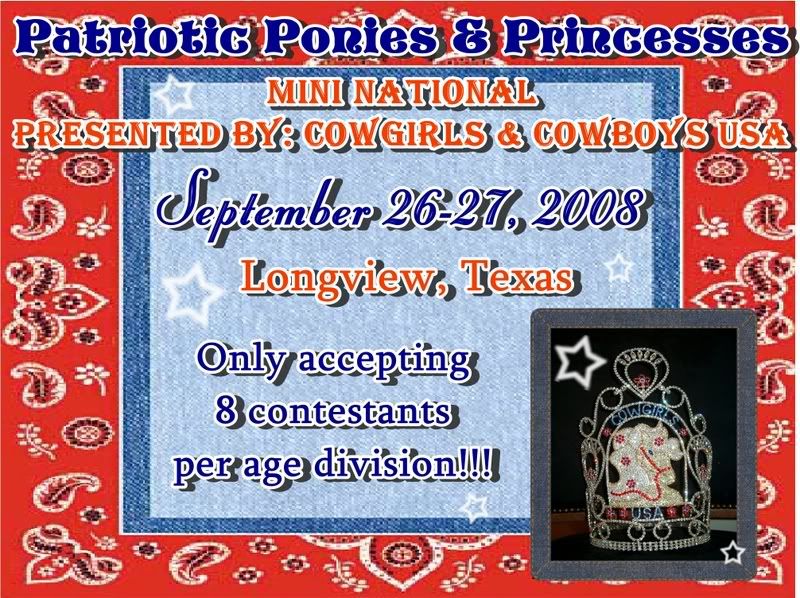 0A

PATRIOTIC PONIES & PRINCESSES
Mini National
Presented by: Cowgirls & Cowboys USA

SEPTEMBER 26TH AND 27TH, 2008

BRAND NEW - HAMPTON INN & SUITES
LONGVIEW, TX

This will be a very exciting weekend with the Hotel holding their Grand Opening and hosting Neil McCoy and other very special guest for the
14th Annual East Texas Angel Network Benefit

Because of limited space we will split competition
0-3 will begin at 2:30 on Friday afternoon
4-up competition will begin at 8:30 Saturday morning
**AGE GROUPS ARE LIMITED TO 8 PER DIVISION**
If numbers allow, we will compete everything on Saturday
Please enter by deadline so that competition times can be set in advance.

We will be Crowning at Approx. 4:30 on Saturday afternoon so that we may attend the
Neil McCoy Concert
Saturday evening at 7:00pm Longview High School Lobo Coliseum Tickets are $30
GO ONLINE AND TYPE IN NEIL MCCOY TO VISIT HIS SITE

Beautiful Custom Horse Crowns and Limo ride to concert for Winners!!
Alternates and Future Stars will also receive custom crowns!!

Age Divisions-0-23mos, 2, 3, 4, 5, 6, 7-8, 9-10, 11-12, 13-15, 16-up
We will award Grand, Mini and Novice=2 0Supremes in ea of the following breakdowns.
0-3, 4-8, 9-up
SUPREME TITLES WILL RECEIVE CONCERT TICKET OR CASH EQIVILANT

Supreme Package is $125 and includes:
Beauty and red/white/blue Outfit of Choice (Qualifies you for all supreme titles)

Add On Package 1- $100 which includes:
Extra Outfit of Choice (Gives you a drop score)
Overall Most Beautiful, Personali ty, & Red/White/Blue

Add On Package 2- $50 which includes:
Photogenic (Extra event, not counted for supreme titles 2 Photo's)
Overall Photogenic

You may enter Beauty Only for $75
Boys may enter Western Wear Competition for $45

*Nothing will be added at Door*

EARLY BIRD SPECIAL:
PAYPAL $100 DEPOSIT BY AUGUST 22ND AND ENTER
EVERYTHING FOR $175!!!!!
CREDIT CARDS ACCEPTED BY PHONE

HURRY - ONLY EXCEPTING 8 CONTESTANTS PER DIVISION
SEND A DEPOSIT ASAP TO ENSURE YOUR PLACE IN COMPETITION.
A $100 Deposit needs to be received by September 1st
After that date add a $50 Late Fee.
HOTEL BLOCK FALLS OFF AUG. 26TH - HOTEL WILL BE FULL!!!!
HOTEL WILL SET UP A GROUP BLOCK LINK ASAPP, I WILL PASS THAT ALONG
FOR MORE INFORMATION, CALL VICKIE 601-278-6548


Vendors:

H/M

Kathryn Kirksey: NOCKOUTS34@HOTMAIL.COM
Lynelle Paulino – LYNELLE_PAULINO@MSN.COM

Modeling

Kathryn Kirksey: NOCKOUTS34@HOTMAIL.COM




Creative Banners
Right w hen you need them!!




[ Post a Reply to This Message ]