VoyForums Announcement:
Programming and providing support for this service has been a labor of love since 1997. We are one of the few services online who values our users' privacy, and have never sold your information. We have even fought hard to defend your privacy in legal cases; however, we've done it with almost no financial support -- paying out of pocket to continue providing the service. Due to the issues imposed on us by advertisers, we also stopped hosting most ads on the forums many years ago. We hope you appreciate our efforts.
Show your support by donating any amount. (Note: We are still technically a for-profit company, so your contribution is not tax-deductible.) PayPal Acct:
Feedback:
Donate to VoyForums (PayPal):
---
[ Next Thread | Previous Thread | Next Message | Previous Message ]

Date Posted: 00:37:09 08/12/04 Thu
Author: deanna b
Author Host/IP: pool0591.cvx31-bradley.dialup.earthlink.net / 209.179.148.81
Subject: Mini-Spike and Voodoo Gunn -- The All-Celebrity Edition

For anyone new to the concept, check out previous posts here by myself, TheStormCellar and Inner Moppet. These dolls have been going from person to person on the CDS board for, in Mini-Spike's case, a couple years now, and was joined last year by Voodoo Gunn (a duplicate of the one from the scene in Just Rewards). I got to keep them longer than normal in order to take them to San Diego and get the following photos. (Thanks, SockMonkey)

So with no further ado...

Some of the friends that Mini-Spike and Voodoo Gunn made at the San Diego Comic-Con:


Amber Benson (Tara, Buffy): "OOOH! He's so cuuuuuute!!"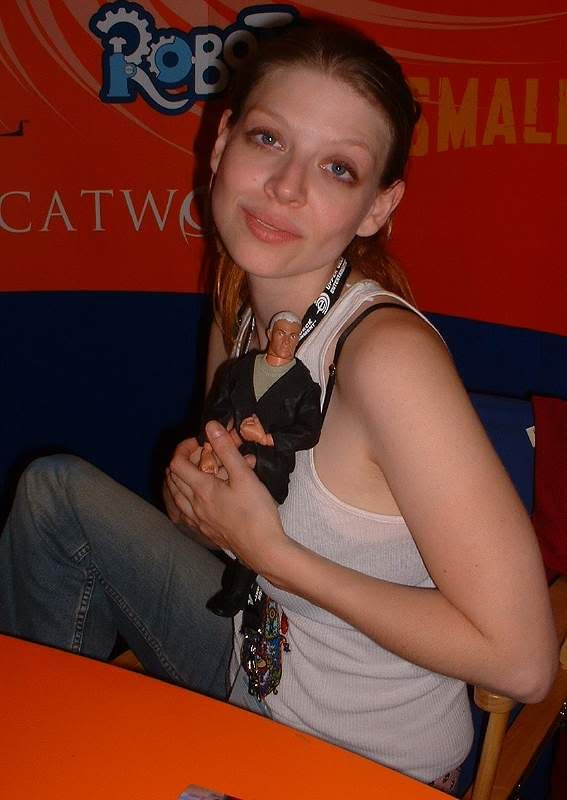 Mark Lutz (Grooselug, Angel): "This one's supposed to be Gunn?? Oh, I have got to show this to J. Oh, man! I love his saggy butt!"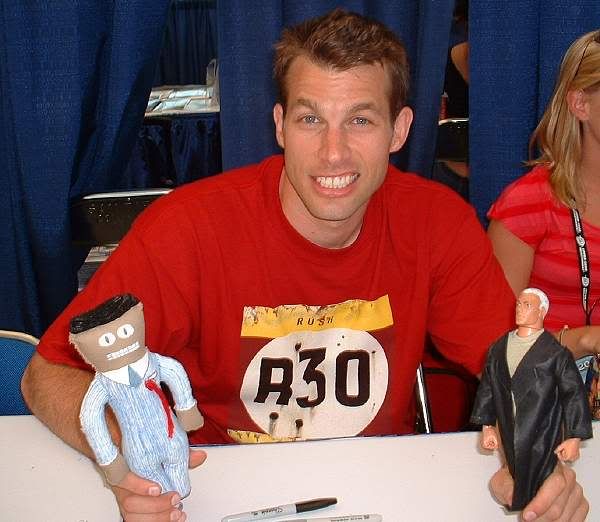 Danny Strong (Jonathan, Buffy): "Hmm, I think I remember posing with this doll before. He looks familiar."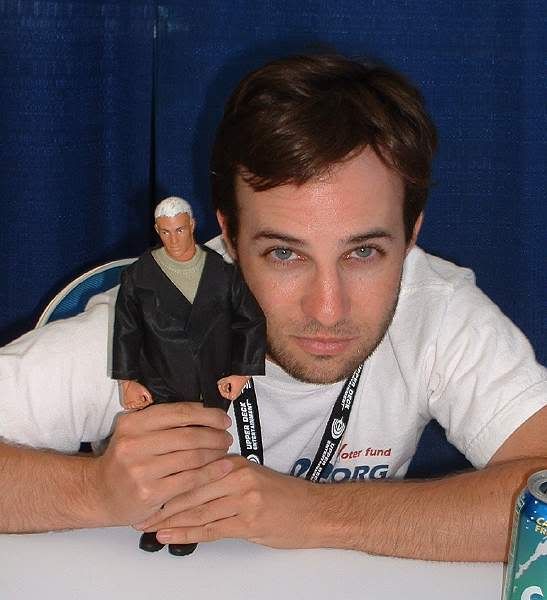 Camden Toy ("Noodles" the Ubervamp, Lead Gentleman, Gnarl, Buffy; Prince of Lies, Angel):

"Grrr!"


"Aargh!"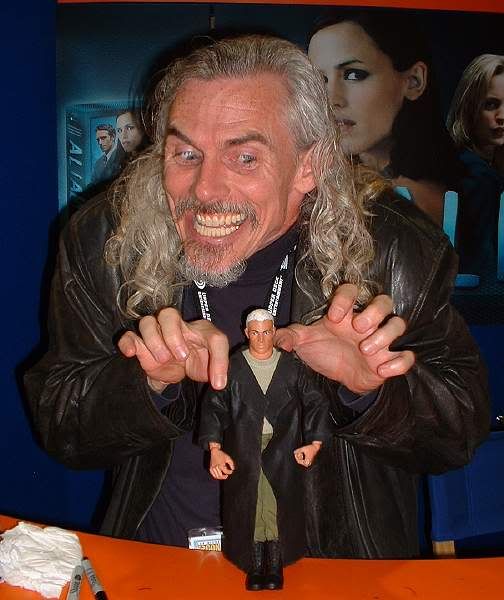 "So, do I get to drag him around and shove his head under water now? No? Oh, drat."


James Leary (Clem, Buffy): "Oh! Very cool."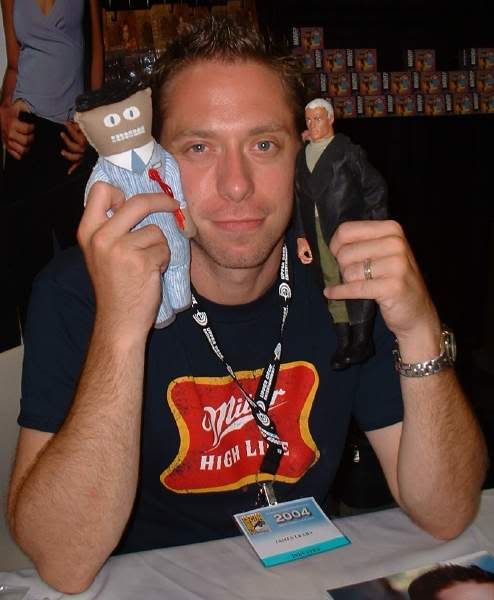 Jonathan Woodward (Knox, Angel; Holden Webster, Buffy; Tracey, Firefly) actually sat down and played with the guys for a good long while. It went something like this:

Jonathan as Mini-Spike: "So, what do you think of the convention?"
Jonathan as Voodoo Gunn: "Oooh, fun fun fun!"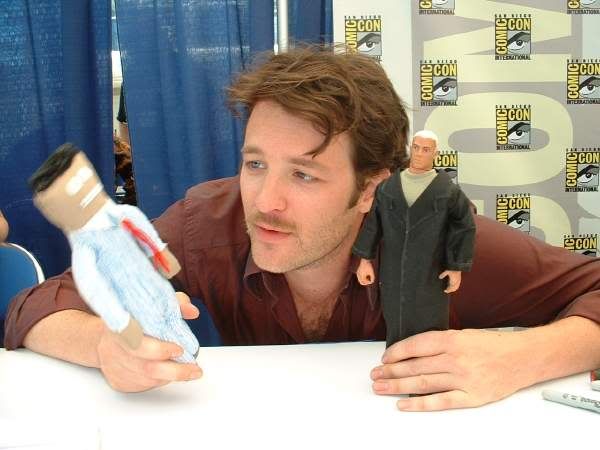 Jonathan as Voodoo Gunn: "But I'm just happy being with you!"
Jonathan as Mini-Spike: "Awwww."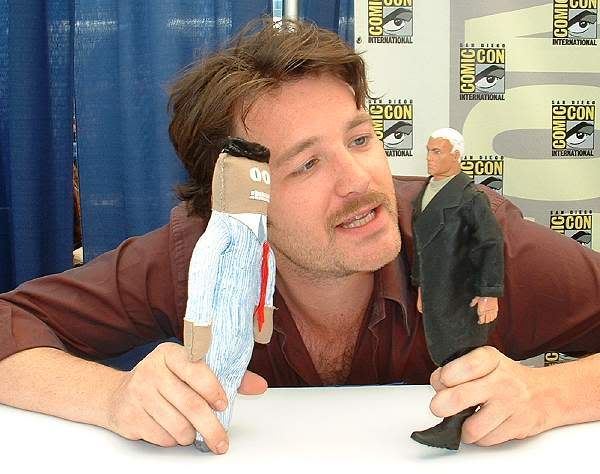 Jonathan as Voodoo Gunn: "I love your white, white hair and your bulging plastic muscles!"
Jonathan as Mini-Spike: "And I love your lipless, voodoo doll mouth!"
Jonathan as Voodoo Gunn: "Kiss me!!"
Jonathan as both: "Smooch smooch smooch smooch smooch."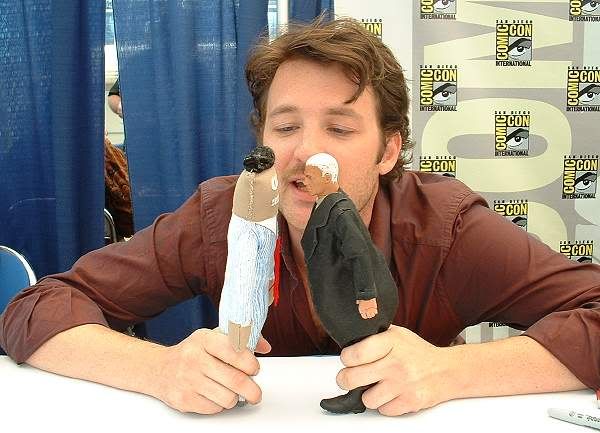 Jonathan as Voodoo Gunn: "Gasp!! What if Buffy sees?"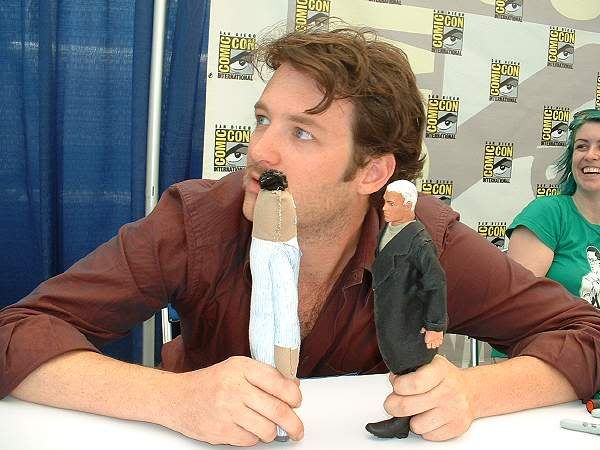 Jonathan as Voodoo Gunn: "Or for that matter, Angel?"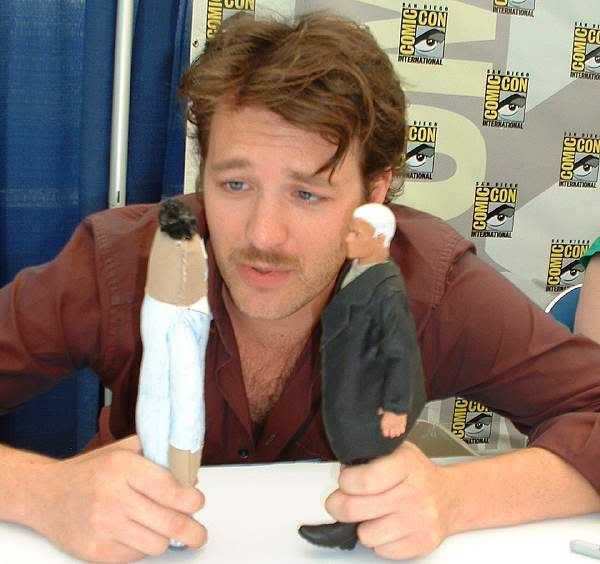 Jonathan as Mini-Spike: "Nah, Angel's too busy with Wesley. Now, hop on."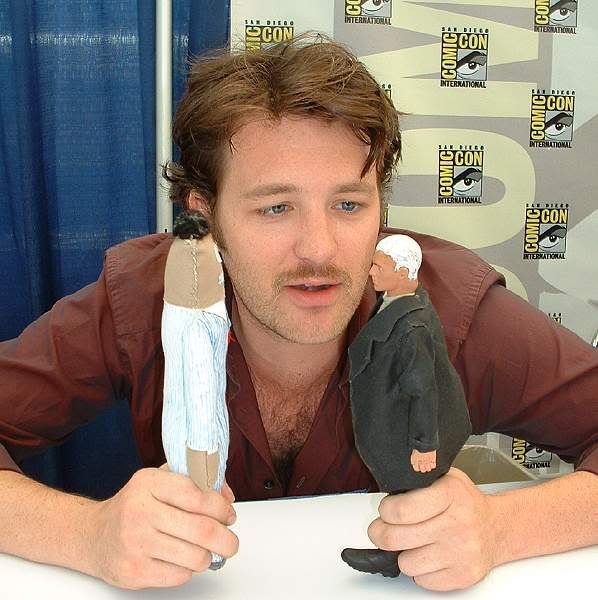 Jonathan: "What? No, you perv, he's giving him a piggy-back ride! What did you think they were doing?"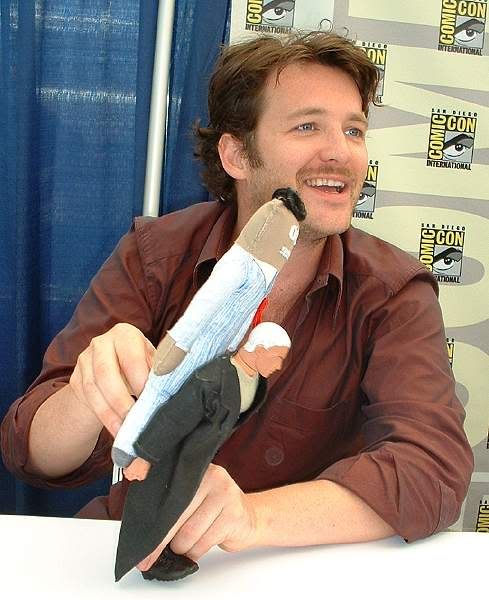 Jonathan as Voodoo Gunn: "Wheee!! Oh, you're so strong!"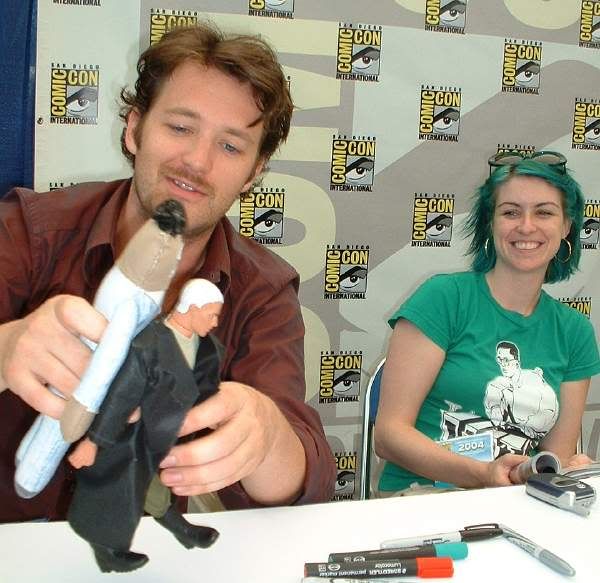 Jonathan as Voodoo Gunn: "Hey, want to close with a number from Mary Poppins?"
Jonathan as Mini-Spike: "Sure!"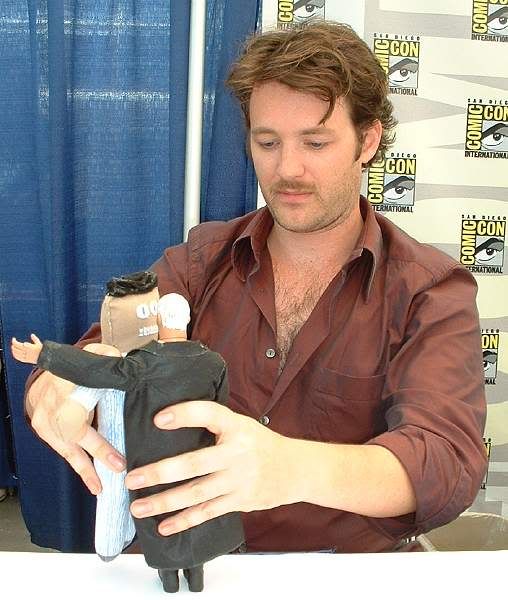 Jonathan as both: "Chim chiminey chim chiminey chim chim chiree, a sweep is as lucky as lucky can be..."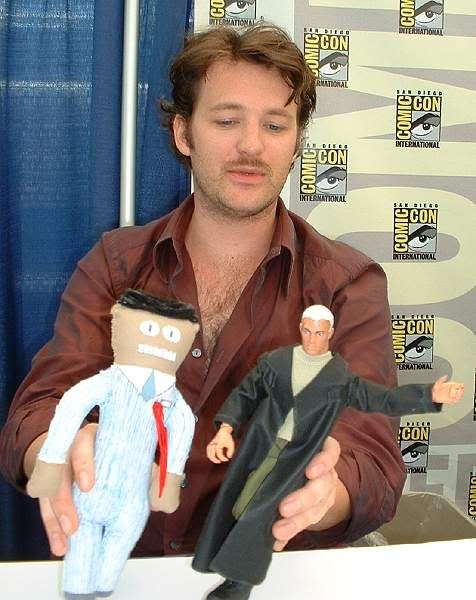 [ Next Thread | Previous Thread | Next Message | Previous Message ]


---
Replies:

[> Aah! Oops! Bad tag! -- deanna b, 00:38:10 08/12/04 Thu (pool0591.cvx31-bradley.dialup.earthlink.net/209.179.148.81)



Sorry about that.


[ Post a Reply to This Message ]
[ Edit | View ]

---
---
[> Re: Mini-Spike and Voodoo Gunn -- The All-Celebrity Edition -- Xane, 01:42:37 08/12/04 Thu (ACC414D3.ipt.aol.com/172.196.20.211)

"So, do I get to drag him around and shove his head under water now? No? Oh, drat."

Did Camden Toy really say that? That is too funny!

Great pictures!

Sounds like Woodward reads too much Fan-fiction.


[ Post a Reply to This Message ]
[ Edit | View ]

---
[> [> Re: Mini-Spike and Voodoo Gunn -- The All-Celebrity Edition -- Dawnie, 09:46:24 10/27/04 Wed (ca15-ch01-bl04.fl-miami0.sa.earthlink.net/207.69.138.201)

Wow! That was so funny I cried! Who knew he was a secret Wes/Angel shipper! So cool! Now I know why he was crawling all over Fred, he realized the love that dare no speak its name between a hot vampire and a hotter ex-watcher!


[ Post a Reply to This Message ]
[ Edit | View ]


---
[> I had no idea Woodward was a slash fan! ;) -- Wolfram, 08:47:51 08/12/04 Thu (cs666810-165.austin.rr.com/66.68.10.165)

Did they really say all that?


[ Post a Reply to This Message ]
[ Edit | View ]

---
[> [> The quotes are (mostly) as close as I can remember... -- deanna b, 14:31:15 08/12/04 Thu (pool0236.cvx34-bradley.dialup.earthlink.net/216.244.6.236)

There are parts of what Woodward was saying that I just don't remember now because I was laughing so hard. He's a really funny guy. The captions for the second and sixth one of his probably aren't accurate, but I just can't remember what he really did say at that point. That might have been it, I'm just not sure. And there was a lot more of Woodward Theatre around the middle that I'm completely forgetting.

But Camden didn't actually say "Aargh," I just changed his second "Grrr" to that. Artistic licence. And I'm not positive about the "drag him around" part, it might have been "beat him up" or something else instead, but there was definitely the part about dunking his head under water.

I should have had someone backing me up with a video camera, but my husband was trying his best to pretend not to know me...


[ Post a Reply to This Message ]
[ Edit | View ]


---
[> *snicker* .... We are all such pervs.... and --

morgain

, 09:24:38 08/12/04 Thu (modemcable079.91-37-24.mc.videotron.ca/24.37.91.79)

I LOVE IT!

Great stuff deanna b


[ Post a Reply to This Message ]
[ Edit | View ]

---
---
[> Camden Toy is hilarious!! -- truelove, 09:37:34 08/12/04 Thu (NoHost/131.128.170.80)

[ Post a Reply to This Message ]
[ Edit | View ]

---
---
[> BWAAAAAAHAHAHAHAHAHAHAHAHAHAHAHA!!! -- TheStormCellar, 09:51:26 08/12/04 Thu (vikingcue.dialup.supranet.net/66.170.7.8)

I love that Johnathan played with them!! *snicker*


[ Post a Reply to This Message ]
[ Edit | View ]

---
---
[> RTFLMAO - wonderful, wonderful. -- Pixi- thank you so much for posting these, 10:54:18 08/12/04 Thu (fl-207-30-202-147.sta.sprint-hsd.net/207.30.202.147)

That was simply hysterical.


[ Post a Reply to This Message ]
[ Edit | View ]

---
---
[> Fabu! -- SeaBoy, 12:03:45 08/12/04 Thu (D-128-95-40-186.dhcp4.washington.edu/128.95.40.186)

Thanks for sharing these!


[ Post a Reply to This Message ]
[ Edit | View ]

---
---
[> OMG....this was hysterical!!!! Thanks for posting this!!! -- Trixie *snickering and snorting*, 16:53:23 08/12/04 Thu (pm839-25.dialip.mich.net/35.12.23.77)

This was absolutely wonderful :) Just what I needed to warm and brighten up a cold and rainy August day (it's August and it's only 61 degrees here?).

I *love* the JW theater :) *encore, encore*

Nice to see Clem with Spike and Gunn - he's a fellow Aggie (also class of '94, I believe). By the transitive property, we're friends (he was a friend of a college friend, which makes him my friend, too...right?)! :P


[ Post a Reply to This Message ]
[ Edit | View ]

---
---
[> Brilliant!!!! --

Inner_Moppet

, 17:57:04 08/12/04 Thu (NoHost/207.233.183.143)

deanna, you're my hero!!

And I'll tell you what, I would pay big money to see JAR and JM with those dolls. *sigh* That would be the coolest, cutest, most awesomest thing ever!


[ Post a Reply to This Message ]
[ Edit | View ]

---
---
[> oh, my, god!!! -- eye of botox, 18:16:40 08/12/04 Thu (mdsnwinas01pool2-a111.mdsnwi.tds.net/216.165.154.111)

That is so excellent! I love it! How wonderful is deanna b? AbFab!!!!


[ Post a Reply to This Message ]
[ Edit | View ]

---
---
[> Oh my GOD.... Jonathon Woodward is friggin hilarious! -- anyasbuttmonkey, 14:31:03 08/19/04 Thu (cache3-sot3.server.ntli.net/80.4.224.6)

Cannot..... stop...... laughing..... need...... to...... breathe.....!


[ Post a Reply to This Message ]
[ Edit | View ]

---
[> [> Re: Oh my GOD.... Jonathon Woodward is friggin hilarious! -- Claire, 06:29:56 11/23/05 Wed (renf-cache-9.server.ntli.net/62.252.128.28)

how couldss you *not* love him??? :)tehehe :P
-Claire


[ Post a Reply to This Message ]
[ Edit | View ]


---
[> "Nah, Angel's too busy with Wesley. Now, hop on." I officially love Jonathon Woodward :) -- LB, 11:37:23 08/23/04 Mon (pc133.qeh.ox.ac.uk/163.1.77.133)

LOL.... love him I say! :)


[ Post a Reply to This Message ]
[ Edit | View ]

---
[> [> Re: "Nah, Angel's too busy with Wesley. Now, hop on." I officially love Jonathon Woodward :) -- Dawnie, 09:48:39 10/27/04 Wed (ca15-ch01-bl04.fl-miami0.sa.earthlink.net/207.69.138.201)

God this if so funny! I sure hope he meant that Angel was hopping on Wesley 'cause that's what I'm thinking. All the time in fact, to an obsessive, crazed Wes/Angel 4eva level!


[ Post a Reply to This Message ]
[ Edit | View ]


---
[> Re: Mini-Spike and Voodoo Gunn -- The All-Celebrity Edition -- jonathan woodward, 20:36:51 03/04/06 Sat (210.1.81.146.pldtvibe.com/210.1.81.136)

hello!hi nathan,its nice 2 c that ur so good actor and handsome also.Do you know that ur my idol, here in philippines?.I hope 2 c u someday.I always pray 4 that god will.ok bye bye bye god bless u always......take care.


[ Post a Reply to This Message ]
[ Edit | View ]

---
---
---