Saturday, June 25, 2016 - Member logins with Firefox should now be operational.

---
5 SECOND OLD SCHOOL BACK HALF 2016 SCHEDULE

March 19, 2016
April 2, 2016 Double Points
May 14, 2016
June 11, 2016
July 2, 2016 Double Points
August 6, 2016
September 24, 2016
October 8, 2016 Double Points









2015 5 Second Old School Back Half Shoot Out Rules




1. Must be a Back Half car, no chassis cars, rails or roadsters.
2. No Throttle Stops
3. Cannot run faster than 5.0 (break-out is an automatic DQ)
4. No weight limit.
5. $100.00 entry fee. This fee will not be returned as in the past.
6. Luck of the draw
7. Times will be shown
8. You cannot test your car in between rounds once we start racing unless, you lose and are out

To join our points system you must pay a one time fee of $100.00. Points start at the time you pay and join. This covers the awards, prizes, banquet hall rental and food provided at the banquet. You do not have to join the points system to race with us.

Payout: $1500-Win
$700-Runner-up
$300.00 Semiĺs
$100.00 5th-8th place
We will once again pay $100.00 to the fastest qualifier. You do not have to run the qualifying round, this is simply for show and to be used as a test round.
We will also pay $50.00 in round one to the person with the fastest reaction time.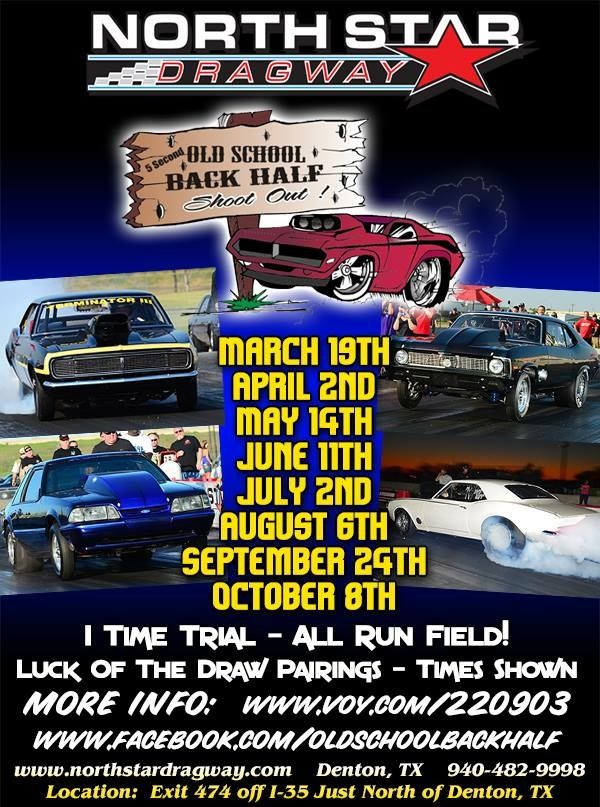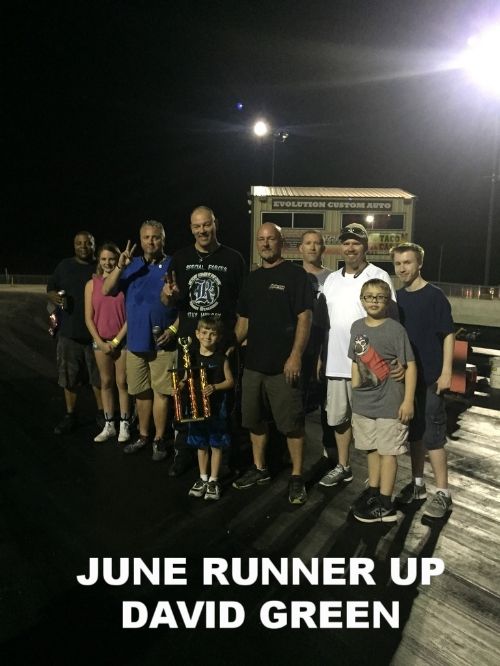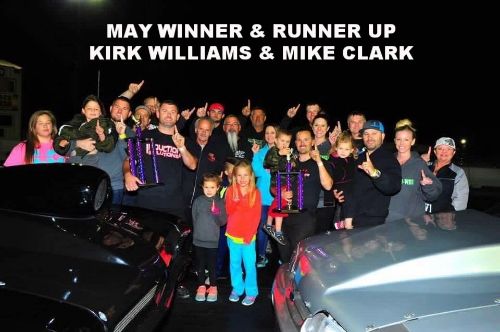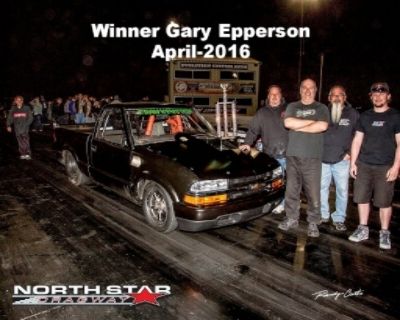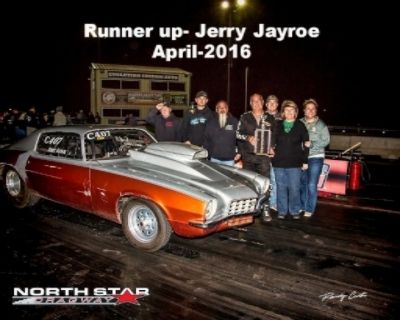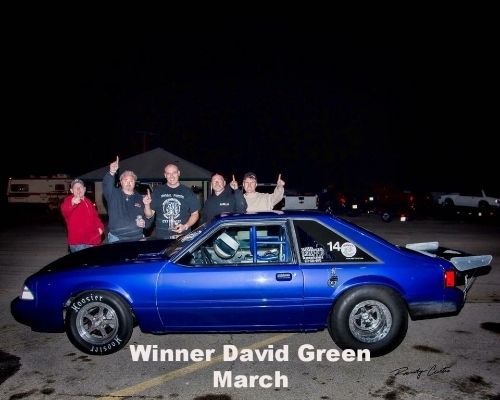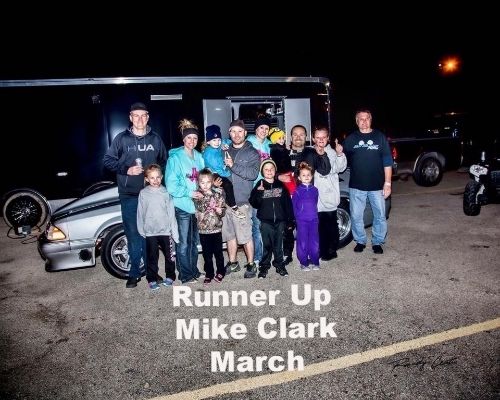 ---
Subject: ***Banquet Announcement*** Saturday November 19, 6:00 PM to Midnite. VFW-13300 FM-1641 Forney, TX 75126 Cash bar, dinner, awards and live band. Casual dress, kids at your discreation. This is open to all drivers, crews, their familes, sponsors and track employees. Dinner will start at 6:30 PM so come hungry for some of Bubba's famous BBQ.


Author:
Karen & Bubba
[ Edit | View ]

---

Date Posted: 13:00:02 10/13/16 Thu


---


[ Post a Reply to This Message ]

Subject: As you all know September was a rain out. October was a great month for OSBH, we had a 20 car field. We did name our Champion at this race. Mike Clark won the final race and clinched the OSBH Champion title. If you missed it, you missed some great racing. We had 4 teams that could have taken the title that night. As you know we never reveal how the rest of the pack has fallen in points on the final race. This will be revealed at the banquet and I can promise you do not want to miss the SHOCKING finale. Mike Clark won the race by a hole shot with Jay Moore as the runner up. Ronnie Mitchell won the $100.00 for low ET and Gary Epperson won the $50 for best RT in round one.


Author:
Karen & Bubba
[ Edit | View ]

---

Date Posted: 12:54:54 10/13/16 Thu


---


[ Post a Reply to This Message ]

Subject: Congratulations to Kirk Williams our August 2016 Winner and to Daniel Large our Runner up. These guys gave us a heck of a final race. Fastest time in our T & T round went to Kameran Moyer at a 5.0481. He was the winner of the $100.00 and we were glad to see him and Keith back with us. Low ET in round one went to Paul Harris and he won the $50 for that. Highest MPH of the night without a redlight went to David Green at 143.40. We have two more races left in the season and we hope to finish with a strong car count.


Author:
Karen & Bubba
[ Edit | View ]

---

Date Posted: 07:20:56 08/11/16 Thu


---


[ Post a Reply to This Message ]

Subject: ****AUGUST POINT STANDINGS*** 1st Mike Clark-173 pts, 2nd Gary Epperson 165 pts, 3rd David Green 153 pts, 4th Jay Moore 141 pts, 5th Kirk Williams 136 pts, 6th Ronnie Mitchell 126 pts, 7th Rickey Jackson 118 pts, 8th Daniel Large 82 points, 9th Jeff Swyden 75 pts, 10th Randy Thorn 68 pts, 11th Alan Durbin 55 pts.


Author:
KAREN
[ Edit | View ]

---

Date Posted: 07:13:09 08/11/16 Thu


---


[ Post a Reply to This Message ]

Subject: July Points Standings*** #1 Mike Clark 163 pts, #2 Gary Epperson 145 pts, #3 David Green 138 pts, #4 Jay Moore 126 pts, #5 Rickey Jackson 108 pts, #6 Ronnie Mitchell 106 pts, #7 Kirk Williams 103 pts, #8 Randy Thorn 68 pts, #9 Jeff Swyden 65 pts, #10 Alan Durbin 55 pts and #11 Daniel Large 50 pts. It's still wide open and anybody's to win.


Author:
Karen & Bubba
[ Edit | View ]

---

Date Posted: 08:35:12 07/07/16 Thu


---


[ Post a Reply to This Message ]

Subject: Congratulations to our June 2016 winner Mike Clark. This was his first OSBH win and they were extremely happy. Congrats to David Green as he took the runner-up position. It was a hell of a final race with both running 5.17's. Mike ran a 5.1785 and David a 5.1778. Reaction time was Mike's .0341 to David's .0375. Thanks for a great show guys. Rickey Jackson took the $100.00 for low ET in our qualifying round at a 5.0568 and Kirk Williams took the $50.00 in round one for the best RT at .0035.


Author:
Karen & Bubba
[ Edit | View ]

---

Date Posted: 12:03:14 06/22/16 Wed


---


[ Post a Reply to This Message ]

Subject: I apologize for all the trash on here. I am trying to get it cleaned up.


Author:
Karen & Bubba
[ Edit | View ]

---

Date Posted: 11:57:22 06/22/16 Wed


---


[ Post a Reply to This Message ]

Subject: June Points Standings 1st Place, Mike Clark w/143 points, 2nd place David Green w/ 108 points, 3rd place Gary Epperson w/81 points, 4th Place Kirk Williams w/ 73 points, 5th Place Ronnie Mitchell w/70 points, 6th place tie Rickey Jackson & Randy Thorn w/ 68 points, 7th place Jay Moore w/60 points, 8th place tie Jeff Swyden & Alan Durbin w/ 35 points and 9th place Daniel Large w/30 points. It's still very, very close.


Author:
Karen & Bubba
[ Edit | View ]

---

Date Posted: 11:55:22 06/22/16 Wed


---


[ Post a Reply to This Message ]

Subject: Congratulations to our June winner, Kirk Williams and our runner-up, Mike Clark. They sure put on a great final race for us. Randy Thorn won low ET in the TT round with a 5.0276 and Mike Clark won best RT in round one at .0233 and noted for the banquet records David Green ran the best MPH of the night at 145.16. It was a fun night of racing with a few top contenders beating themselves by red lighting or, breaking out.


Author:
Karen
[ Edit | View ]

---

Date Posted: 14:41:13 05/16/16 Mon


---


[ Post a Reply to This Message ]

Replies:
Subject: Correction****below are or MAY points and winners. I'm getting ahead of myself.


Author:
Karen
[ Edit | View ]

---

Date Posted: 14:43:41 05/16/16 Mon


---


[ Post a Reply to This Message ]

Subject: June Points Results**** 1st Mike Clark-110 pts, Gary Epperson 2nd-81 pts, David Green 3rd-76 pts, Kirk Williams 4th-63 pts, Ronnie Mitchell 5th-60 pts, Randy Thorn 6th-53 pts, Rickey Jackson & Jay Moore tie for 7th-50 pts, Alan Durbin & Jeff Swyden tie for 8th-35 pts and Daniel Large 9th-10 points.


Author:
Karen
[ Edit | View ]

---

Date Posted: 14:36:28 05/16/16 Mon


---


[ Post a Reply to This Message ]

Subject: Congratulations to our April Winner Gary Epperson and our Runner Up Jerry Jayroe. Great racing guys.


Author:
Karen
[ Edit | View ]

---

Date Posted: 15:41:44 04/05/16 Tue


---


[ Post a Reply to This Message ]

Subject: April Points*** 1st Mike Clark w/ 78 points, 2nd Gary Epperson w/ 71 points, 3rd David Green w/ 56 points, 4th place a 4 way tie w/ 40 points each, Ronnie Mitchell, Rickey Jackson, Randy Thorn and Jay Moore, 5th w/ 35 points Alan Durbin, 6th w/30 points Kirk Williams, 7th w/ 20 points Jeff Swyden and 8th w/ 10 points Daniel Large. Low ET and double points for it went to Mike Clark and Best Reaction in Round 1 went to Kirk Williams.


Author:
Karen
[ Edit | View ]

---

Date Posted: 15:39:28 04/05/16 Tue


---


[ Post a Reply to This Message ]

Subject: Next race and double points Saturday April 2, 2016. We will post start time soon.


Author:
Karen
[ Edit | View ]

---

Date Posted: 11:00:04 03/27/16 Sun


---


[ Post a Reply to This Message ]

Subject: Points standings as of March 19, 2016. 1st place w/36 points, David Green, 2nd Place w/32 points, Mike Clark, 3rd Place w/ 20 points, Jay Moore, 2 way tie for 4th w/ 15 points is Alan Durbin & Gary Epperson and a 4 way tie for 5th place w/10 points is Daniel Large, Kirk Williams, Rickey Jackson and Ronnie Mitchell. Next week is a double points race, not to late to join points or catch up.


Author:
Karen
[ Edit | View ]

---

Date Posted: 10:58:59 03/27/16 Sun


---


[ Post a Reply to This Message ]

Subject: The first race is now in the past and what an exciting night it was. Our winner was David Green and our runner up was Mike Clark. Congratulations to both teams. Our winner of $100.00 for low ET in qualifying round was David Green at a 5.0832. Our winner of $50.00 in round 1 for best RT was Alan Durbin @ .0210 and our fastest MPH w/o breaking out was Rickey Jackson @ 142.31.


Author:
Karen
[ Edit | View ]

---

Date Posted: 10:54:19 03/27/16 Sun


---


[ Post a Reply to This Message ]

Subject: Change to payout this year: Winner $1000, Runner up $700, Semis $300, Quarter $100, Fastest Qualifier $100, Best Reaction round one $50 and New this year $50 back to all FIRST ROUND ONLY losers only.


Author:
Karen
[ Edit | View ]

---

Date Posted: 06:32:43 03/19/16 Sat


---


[ Post a Reply to This Message ]

Subject: Gates open at noon, we take the staging lanes at 3:00 PM. Please be ready at 2:45.


Author:
Karen
[ Edit | View ]

---

Date Posted: 06:24:53 03/18/16 Fri


---


[ Post a Reply to This Message ]

Subject: Season Opener March 19th


Author:
NSD
[ Edit | View ]

---

Date Posted: 14:33:28 02/22/16 Mon


---



There's also a big tire and small tire jackpot race on Friday night hosted by NSD for anyone! More info on facebook under Triple 333's Shootout

[ Post a Reply to This Message ]

Subject: question


Author:
lookin for a race class
[ Edit | View ]

---

Date Posted: 15:39:48 02/04/16 Thu


---

I have a Camaro that is square tube from firewall back, front is round tube with struts. Any chance I could run with you guys?

[ Post a Reply to This Message ]

Subject: Please call and RSVP the number of people you will be bringing to the banquet. Call Bubba at 972-329-7320 or 972-564-1231 and leave a message with your name and number attending please.


Author:
KAREN
[ Edit | View ]

---

Date Posted: 13:55:32 11/04/15 Wed


---


[ Post a Reply to This Message ]

Subject: ****BANQUET ANNOUNCEMENT*** Our annual banquet will be held Saturday November 21, 2015 same VFW-9180 in Forney. Cocktails 6:00-6:30, dinner 6:30-8:00, awards 8:00-9:00 and party 9:00-midnite. Cash bar, everything else is provided by OSBH and Bubba & Karen Jackson. All current/past/and future drivers are welcome along with thier families and pit crew. All North Star Dragway employees and all our friends/employees of Redline are invited to attend. Please RSVP (so we will have enough food) by calling 972-564-1231 and leave a VM with number in your party after my sweet grandson greets you. We have lots of awards to give out this year.


Author:
Karen & Bubba
[ Edit | View ]

---

Date Posted: 12:37:38 10/16/15 Fri


---


[ Post a Reply to This Message ]

Subject: We have confirmation on the new OSBH record. After pulling all the past paperwork, Ronnie Mitchell holds the record of 5.0010 to Bud Morgans 5.0011. Congratualtions Ronnie Mitchell.


Author:
Karen & Bubba
[ Edit | View ]

---

Date Posted: 11:02:50 10/06/15 Tue


---


[ Post a Reply to This Message ]

Subject: 2015 Banquet information: Saturday November 21st, cocktails 6:6:30 (cash bar), dinner starts at 6:30 and awards at 8:00. No tickets are needed, all food and non-alcoholic drinks are free. VFW-9188 located on FM-1641 Forney, TX 75126. All OSBH racers, former racers, their pit crew and families are invited. Our old Redline employees and our new North Star track employees are also invited. All we ask is that you call 972-564-1231 and leave a message on our home answering machine with number in your group so we will have plenty of food. Kids are at your discreation.


Author:
Karen & Bubba
[ Edit | View ]

---

Date Posted: 13:07:13 10/05/15 Mon


---


[ Post a Reply to This Message ]

Subject: Congratulations to Tony Thorn our October winner and Randy Thorn our runner-up and 2015 Points Champion. All other places will be annouced at the banquet and I can tell you they were really, really close. We only had a field of 9 cars, sad to say, but we had some helluva racing. Best race of the night was Cody Epperson and Ronnie Mitchell. Ronnie ran 142.77 MPH with an ET of 5.0010 which we are confirming is our new OSBH record against Cody's 142.23 MPH and ET of 5.0018 which we are confirming is second best beating out Lloyd Martins 5.0181. The difference in the run was Ronnie's RT of .0416 to Cody's RT of .0103. Cody won that round but they both have some bragging rights. Ronnie also won the $100.00 for fastest qualifier of the night and Alana Durbin won the $50.00 for Best RT in round 1. Thank you guys, tho you were few you gave the fans a show.


Author:
Karen & Bubba
[ Edit | View ]

---

Date Posted: 12:56:56 10/05/15 Mon


---


[ Post a Reply to This Message ]

Subject: With just one race left this Saturday October 3, 2015 the points Champion is still up for grabs. There are 59 points separating 1st thru 7th place. With a double points race and a win of 66 pts and a runner-up of 64 pts it's all still up for grabs. It all comes down to this final race. I do know there are a few guys heading to Houston that will not be running with us. It's very important that we pull a car count for this final race. The future of Old School Back Half may depend on this.


Author:
Karen & Bubba
[ Edit | View ]

---

Date Posted: 06:32:12 09/28/15 Mon


---


[ Post a Reply to This Message ]

Subject: Points standing after September race. 1st Randy Thorn 129 pts, 2nd Kirk Williams 123 Points, 3rd Will Eastwood 116 pts, 4th Tony Thorn 112 pts, 5th Rickey Jackson 98 pts, 6th Jay Moore 73 pts, 7th Ronnie Mitchell 70 pts, 8th Keith Moyer 60 points, 9th Cody Stafford 56 pts, 10th Danile Large 55 pts, 11th Paul Ridenhour 32 points, 12th Ray Day 30 pts, 13th Will Allen 13 pts, 14th- Tie Kameran Moyer & Kelly Duncan 20 pts and 15th Roy Britain 13 pts. Fastest qualifier was a new guy to Old School Back Half, Jeff Denton with a 5.0432. Best RT in round 1 was Kirk Williams with a .0163, and fastest MPH was Gary Epperson at 142.68.


Author:
Karen & Bubba
[ Edit | View ]

---

Date Posted: 06:24:51 09/28/15 Mon


---


[ Post a Reply to This Message ]

Subject: Racers, Ryan Tucker crashed at Cedar Creek this weekend. He was injured pretty bad. We ask that you pray for him and his family during this difficult time.


Author:
Karen
[ Edit | View ]

---

Date Posted: 18:41:00 09/07/15 Mon


---


[ Post a Reply to This Message ]

Subject: Points standings after August race, 1st Randy Thorn w/ 119 points, 2nd Will Eastwood w/116, 3rd Tony Thorn w/112, 4th Kirk Williams w/90, 5th Rickey Jackson w/83, 6th Jay Moore w/73, 7th Tie Keith Moyer and Ronnie Mitchell w/60, 8th Cody Stafford w/56, 9th Daniel Large w/40, 10th Paul Ridenhour w/32, 11th Ray Day w/30, 12th Will Allen w/25, 13th Tie Kelly Duncan & Kameran Moyer w/20 and 14th Roy Britain w/13 points. With 2 races left and one being a double points race, it's anybodies to win. Just 7 points divide 1st and 3rd place.


Author:
KAREN
[ Edit | View ]

---

Date Posted: 12:09:50 08/07/15 Fri


---


[ Post a Reply to This Message ]

Subject: ****NOTICE*****CHANGE TO SEPTEMBER RACE DATE. WE WILL RACE SATURDAY SEPTEMBER 26TH INSTEAD OF THE SCHEDULED 12TH RACE. WHAT THIS MEANS FOR US IS 2 BACK TO BACK RACES, SEPT 26 AND OCTOBER 1 (DOUBLE POINTS AND LAST POINTS RACE). MARK YOUR CALENDARS.


Author:
KAREN
[ Edit | View ]

---

Date Posted: 12:01:30 08/07/15 Fri


---


[ Post a Reply to This Message ]

Subject: Congratulations to our August winner Jay Moore and our runner up John Erwin. Our low ET went to Rickey Jackson (YEA!!!!) and Best RT went to Randy Thorn. We had a 14 car field in this brutal Texas heat. Congrats to all.


Author:
Karen
[ Edit | View ]

---

Date Posted: 11:58:10 08/07/15 Fri


---


[ Post a Reply to This Message ]

Subject: Next race is Saturday August 1st and we need to have a large car count and all the spectators we can. OSBH is really getting a huge fan base and we need to give them the show they come to see. You guys are really becoming popular, we even have folks now asking for autographs. Get-em ready guys and let's show Northstar why they wanted us to run their track.


Author:
Karen
[ Edit | View ]

---

Date Posted: 08:50:02 07/07/15 Tue


---


[ Post a Reply to This Message ]

Subject: Points standings after our July double points race-#1 Tony Thorn w/ 112 pts, #2 Randy Thorn w/ 109 pts, #3 Will Eastwood w/106 points, #4 Kirk Williams w/ 75 pts, #5 TIE Keith Moyer, Rickey Jackson and Ronnie Mitchell w/ 60 pts, #6 Cody Stafford w/56 pts, #7 Jay Moore w/ 40 pts, #8 Paul Ridenhour w/ 32 pts, #9 TIE Daniel Large and Ray Day w/ 30 pts, #10 Will Allen w/25 pts, #11 TIE Kelly Duncan and Kameran Moyer #12 Roy Britain w/13 pts. Our winner of low ET in qualify round was Tony Thorn with a 5.0218 and Tony won $50.00 in round one for Best RT of .0136. Top MPH of the night w/o breaking out belonged to Cody Stafford and Tony Thorn at 143.86 each. Congratulations guys on a HOT night of racing.


Author:
KAREN
[ Edit | View ]

---

Date Posted: 08:44:59 07/07/15 Tue


---


[ Post a Reply to This Message ]

Subject: July 4th Event Info


Author:
NSD
[ Edit | View ]

---

Date Posted: 04:01:13 06/23/15 Tue


---



This is a HUGE event folks! Glad to have OSB as a part of the feature show of the summer. Friday we will have test and tune for anyone wanting to park and get some hits in. We should have time for 2, maybe 3 runs and will run TNT when time permits. Parking will be reserved for Pro Mods & Fuel Altereds, then Old School Backhalf, then Volkswagens, in that order. We will have cones saving you spots with "Old School Backhalf" on them! Please park in a designated spot!

Gates Open at NOON for racers on Friday & Saturday

There is NO Open Test & Tune on Saturday

Time Trial Saturday will be at 5:30 SHARP (We will call you at 5:15, please be ready!) We need to conclude your time trial before 6 PM as pre-race ceremonies kick off with a special landing from parachuter Dana Bowman with an American Flag at 6 PM sharp!)

Please try to come to the lanes with your opponent during eliminations, the pits will be packed and this event will be flowing fast! It's an awesome program, you guys are going to love it! We'll see you next weekend!

THANKS!
NSD

[ Post a Reply to This Message ]

Subject: Points standings after June Double points race- #1 Tony Thorn 66 pts, #2-Tie Kirk Williams & Randy Thorn 45 pts, #3-Tie Jay Moore, Ronnie Mitchell & Will Eastwood 40 pts, #4 Cody Stafford 36 pts, #5 Paul Ridenhour 32 pts, #6-Tie Daniel Large, Keith Moyer , Ray Day & Rickey Jackson 30 pts, #7 Will Allen 25 pts, #8-Tie Kameron Moyer & Kelly Duncan 20 pts, #9 Roy Britain 13 points. Fasest qualifer and winner of $100.00 was Cody Stafford @ 5.0877, Best RT in round one and winner of $50.00 Mike Clark @ .0071 and the lowest ET of the night without breaking out was Ronnie Mitchell @ 5.019 followed very closely by Scott Johnson @ 5.0222.


Author:
KAREN
[ Edit | View ]

---

Date Posted: 11:04:49 06/12/15 Fri


---


[ Post a Reply to This Message ]

Subject: Gates are now opening at noon on Saturday. Please visit the Purple Pop Up tent to pay your $100.00 if you wnat to be a part of the point system. With just one race and this next one being double points it's anybodies to win. You must pay prior to the time trial in order to gain points this Saturday.


Author:
KAREN
[ Edit | View ]

---

Date Posted: 08:03:50 06/03/15 Wed


---


[ Post a Reply to This Message ]

Subject: ***NOTICE*** June 6th race will be a Double Points race since we have been unable to get the May race ran. Let's all pray we have a decent week leading up to the event and can finally get a race in. I would remind you all to pack your OFF spray as the mosquitos will be bad. Gates open at 2:00 and time trial at 5:00. Just a reminder, you do not have to run the time trial but we do pay $100.00 to the fastest qualifier.


Author:
Karen & Bubba
[ Edit | View ]

---

Date Posted: 11:49:33 05/28/15 Thu


---


[ Post a Reply to This Message ]

Subject: ****NOTICE*** DUE TO 100% CHANCE OF RAIN AND POSSIBLY SEVERE STORMS, NORTHSTAR IS CANCELING SATURDAY'S RACE EVENT. EVERYONE'S SAFETY IS OUR OUR FIRST PRIORITY. WE WILL ANNOUNCE A MAKE-UP DATE. STAY SAFE EVERYONE.


Author:
KAREN
[ Edit | View ]

---

Date Posted: 08:35:18 05/07/15 Thu


---


[ Post a Reply to This Message ]

Subject: May 9th race, gates open at 2 and OSBH time trial at 5:00 PM. Double points race, see you there.


Author:
Karen
[ Edit | View ]

---

Date Posted: 17:32:32 05/03/15 Sun


---


[ Post a Reply to This Message ]

Subject: It is with a heavy heart that we let you know that Phillips Week Sr. AKA Taz passed away Monday evening after a courageous battle with Cancer. Visitation will be Thursday April 16, 2015 6-8:00 PM at New Hope Funeral Home in Sunnyvale, TX off of Hwy-80 and Collins Road. Funeral will be at the same place on Friday at 2:00 PM. Please reach out to Peggy if you can't make it and let her know we are all a family in the race world.


Author:
Karen
[ Edit | View ]

---

Date Posted: 06:07:36 04/15/15 Wed


---


[ Post a Reply to This Message ]

Subject: Thanks Roy, I will get that in the mail to you tomorrow. Glad you enjoyed it. I hope to meet all the new guys in may.


Author:
Karen
[ Edit | View ]

---

Date Posted: 12:20:39 04/01/15 Wed


---


[ Post a Reply to This Message ]

Subject: Roy Britain, I have a $50.00 check for you. Call Bubba at 972-329-7320 with your address and I will mail to you. If you prefer I can hold until May race. Your choice.


Author:
Karen
[ Edit | View ]

---

Date Posted: 17:04:22 03/29/15 Sun


---


[ Post a Reply to This Message ]

Replies:
Subject: Congratulations to our first 2015 Winner, Derrick Lewis and our runner-up Big Paul Ridenhour. These guys were headed to the final round when Paul broke so by default Derrick was named our winner. Hope to see many more of you out in May when we pair up with the Outlaw Pro Mod Final qualifications and eliminations.


Author:
Karen
[ Edit | View ]

---

Date Posted: 17:02:42 03/29/15 Sun


---


[ Post a Reply to This Message ]

Subject: Points standings as of March 28, 2015-1st Place Big Paul Ridenhouse-32 pts, 2nd Place Will Allen-25 pts., 3rd Place Tie Kirk Williams & Randy Thorn-15 pts., 4th Place Roy Britain-13 pts and everyone else that joined our points are all at 10 pts each. Our #1 Qualifier and winner of $100.00 was Len Conner with a 5.0396 in our TT round and Roy Britain won $50.00 for best RT of .0091 in our first round. Congratulations!!


Author:
Karen
[ Edit | View ]

---

Date Posted: 16:57:17 03/29/15 Sun


---


[ Post a Reply to This Message ]

Subject: I hope by now most of you have seen the flyer announcing Test & Tune this Sunday at NorthStar. Bubba and I hope to be there with the Cuda. Just like a lot of you, he is trying hard to get it finished up. We know due to the bad weather parts have been delayed and some of you are scrambling to get your cars ready by March 28. I would like to have a role call please. Please answer the following ways, "READY"-you will be there for sure on the 28th, "MAYBE"- you hope to have your car finished in time and "NOT HAPPENING" and we will see you in May. Be sure and provide your name. I will also post this on the Facebook page.


Author:
Karen
[ Edit | View ]

---

Date Posted: 05:43:11 03/12/15 Thu


---


[ Post a Reply to This Message ]

Subject: Test & Tune This Sunday


Author:
NSD
[ Edit | View ]

---

Date Posted: 16:53:31 03/10/15 Tue


---

We are open for test and tune this Sunday the 15th from 11-7! $10 admission $10 to race!

[ Post a Reply to This Message ]

Subject: We have a variety of engine builders and machine shops involved in our back half cars lets give them a shout out. Bud Morgan Morgan & Son - Naiser Racing Engines - Tony Thorn Home of the Fast Cars - Gary Willeford Bullet Racing Engines - Taylor Lassiter Racing Engines - Max Long Long Racing engines - Rick Caudle Metroplex Machine Shop - Sunset Racing Engines. If anyone has somebody else let me know.


Author:
Bubba Jackson
[ Edit | View ]

---

Date Posted: 13:55:34 03/01/15 Sun


---


[ Post a Reply to This Message ]

Subject: Got a few more for the race list Big Paul Denhour- Ronnie Mitchel - Noah Smith - Big Will - Brandon Turner - David Howser - Kevin Shipp - Mike Mitchel- Jerry Jaroe - Cornbread said he might run some of the races


Author:
Bubba Jackson
[ Edit | View ]

---

Date Posted: 12:49:53 03/01/15 Sun


---


[ Post a Reply to This Message ]

Subject: This will be our 7th year of the OLD SCHOOL BACK HALF race. Our first year we did not run a points series. Since then we have had 5 CHAMPIONS Kelly Duncan - Keith Moyer our 2 time Champion- Bud Morgan driving Loyd Martins car- Kameran Moyer last years Champion. Bud Morgan holds our et record at 5.0011 Steven Barreas holds our MPH record at 148.51- Randy Thorn with our best reaction time .4021. Thanks to my wife Karen Jackson she keeps our stats and points does our parings and thanks to my son in law and daughter Deuce & Kerrie and our main man my grandson Kolton


Author:
Bubba Jackson
[ Edit | View ]

---

Date Posted: 13:50:54 02/28/15 Sat


---


[ Post a Reply to This Message ]

Subject: Going to be interesting this year got Nitrous cars Blower cars Turbo cars and i heard a couple of Pro chargers. Heres are some comming for the March 28th race. Kameran Moyer last years points CHAMPION Will Eastwood who finished 2nd Randy Thorn who finished 3rd Daniel Large Kirk Willams JR Rickey Jackson Tony Thorn Loyd Martin Kelly Duncan Jay Moore Scott Watkins Pat McKinney Keith Moyer David Green Mike Clark Ben Carter and alot more, If your comming to run this race please reply to this post with your name. Alot of you i know and alot you look forawd to meeting you THANKS


Author:
Bubba Jackson
[ Edit | View ]

---

Date Posted: 20:48:53 02/23/15 Mon


---


[ Post a Reply to This Message ]

Subject: We have one or our OLD SCHOOL BACK HALF racers going to be on street outlaws Monday nlght. Randy Thorn


Author:
Bubba Jackson
[ Edit | View ]

---

Date Posted: 18:35:03 02/19/15 Thu


---


[ Post a Reply to This Message ]

Subject: Come check us out at The Dallas AutoRama this week-end. Sign up to win a free ticket to our March show. We will draw two winners a day.


Author:
Karen
[ Edit | View ]

---

Date Posted: 11:26:11 02/13/15 Fri


---


[ Post a Reply to This Message ]

Subject: Its going to be a bad ass year for the OLD SCHOOL BACKHALF at Denton. Gene has been promoting his butt off for our race. We all need to be doing to. TELL EVERY YOU KNOW. Lets make it bigger than its already going to be.If anyone knows anybody that might want to sponsor our race please let me know. 972-329-7320 the more sponsors the more cars the more PAYOUT thats how it works. Thanks


Author:
Bubba Jackson
[ Edit | View ]

---

Date Posted: 18:44:58 01/24/15 Sat


---


[ Post a Reply to This Message ]

Subject: delay boxs


Author:
donnie johnson
[ Edit | View ]

---

Date Posted: 10:00:21 01/21/15 Wed


---

no delay boxes please,do not need a bunch of bracket cars in the class.

[ Post a Reply to This Message ]

Subject: had a couple people ask me about delay boxes and 1 ask about a smith racecraft tube front clip..please post so i know what to tell people.thanks


Author:
Big Will
[ Edit | View ]

---

Date Posted: 20:22:11 01/07/15 Wed


---

.

[ Post a Reply to This Message ]

Subject: March 28th - Old School Backhalf @ Match Race Madness


Author:
NSD
[ Edit | View ]

---

Date Posted: 09:13:08 12/17/14 Wed


---

We are looking forward to a great year and this first race will be HUGE! Get there early!



[ Post a Reply to This Message ]

Replies:
Subject: Denton Race Schedule dates announced: March 28, May 2, June 6, July 4, Aug 1, Sept 19 and Oct 10. Due to the random dates please mark your calendars accordingly. Right now we do not have an April date, we are checking on that. More to follow as we have info.


Author:
Karen
[ Edit | View ]

---

Date Posted: 16:41:08 11/04/14 Tue


---


[ Post a Reply to This Message ]

Subject: Please call and RSVP the number of people you will be bringing to the banquet. So far the Daniels, the Clarks and the Kirk Williams families are all we have heard from. Call Bubba at 972-329-7320 and leave a message with your name and number attending please.


Author:
Karen
[ Edit | View ]

---

Date Posted: 13:47:03 11/04/14 Tue


---


[ Post a Reply to This Message ]

Subject: For those of you who have not yet heard the news, we will be moving the Old School Back Half to Northstar Dragway in Denton next year. Gene has accepted us and has agreed to our purse. We are still working out the details such as scheduling etc. We will still race once a month. Redline has been very good to us the past 5 years and we leave with a heavy heart. It's time for a change and Denton has made that possible.


Author:
Karen
[ Edit | View ]

---

Date Posted: 13:11:35 10/29/14 Wed


---


[ Post a Reply to This Message ]

Subject: Final Points are revealed at the banquet when we pass out the awards. It's our sneaky little way of getting you there. That and the great Brisket Bubba cooks for you guys. See you then.


Author:
Karen
[ Edit | View ]

---

Date Posted: 13:29:29 10/16/14 Thu


---


[ Post a Reply to This Message ]

Subject: Racers please remember to bring your tech cards from September's rain out race. This is your entry for Saturdays final race.


Author:
Karen
[ Edit | View ]

---

Date Posted: 11:07:29 10/02/14 Thu


---


[ Post a Reply to This Message ]

Subject: Point standings, at this point all Kameran has to do is take the line round 1 to secure his Championship. All other places are up for grabs. Anyone of you can move. Remember our points are on the driver and not the car. We have many other awards we will present at the banquet. After a season filled with ups and downs Bubba and I would like to ask that you all pull together and end this season on a high note for us. We have put in so many hours and hard work to create Bubba's dream of this 5.0 Class. We would love to end this season feeling good about what we started 5 years ago.


Author:
Karen
[ Edit | View ]

---

Date Posted: 08:04:44 09/28/14 Sun


---


[ Post a Reply to This Message ]

Subject: Our final race of the season will be a Double Points race on October 4. This will be our Pink Out and Fan appreciation race. We would like to line all of our racers on the track and the let the fans come meet you and see your car up close. We will also have your helmet available for donations to Breast Cancer. This is the one race that is near and dear to my heart. I have lost 3 very close friends to Breast Cancer. One of our very own racers wife is going thru treatment now. I will keep the person private unless he wants to reveal. Hope you will pay my hard work back by being at this race and supporting this cause with me.


Author:
Karen
[ Edit | View ]

---

Date Posted: 07:56:30 09/28/14 Sun


---


[ Post a Reply to This Message ]

Subject: CORRECTION: ON PAYOUT-FIRST ROUND PAYS $200.00 FOR BEST REACTION TIME. QUALIFYING ROUNDS PAY $200.00 BEST OUT OF TWO ROUNDS. CALL WITH ANY QUESTIONS ABOUT THIS.


Author:
Karen
[ Edit | View ]

---

Date Posted: 05:56:04 09/19/14 Fri


---


[ Post a Reply to This Message ]

Subject: Payout for 9/27 race announced. Winner $5000, Runner up $2000, Semis $700, 5-8 $300, #1 Qualifier after two rounds of Qualifying $200 and low ET in first round $200. Gates open at 4:00 . We will be drawing for position, no ladder. Rules: No throttle stops on cars period. No Dragsters or Roadsters, door cars only. Chassis cars ok.


Author:
Karen
[ Edit | View ]

---

Date Posted: 15:08:07 09/18/14 Thu


---


[ Post a Reply to This Message ]

Replies:
Subject: Due to the race in the 27th and our regular race on 10/4 we will not be re-scheduling our September race. October 4 will be the final race and it will be double points.


Author:
Karen
[ Edit | View ]

---

Date Posted: 15:11:20 09/18/14 Thu


---


[ Post a Reply to This Message ]

Subject: After our TT round last night we did rain out. Please hold on to your tech cards and your pit crew their bracelets for re-entry at the next race. Watch this site for updates when that will be. Since we did not get off a round we will start fresh as a totally new race. No points were given last night and still stand as is.


Author:
Karen
[ Edit | View ]

---

Date Posted: 09:17:02 09/07/14 Sun


---


[ Post a Reply to This Message ]

Subject: Plaese note the Sept. 20th race has been changed to Sept. 27th due to the NHRA Drag Nationals on the 20th. We are in the process of updating the flyer on the site now.


Author:
Karen
[ Edit | View ]

---

Date Posted: 09:14:05 09/07/14 Sun


---


[ Post a Reply to This Message ]

Subject: Daniel Large thanks for your RSVP got the banquet. Your crew is the only one that will have a per person fee. Ha!!!'


Author:
Karen
[ Edit | View ]

---

Date Posted: 07:20:10 08/29/14 Fri


---


[ Post a Reply to This Message ]

Subject: I know there are lots of rumors and gossip going around as Redline Raceway has made some change to management. I would like to say first and foremost that the people at Redline have always been very good to us. Monica and Kelly are family to us and we wish them nothing but great things. We will continue to support them and their business. Second there will be no change to our race schedule. We have our September and October race still on the books. We are still running the $10 grand race Sept. 20. Please help us out and call Bubba if you are in doubt or have a question.


Author:
Karen
[ Edit | View ]

---

Date Posted: 18:19:55 08/20/14 Wed


---


[ Post a Reply to This Message ]

Subject: August 2014 point standings-1st Place-Kameran Moyer 200 pts, 2nd Place Will Eastwood 150 pts, 3rd Place Randy Thorn 126 pts, 4th Place Kirk Williams 122 pts, 5th Place Derrick Lewis 116 pts, 6th Place Bud Morgan 111 pts, 7th Place Mike Clark 95 pts, 8th Place Tie Pat McKinney and Jay Moore w/ 90 pts, 9th Place Lloyd Martin 74 pts, 10 th Place Tie Daniel Large and Richard Blair w/ 60 pts, 11 Place Tie Rickey Jackson and Steven Barerras w/ 10 pts. Winning our Low ET in TT round with a 5.072 was Derrick Lewis and winning our $50.00 Best RT in round 1 was P. Easley with a .0181. Top MPH of the night was Derrick Lewis at 142.59. Congratulations guys.


Author:
Karen
[ Edit | View ]

---

Date Posted: 05:44:17 08/13/14 Wed


---


[ Post a Reply to This Message ]

Subject: Congratulations to Kameran Moyer our August winner and Lloyd Martin our Runner-up. More info to follow later today.


Author:
Karen
[ Edit | View ]

---

Date Posted: 12:57:20 08/04/14 Mon


---


[ Post a Reply to This Message ]

Subject: new photos


Author:
keith moyer
[ Edit | View ]

---

Date Posted: 18:21:43 07/22/14 Tue


---

Why no new pics from the last race???? or pics at all.
how about trophies?????

[ Post a Reply to This Message ]

Subject: July Points Standings-1st Kameran Moyer-134 pts, 2nd Will Eastwood-130 pts, 3rd Bud Morgan-111 pts, 4th Kirk Williams-102 pts, 5th Mike Clark-95 pts, 6th Randy Thorn-86 pts, 7th Jay Moore, Pat McKinney & Derrick Lewis-70 pts, 8th Richard Blair & Daniel Large-60 pts, 9th Rickey Jackson, Steven Barerras & Lloyd Martin. Next month is a double points race so let's get em ready. Lots of close points, its anybody's to win. Kameran Moyer won the 3pts and $100.00 for low ET 5.0082 when Lloyd broke-out in our TT round. Jay Moore took the $50.00 for best RT @ .0030 when Pat McKinney took off on a Redlight.Pat just may have helped Jay set a record in this class. Honarable mention goes to Mike Clark who had low RT in two of the 4 rounds...barely missing the money paying round.


Author:
Karen
[ Edit | View ]

---

Date Posted: 15:38:58 07/09/14 Wed


---


[ Post a Reply to This Message ]

Subject: There was a huge crowd Saturday at Redline to watch our show but, unfortunately we only had a 9 car field. If we cannot get the car count back up I'm sorry to say I'm not sure how much longer our class can be supported. NO we are not changing the rules to increase the car count, we just need everyone that fits the rules to commit to one night a month. Bubba and I put in a lot of work into this class and we want it to grow and not fizzle out. Help us out by commiting to that first Saturday now thru October. **Banquet date has been set for Saturday November 22, 2014. Same place as always, live band this year and just 5.0 Class.


Author:
Karen
[ Edit | View ]

---

Date Posted: 13:16:56 07/07/14 Mon


---


[ Post a Reply to This Message ]

Subject: Race family let's send prayers Bud Morgans way please. Bud was involved in an accident this week-end at Kennedale. From what we understand he is banged up pretty good, some broken ribs but will recover. I do not know any details let's just keep Bud and Shannon in our thoughts. We never want to hear of our race family being hurt. On another note, I would like to call out all you TURBO GUYS...where you been? We vote you in and then you dissapear. Would like to see you back at the track this week-end. It's on Saturday night at Redline, come on out and joins us.


Author:
Karen
[ Edit | View ]

---

Date Posted: 13:14:56 07/01/14 Tue


---


[ Post a Reply to This Message ]

Subject: How this months points were calculated: Round 3 (semi) was not ran and the last 3 cars were Jay Moore with a bye run and Will vs. Kameran. They were given their 10 points each for that round. Final round would have been 16 to win and 14 to runner up, that totals 30 points so they were each given 10 points fot that round. Kameran gained 6 points as the fastest qualifier of the night. Each of the guys took home $650.00 a combination of the winnings for 1st, 2nd and 3rd. It was a great night of racing and I sure would have like to see it through. Kameran received his $100.00 as fastest qualifier and Mike Clark won the $50.00 for fastest ET when he knew he needed to leave on Bud Morgan. Great job guys, again I am proud of our stand up guys.


Author:
Karen
[ Edit | View ]

---

Date Posted: 13:12:44 06/10/14 Tue


---


[ Post a Reply to This Message ]

Subject: June 7th point standings 1st-130 pts Will Eastwood. 2nd 111 pts Bud Morgan, 3rd-98 pts Kameran Moyer, 4th-86 points Randy Thorn, 5th-75 points Mike Clark, 6th-70 points Kirk Williams, 7th-60 points (lots of ties), Daniel Large, Derrick Lewis, Pat McKinney, Richard Blair and Jay Moore, 8th-10 pts Rickey Jackson and Stephen Barerras.


Author:
Karen
[ Edit | View ]

---

Date Posted: 13:06:05 06/10/14 Tue


---


[ Post a Reply to This Message ]

Subject: I want to start by saying what a stand up group of men we have in this class of racers. We call ourself a family and that was so true tonight . We were down to 3 cars when an electrical issue caused the lights at the track to fail. It would take 1/2 hour for them to come back on with no garuntee that they would stay on. Kameran Moyer, Jay Moore and Will Eastwood agreed to split the purse and the accumulated points they earned for the night. No hassles or complaining, great group of guys.


Author:
Karen
[ Edit | View ]

---

Date Posted: 23:53:37 06/07/14 Sat


---


[ Post a Reply to This Message ]

Subject: Saturday June 7th our grandson Kolten, who we call VP of Old School and is always with Bubba and at the scales is having a birthday party at the track. He wanted to invite all the Old School Drivers. If there are any of you who would like to show up at the track at 2:30 on Saturday and pretend Kolten is a big shot by knowing a race car driver, show off in front of some 6 year old boys, and make one 6 year olds dream come true then please come.


Author:
Karen
[ Edit | View ]

---

Date Posted: 06:42:04 06/01/14 Sun


---


[ Post a Reply to This Message ]

Subject: Our next race is Saturday June 7, 2014. Gates open at 5:00 and TT round we will start calling to scales at 7:30 PM. We will weigh this week. I would like to thank everyone for hanging in last week at the very long night due to the Grudge night races. You know I like to get us out of there by midnight if possible.


Author:
Karen
[ Edit | View ]

---

Date Posted: 06:36:11 06/01/14 Sun


---


[ Post a Reply to This Message ]

Subject: ***May 24 Double Points Results*** 1st Bud Morgan-81 pts, 2nd Will Eastwood -70 pts, 3rd Randy Thorn-56 pts, 4th Mike Clark-55 pts, 5th Kirk Willaims-50 pts, 6th 3 way tie, Daniel Large, Derrick Lewis & Richard Blair-40 pts, 7th Kameran Moyer-32 points, 8th Pat McKinney-30 pts, Tie for 9th Rickey Jackson & Steven Barerras-10 pts


Author:
Karen
[ Edit | View ]

---

Date Posted: 06:32:09 06/01/14 Sun


---


[ Post a Reply to This Message ]

Subject: Today, Redline opens at noon. Old School you need to be parked, unloaded and ready to go at 7:30 (NO EXCEPTIONS). It is going to be very, very crowded and parking will be limited. We have large group coming and are ready to put on a great backhalf show with your cooperation. Good luck guys.


Author:
Karen
[ Edit | View ]

---

Date Posted: 06:37:23 05/24/14 Sat


---


[ Post a Reply to This Message ]

Subject: Point Standings as of May 3rd, 2014*** 1st Randy Thorn 36 points, 2nd Kameran Moyer 32 points, 3rd tie between Derrick Lewis and Kirk Williams, 4th tie Mike Clark and Bud Williams and 5th ties Daniel Large, Rickey Jackson, Richard Blair and Steven Barreras. It's not to late to join points. Our next two races are double points. See me before round 1 of our next race.


Author:
Karen
[ Edit | View ]

---

Date Posted: 17:23:36 05/05/14 Mon


---


[ Post a Reply to This Message ]

Subject: We started the season off with a bang, I know you heard it...because it was our Cuda. Kidding, great show Saturday night. We had 17 cars and Tony Thorn took the win beating out Kameran Moyer with a hole shot. Tony was on fire all night winning Low ET (5.055) in our TT round and Best Reaction (0.4178) in round 1. We had some old racers come back, some new faces join us and some that have only raced a time or two show up. We look forward to an even bigger turn out May 24th.


Author:
Karen
[ Edit | View ]

---

Date Posted: 17:16:19 05/05/14 Mon


---


[ Post a Reply to This Message ]

Subject: If the weather is in our favor we hope to start our race season Saturday May 3rd. This will be our first points race of the season and I will be collecting your $50.00 registration if you plan to participate in the points program. ***April make-up race will SATURDAY MAY 24, 2014 AND IT WILL BE A DOUBLE POINTS RACE. Mark your calendars and get em ready. Check out Redline website for gate opening.


Author:
Karen
[ Edit | View ]

---

Date Posted: 15:52:20 04/27/14 Sun


---


[ Post a Reply to This Message ]

Subject: Sorry about all the trash on here. We are trying to get it cleaned up. Please note we are changing the months for the double points race. Watch for the changes.


Author:
Karen
[ Edit | View ]

---

Date Posted: 18:40:47 03/30/14 Sun


---


[ Post a Reply to This Message ]

Subject: Y'all ready for the 1st race? Couple weeks away!!!!!! The Bandits been hibernating since last Oct.


Author:
Bandit crew
[ Edit | View ]

---

Date Posted: 08:58:28 03/24/14 Mon


---


[ Post a Reply to This Message ]

Subject: Just a reminder our 1st race of the season is coming up Saturday April 5, 2014. This will be a points race so remember to pay your $50.00 to Kerrie (my daughter) or, Bubba as soon as you arrive. I'm sorry to say I will miss the first race of the season. I will be on the sunny beaches of Daytona Beach, FL with an umbrella drink in hand. Please be on time to the scales and pay your points fee prior to taking the staging lanes of first round.


Author:
Karen
[ Edit | View ]

---

Date Posted: 14:30:18 03/06/14 Thu


---


[ Post a Reply to This Message ]

Subject: It's been a busy Winter thus far at the Jackson house. Amanda will be posting the new schedule shortly. I do want to mention that we are changing our schedule from the 3rd Sat. of the month to the 1st Sat. of the month. We will begin Saturday April 5, 2014. We will not start in March due to weather. Also the rumors are true, Redline has been sold and Mike and Sharon Adcock are the new owners. Nothing changes for us at this time other that our schedule. We will still run with the 7.0 class and Monica will still be managing the track along with Kelly. We will be starting a OSBH Facebook page so please share.


Author:
Karen
[ Edit | View ]

---

Date Posted: 06:26:01 01/27/14 Mon


---


[ Post a Reply to This Message ]

Subject: Congratulations to our 2013 points winners: Champion-Bud Morgan, Runner up Champion- Steven Barerras, 3rd Place-Richard Blair, 4th Place- Jay Moore, 5th Place- Randy Thorn, 6th Place Mike Clark, 7th Place Tie-Daniel Large and Kevin Shipp, 8th Place-Kelly Duncan and 9th Place- Mike Cole. If you were not at the banquet and have a winning or participation trophy coming please contact Bubba at 972-329-7320 and arrange to pick it up from his shop. Pat McKinney we have your Runner-up award from the last race, contact us.


Author:
Karen
[ Edit | View ]

---

Date Posted: 08:08:45 11/20/13 Wed


---


[ Post a Reply to This Message ]

Subject: ****BANQUET REMINDER***** Saturday November 16, 2013. Cocktails 6-6:30, Dinner 6:30-8:00, awards at 8:00 followed by dancing and socializing. VFW in Forney on FM-1641 (Next to the Smokehouse). Looks like we are having a large turnout.


Author:
Karen
[ Edit | View ]

---

Date Posted: 13:21:07 11/11/13 Mon


---


[ Post a Reply to This Message ]

Subject: If you have not RSVP'd for the banquet please do so. So far I have heard from 1 Extreme 7.0 guy, the Clark Brother's and the Bererra's. If you want to eat better call me, Call 972-564-1231 and leave a message with your name and number attending (my grandson is on the VM and it states Nana & Papa are not home, leave a message). Also Randy Curtis is making a beauitful MUST HAVE coffee table book that he will show at the banquet. He will be taking orders for these and it covers the entire race season with fabulous pictures. Wives this will make an excellent Christmas present for your husbands.


Author:
Karen
[ Edit | View ]

---

Date Posted: 05:35:01 10/30/13 Wed


---


[ Post a Reply to This Message ]

Subject: Congratulations to Jay Moore on back to back wins. Also a big congrats to Pat McKinney who was our runner-up. If you left early you missed the closest race at 8 thousands of a second margin. Neither guy knew who won until they returned to the winner circle. It was an amazing finish to the year. Randy Thorn won the $100.00 for low ET in our TT round. Daniel Large took the $50.00 for best RT in round 1. Top MPH of the night without breaking out was Jay Moore at 142.81. The points have been added, the trophies just ordered and we have our winners. See you at the banquet guys where we annouce point standings and all our other awards.


Author:
Karen
[ Edit | View ]

---

Date Posted: 18:48:13 10/22/13 Tue


---


[ Post a Reply to This Message ]

Subject: October 19-Last race of the season. This is a Double Points race and there are lots of positions that will be decided on this race. Redline will be opening the gates at 2:00 PM for a make-up race for another group. This is just an FYI if you would like to get thier early and cook-out with your teams, do a little tailgating (drivers no drinking). We will call our racers to the scales at 7;30 PM, Please be ready when we call you as we need to beat the dew from nightfall.


Author:
Karen
[ Edit | View ]

---

Date Posted: 12:59:32 10/16/13 Wed


---


[ Post a Reply to This Message ]

Subject: ****BANQUET ANNOUNCEMENT**** Old School Back Half and Extreme 7.0 will have a combined banquet this year. Saturday November 16, 2013 at the VFW located on FM-1641 in Forney, TX. Exit FM-548 (Wal-Mart) off Hwy-80 and head South, stay straight and it becomes FM-1641. The VFW will be on your left about 3/4 mile between metal buildings and Smokehouse. From I-20 exit FM-1641 (Exxon) and head North about 3 miles. VFW will be on your right just past the Smokehouse. There is no ticket to buy and dinner will be served along with non-alcohal drinks. The VFW has a very reasonable cash bar for those that prefer to drink. Welcome 6:00-6:30, dinner 6:30-8:00, awards at 8:00 followed by music, dancing and social. Children are at your discretion, just note there will be people drinking. Dress is casual. Bubba and I do all the cooking so we do ask that you RSVP a week prior so we can make sure we have plenty.


Author:
Karen and Jeff
[ Edit | View ]

---

Date Posted: 04:58:04 09/26/13 Thu


---


[ Post a Reply to This Message ]

Replies:
Subject: If you would like to know about the banquet food ask any Old School guy except Tom Walker. Tom will start licking his lips and drooling all over you. I need an RSVP at 972-564-1231 (leave message and number in your family). I need to make sure Tom gets to take home a doggie bag.


Author:
Karen
[ Edit | View ]

---

Date Posted: 05:01:03 09/26/13 Thu


---


[ Post a Reply to This Message ]

Subject: September point standings: This will be the last post on point standings until the results are revealed after the banquet. 1st Bud Morgan-228, 2nd Richard Blair-192, 3rd Steven Barreras-178, 4th Randy Thorn-138, 5th Jay Moore-136, 6th Kevin Shipp-110, 7th Mike Clark-100, 8th Daniel Large-90, 9th Kelly Duncan-81, 10th Mike Cole-60, 11th tie-Anthony Lovegren and Nathan King-40, 12th David Green-30 and 13th tie-Derrick Lewis and Jon King-10 points.


Author:
Karen
[ Edit | View ]

---

Date Posted: 12:23:24 09/24/13 Tue


---


[ Post a Reply to This Message ]

Subject: Congratulations to Jay Moore as he took the win Saturday night. Our runner-up was Randy Thorn. Stephen Barreras won the $100.00 for low ET in the qualifying round and Clint Davis won the $50.00 for best RT in the first round. Pictures and point standings to follow. This will be the last posting of points as we move into our last race of the season and a double points ending. Our next race is October 19, 2013


Author:
Karen
[ Edit | View ]

---

Date Posted: 11:48:57 09/23/13 Mon


---


[ Post a Reply to This Message ]

Subject: LOAD EM BOYS, WE ARE RACING TONIGHT. IT'S A BEAUTIFUL DAY, OUR PEEPS AT REDLINE HAVE BEEN AT THE TRACK SINCE 7;30 AM PREPPING FOR US. WE WILL CALL YOU TO THE SCALES AT 7:30, BE READY WHEN WE CALL YOU. LET'S GET THIS RACE IN BEFORE ANY DEW DROPS. LOW 55 NIGHT SO TELL THE FAMILIES TO PACK THAT JACKET.


Author:
OLD SCHOOL BACK HALF
[ Edit | View ]

---

Date Posted: 05:51:41 09/21/13 Sat


---


[ Post a Reply to This Message ]

Subject: OLD SCHOOL BACK HALF T-SHIRTS ON SALE FOR $15.00 THIS WEEK-END WHILE THEY LAST. MONEY BENEFITS OUR END OF YEAR BANQUET. COME AN GET YOURS.


Author:
Karen
[ Edit | View ]

---

Date Posted: 13:23:45 09/19/13 Thu


---


[ Post a Reply to This Message ]

Subject: Weather for this week-ends race is calling for Mostly Sunny skies, 20% chance of rain (will be outta here by Friday night), 85 high (perfect race weather) 55 low (throw that hoodie in the car) and NNE winds at 13 MPH. Grab that grill, fill that ice chest cause it don't get any better than this. We will be taking pictures of cars and drivers this week-end.


Author:
Karen
[ Edit | View ]

---

Date Posted: 13:21:53 09/19/13 Thu


---


[ Post a Reply to This Message ]

Subject: Word on the street is a few radial cars are showing up in September to do work.


Author:
Who is showing up? Lets make it big!!!
[ Edit | View ]

---

Date Posted: 12:47:40 09/10/13 Tue


---


[ Post a Reply to This Message ]

Subject: Next race is September 21st and gates open at 5:00. Qualifying round at 8:00 PM. We will call you to the scales about 7:45 PM. This is the next to the last race guys let's have a full house and put on a great show. Be sure and check out Kelly and Monica's new place. See their ad below. They have all your race needs.


Author:
Karen
[ Edit | View ]

---

Date Posted: 13:29:02 08/30/13 Fri


---


[ Post a Reply to This Message ]

Replies:
Subject: Congrats to Pops Blair on the win. Good to finally see Bud not win....lol. I'm sure he'll be locked and loaded for the next race.


Author:
Mike C.
[ Edit | View ]

---

Date Posted: 05:23:15 08/26/13 Mon


---


[ Post a Reply to This Message ]

Subject: Kelly & Monica have opened their own Performance Shop in Terrell next to TransPro. Go check them out or call Kelly at 469-503-FAST (3278) and "Like" the shop on Facebook for updates


Author:
East Texas Performance
[ Edit | View ]

---

Date Posted: 11:36:51 08/20/13 Tue


---



[ Post a Reply to This Message ]

Subject: August point standings****1st Place-Bud Morgan with 213 points, 2nd Richard Blair with 177 points, 3rd Steven Barreras with 165 points, 4th Randy Thorn with 111 points, 5th Jay Moore with 108 points, 6th Kevin Shipp with 100 points, 7th Mike Clark with 90 points, 8th Kelly Duncan with 81 points, 9th Daniel Large with 80 points, 10th Mike Cole with 60 points, 11th tie Anthony Lovegren and Nathan King with 40 points, 12th David Green with 30 points and 13th tie Derrick Lewis and Jon King with 10 points. Our $100.00 low ET winner went to Jay Moore with a 5.0322 when Bud Morgan broke out with a 4.9719. Our Best RT in round one and winner of $50.00 was a new comer to our race Zach Wright, Jay Moore also ran the top MPH at 145.21 in our qualifying round. Congratulations guys


Author:
Karen
[ Edit | View ]

---

Date Posted: 05:23:22 08/19/13 Mon


---


[ Post a Reply to This Message ]

Replies:
Subject: ***Banquet Annoucement*** as we near that time of year I wanted to let you know we still need to sell some T-shirts. These sales plus your $50.00 points entry pays for all the trophies and the banquet. Please stop by the table and purchase one of the shirts at $20.00. This year we will have the 7.0 crew join us at the banquet. As soon as the date is confirmed I will make the annoucement. We try to shoot for the Saturday prior to Thanksgiving week. Stay tuned for updates.


Author:
Karen
[ Edit | View ]

---

Date Posted: 05:33:37 08/19/13 Mon


---


[ Post a Reply to This Message ]

Subject: Gentlemen we have just two races left, September and October's double points race. The margin between 1st and 2nd is 36 points and 2nd and 3rd is 12 points. Many places are 1-10 points apart. It is still anyones to win to become our champion and runner-up. Showing up consistantly is the key to keeping your points up. Next race September 21st, see you then.


Author:
Karen
[ Edit | View ]

---

Date Posted: 05:28:16 08/19/13 Mon


---


[ Post a Reply to This Message ]

Subject: Were back, The Mongoose is finally ready. Still trying to keep the tires from blowing off but at least we have a toy to play with. Get em ready boys, nice cool weather and it looks like it's going to be a good time.


Author:
Karen
[ Edit | View ]

---

Date Posted: 18:12:14 08/15/13 Thu


---


[ Post a Reply to This Message ]

Subject: July Points*** 1st Place with 203 points Bud Morgan, 2nd Place with 145 points Steven Barreras, 3rd place with 144 points Richard Blair, 4th place tie with 90 points Jay Moore and Kevin Shipp, 5th place with 81 points Kelly Duncan, 6th place with 79 points Randy Thorn, 7th place with 70 points Mike Clark, 8th place with 65 points Daniel Large, 9th place with 50 points Mike Cole, 10th place tie with 40 points Nathan King and Anthony Lovegren, 11th place with 30 points David Green, 12th place tie with 10 points Jon King and Derrick Lewis. We have 3 months of racing left, another double points race and plenty of time for the numbers to change. It's anybody's to win at this point. Remember guys showing up consistantly keeps you in the points.


Author:
Karen
[ Edit | View ]

---

Date Posted: 14:47:07 07/22/13 Mon


---


[ Post a Reply to This Message ]

Subject: Saturday night yielded a low car count due the rain dancing all around us and other tracks running events. If you were not at Redline you missed the closest final race we have ever had. The margin of victory was 9 thousands of a second. It was a great race between Bud Morgan and Richard Blair. Bud took the win and low ET in qualifying round when Jay Moore broke-out with a 4.9857. Richard Blair was our runner up and Jerry Jayroe took home our Best RT in round one with a 0.4275. It also happened to be a double points night so if you were not there you missed out on some great points.


Author:
Karen
[ Edit | View ]

---

Date Posted: 14:39:13 07/22/13 Mon


---


[ Post a Reply to This Message ]

Subject: June Points standings 1st Place Bud Morgan 131 points, 2nd Place Steven Barreras 115 points, 3rd Place Kelly Duncan 81 points, 4th Place 80 Points Richard Blair, 5th Place 79 Points Randy Thorn, 6th Place Tie 70 points Kevin Shipp and Jay Moore, 7th Place 50 Points Mike Cole, 8th Place 3 way tie 40 Points Anthony Lovegren, Mike Clark and Nathan King, 9th Place 30 Points David Green, 10th Place 25 Points Daniel Large, 11th Place tie 10 Points Derrick Lewis and Jon King.


Author:
Karen
[ Edit | View ]

---

Date Posted: 18:04:24 06/23/13 Sun


---


[ Post a Reply to This Message ]

Subject: Congratulations to Bud Morgan who was our June Winner and Gary Robbins who came down from Oklahoma who was our runner-up. This race was a 5.0011 (Bud-New class record) to Gary's 5.0480 WOW, now that's what you call a race. Bud also took home the $100.00 for fastest qualifier when Anthony broke out. Gary Robbins in his beautiful Plymouth Barracuda took home the $50.00 for 1st round low ET.


Author:
Karen
[ Edit | View ]

---

Date Posted: 17:56:56 06/23/13 Sun


---


[ Post a Reply to This Message ]

Subject: NOTICE ***** OUR JUNE RACE HAS BEEN PUSHED BACK ONE WEEK TO SATURDAY JUNE 22 ND. WE MENTIONED THIS AT THE LAST RACE BUT WANTED TO POST AS WELL. THIS WILL BE THE ONLY RACE THIS YEAR NOT ON THE THE 3RD SATURDAY OF THE MONTH. I AM MAKING (WINK WINK) BUBBA SPEND A WEEK WITH MICKEY, MINNIE AND THE GRANDKIDS. SPREAD THE WORD PLEASE, SATURDAY JUNE 22ND AT REDLINE RACEWAY.


Author:
Karen
[ Edit | View ]

---

Date Posted: 05:58:48 06/01/13 Sat


---


[ Post a Reply to This Message ]

Subject: Just so all ya'll know The new Texas Pro 5.0---WILL NOT be booking on any of your weekends and have no intentions of trying in way to impact Old School Backhalf at all. I respect that ya'll class is established and working well and will do nothing to impact it. Texas Pro 5.0 will be letting all door cars in. Again just wanted ya'll all to know I have no intention of every booking on your dates or to do anyhting to negatively impact Old School Backhalf Racing Organzation. Thank you all


Author:
Shan Morgan
[ Edit | View ]

---

Date Posted: 10:29:35 05/30/13 Thu


---


[ Post a Reply to This Message ]

Subject: May race low ET winner of $100.00 was Bud Morgan with a 5.0282 when Anthony Lovgren broke out with his 4.9911. Best RT in round one was Daniel Large with a 0.4142 and winner of $50.00. We do not pay for top MPH in individual races however we do recognize it with an award at the banquet. Last year this award was won by Kameran Moyer and in May's race Steven Barreres broke that record with a 148.51 MPH in round 3 when he ran Bud Morgan. Congratulations Steven and we hope you hang on to that record.


Author:
Karen
[ Edit | View ]

---

Date Posted: 07:29:04 05/27/13 Mon


---


[ Post a Reply to This Message ]

Subject: May points results are 1st Place Tie between Bud Morgan and Steven Barrreres with 95 points, 2nd place Kelly Duncan with 81 points, 3rd place Richard Blair with 70 points, 4th place with 64 points Randy Thorn, 5th place Kevin Shipp with 60 points, 6th place Jay Moore with 55 points, 7th place tie between Mike Clark and Mike Cole with 40 pts, 8th place tie Anthony Lovegren and Nathan King with 30 points, 9th place Daniel Large with 25 points and 10 th place tie between Jon King and Derik Lewis.


Author:
Karen
[ Edit | View ]

---

Date Posted: 07:21:24 05/27/13 Mon


---


[ Post a Reply to This Message ]

Subject: Congratulations to our winner of May's race Kelly Duncan and our runner-up Steven Barreres. I will not be posting points until Bubba has a chance to review them. I can tell you we have a tie for points leader and many, many more ties so it is anybody's game. I can also tell you we broke a MPH record in our race as well ,exceeding Kameran Moyer's win last year in that category. Stay tuned boys and girls. Also we had great success on our first night of T-shirt sales. We re-couped 1/2 the money we spent on them the first night. These sales support our banquet and purchases the trophies so help us out guys if you did not get one.


Author:
Karen
[ Edit | View ]

---

Date Posted: 11:23:03 05/20/13 Mon


---


[ Post a Reply to This Message ]

Subject: It's that time again. Supposed to be great racing weather. Who is ready? Come by the table and check out our T-shirts for this year. We decided to go another route and I hope you like them. Remember the T-shirt sales pay for the banquet and trophies. Ladies, I had one done up just for you. Come check it out. They are $20.00 each.


Author:
Karen
[ Edit | View ]

---

Date Posted: 13:17:40 05/14/13 Tue


---


[ Post a Reply to This Message ]

Subject: Mothers Day


Author:
She Devil
[ Edit | View ]

---

Date Posted: 10:24:30 05/06/13 Mon


---

Mothers Day is COMING!!! -- She Devil, 13:11:25 05/06/13 Mon [1]
FYI for all of you who are planning on sending that special Mom, wife, etc. a beautiful bouquet of flowers , Here is the BEST in the METROPLEX> He delivers to all areas and has decent pricing and his arrangements are awesome. So call now and have your order ready to go before the weekend gets here, he takes orders , puts them in order and delivers, when or where you need him too, even resturants if you plan on suprising her at lunch. Here is info
Flowerland
9911 lake June Rd Suite F
(Accept all major Crdit cards)
972-288-9710
www.doflowersmatter.com

[ Post a Reply to This Message ]

Subject: I guess I really am trying to get fired. I just fixed the pictures so they will have the right name. Amanda will load here in a bit. Sorry guys, way to much on my plate this month. I'll try to do better next month Geez!!!!


Author:
Karen
[ Edit | View ]

---

Date Posted: 17:50:30 04/30/13 Tue


---


[ Post a Reply to This Message ]

Subject: ok guys it appears I left round 3 out of the points when I added them up. This changes the game. Bud Morgan in 1st with 72 points, Randy Thorn 2nd with 64, Steven Barreras 3rd with 63 points, Richard Blair 4th with 50 points, Kelly Duncan 5th with 48 points, Kevin Shipp 6th with 45 points, Jay Moore 7th with 40 points, 4 way tie for 8th with 30 points David Green, Mike Clark, Mike Cole & Nathan King and 9th place tie with 15 points Anthony Lovegren & Daniel Large, and 10th place is Derrick Lewis & Jon King. So sorry about this guys. It;s just one of my 15 jobs. I told Bubba he could FIRE me.


Author:
Karen
[ Edit | View ]

---

Date Posted: 19:00:34 04/24/13 Wed


---


[ Post a Reply to This Message ]

Subject: It was a great night of racing last night. Bud Morgan set the class record running a 5.011 in time trials and then came back in round two and broke that with a 5.0080. Congratulations Bud, that one is going to be tough to beat. Our winner last night was Bud Morgan and our runner-up was Randy Thorn. With last night's double points here is where they stand in points. Stephen Barreras 63 points, Bud Morgan 62, Richard Blair 50, Kelly Duncan 48, Randy Thorn 47, Kevin Shipp 45, Jay Moore 40, David Green, Mike Clark, Mike Cole and Nathan King tied with 30, Anthony Lovegren and Daniel Large 15 points and Derrick Lewis and Jon King with 10 points. It's still very, very early. Remember your most points are for showing up.


Author:
Karen
[ Edit | View ]

---

Date Posted: 18:50:54 04/21/13 Sun


---


[ Post a Reply to This Message ]

Subject: 5.0 race


Author:
Grim reaper
[ Edit | View ]

---

Date Posted: 11:57:10 04/21/13 Sun


---

Congrats to bud Morgan there was some good racing thanks again 5.0 and 7.0 great track as always lil reaper had a great time to

[ Post a Reply to This Message ]

Subject: It's on tonight! Gates open at 5, be at the scales at 7:30 for time trials.


Author:
Shop Mom
[ Edit | View ]

---

Date Posted: 11:27:43 04/20/13 Sat


---


[ Post a Reply to This Message ]

Subject: Hey guys we are working on the spam we are getting on this site. Looks like PERFECT race weather this week-end. Head on out to the track tomorrow night and do a little test & tune. Saturday is going to be perfect with a high of 85 and a low of 59. Based on the feedback I think we are going to have a pretty good first night car count. Please come see me when you get unloaded and check in and or pay your points money. Look forward to seeing you all again.


Author:
Karen
[ Edit | View ]

---

Date Posted: 17:46:00 03/13/13 Wed


---


[ Post a Reply to This Message ]

Subject: Hello racers, we are one week away from our first event of the season. We will be watching the weather closely and post updates here and on facebook. If you are not a friend of Redline on Facebook you might think about becoming one. Just a reminder we will start points the first night so come see me prior to to qualifying. Also, if your car is not ready and you drive for someone else you still get points. Points are on the driver and not the car. We have heard from some of you that are ready Mike Clark, Richard Blair, Kevin Shipp, Kelly Duncan, Jay Moore and Anthony Lovegren. We know there are more of you ready and we are going to start making some phone calls tomorow. If you are ready give us a shout. We are looking forward to an exciting new season.


Author:
Karen
[ Edit | View ]

---

Date Posted: 06:59:37 03/09/13 Sat


---


[ Post a Reply to This Message ]

Replies:
Subject: All right boys and girls, it's almost that time. The new schedule is posted and the rules have been updated with the new weight limit. I hope the weather starts to improve so you guys can do a little test and tune. Remember points start the night of our first race. You must pay your $50.00 to me before we run the first qualifying round. We are looking forward to an exciting new season.


Author:
Karen
[ Edit | View ]

---

Date Posted: 16:52:41 01/31/13 Thu


---


[ Post a Reply to This Message ]

Subject: The racing world lost a beautiful soul today to the heavens above. Eric Templeton, the man that named me Shopmom and one of our long time friends passed away this morning. Eric worked with Bubba at Tom Thumb for years and when we first opened our shop he partnered with us. He dabbled in racing and many of you know him. He was a great man and a true friend who I will forver be missed. Rest in Peace Eric and know you were loved by many.


Author:
Karen AKA Shopmom
[ Edit | View ]

---

Date Posted: 08:06:48 10/28/12 Sun


---


[ Post a Reply to This Message ]

[ Archives:&nbsp1, 2, 3 ]
---
[ Contact Forum Admin ]
---
Forum timezone: GMT-8
VF Version: 3.00b, ConfDB:
Before posting please read our privacy policy.
VoyForums(tm) is a Free Service from Voyager Info-Systems.
Copyright &copy 1998-2016 Voyager Info-Systems. All Rights Reserved.