VoyForums Announcement:
Programming and providing support for this service has been a labor of love since 1997. We are one of the few services online who values our users' privacy, and have never sold your information. We have even fought hard to defend your privacy in legal cases; however, we've done it with almost no financial support -- paying out of pocket to continue providing the service. Due to the issues imposed on us by advertisers, we also stopped hosting most ads on the forums many years ago. We hope you appreciate our efforts.
Show your support by donating any amount. (Note: We are still technically a for-profit company, so your contribution is not tax-deductible.) PayPal Acct:
Feedback:
Donate to VoyForums (PayPal):
---
Simplicity Pageants Up Coming Pageants
Welcome to Simplicity Pageants
Simplicity Pageants Up Coming Live Pageants Message Board
This board is strickly for up & coming live pageants!
ONLY up & coming pageant ads and comments will be approved.
No applications please
No ADs larger than 1000 dpi in width!
Any unrelevant, unappropriate, negative comments will be removed!
Three stricks your out! ( BANNED !)
No other ads allowed other than up & coming pageant ads and classifieds, banner posting ads below the ads, and the paid advertising at the very top of the message board.
Please keep it family friendly, nice, positive, and PG!
This board is 100% moderated!
Visit our other message boards :
Up & Coming Photo Contests and Online Pageants.
---
Be Among The Elite!
Always Appear On Top!
Tired of banner posting?
Want a quick and easy way to display your ads and get them seen?
How about a super affordable way?
$10 per month per banner per board
$20 per three months per banner per board.
Banner dimensions : 700 x 100 dpi
Don't have a banner to display?
No problem! We've got you covered!
$5 per banner
---
EARLY BIRD SPECIAL! - Originally $65 to enter everything, NOW $45.00! Thats one entry in to 7 OPTIONALS and the main pageant!!! WOW! Don't pass this up!
Simplicity Pageant Photo Retouching - $10 per photo - $25 per 3 photos - $85 Unlimited photos
Simplicity Pageants Comp Cards - Impress Those Judges! $15 per comp card!
Simplicity Pageants Brag Tags - Let them know how proud you are ! $10 brag tag.
Simplicity Pageant Banners - Small $5 per banner - Medium $10 per banner - Large $15 per banner
---
Click Here To Visit SimplicityPageants.com
---
Mr. & Miss Easter - Dixieland Prelim March 21st Gallatin High School -- Sheri, 05:47:09 02/11/10 Thu [1]


[ Post a Reply to This Message ]
[ Edit | View ]

Greater Atlanta American Royal Miss -- Donna & Scarlette, 02:17:17 01/31/10 Sun [1]




FOR INFORMATION ON THE GREATER ATLANTA PAGEANT, CALL 251-367-2222 OR EMAIL WWW.ROYALMISS@AOL.COM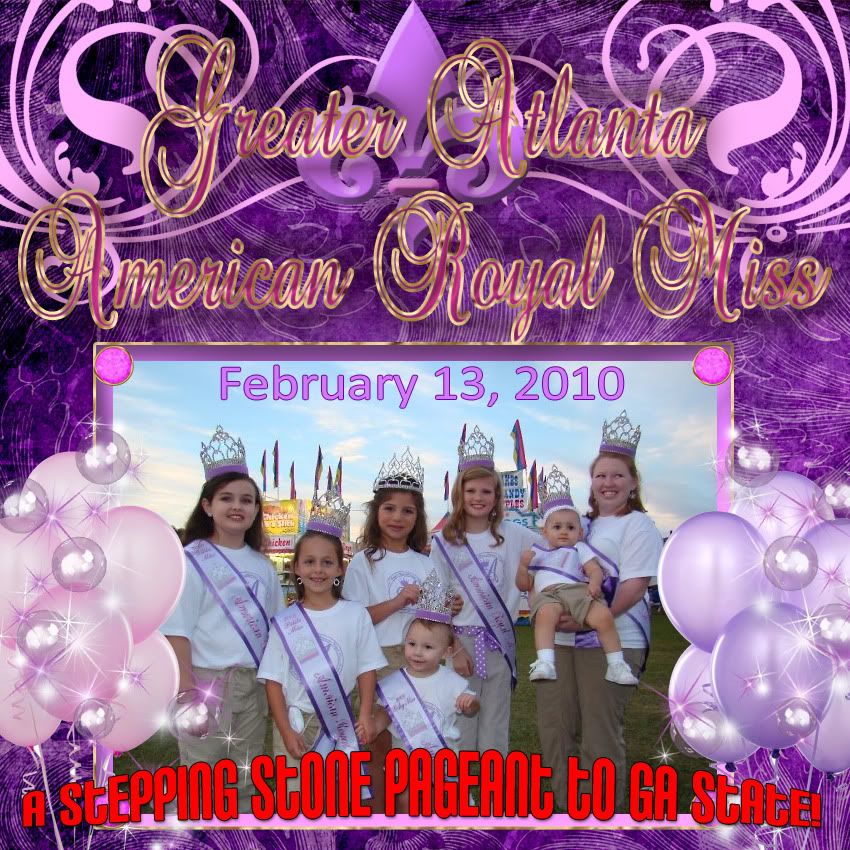 Click banner to visit website for more information
or Email the director at royalmissinc@aol.com.





Order Today...You Won't Be Disappointed!





g


[ Post a Reply to This Message ]
[ Edit | View ]

firstrowproductions@hotmail.com -- firstrowproductions@hotmail.com, 13:58:58 01/24/10 Sun [1]

firstrowproductions@hotmail.com




INTERNATIONAL MISS TOURISM PAGEANT






INTERNATIONAL MISS TENNESSEE TOURISM, MANDY


Miss Tennessee Tourism proudly holds in her hands the crown of stars.


You see when you become a Tourism Girl you have the power of the STARS when you put the "crown of stars" on your head you transform, you become the inspiration to others, you show little girls everywhere you are queen of the whole wide world. You are the ROLE MODEL for your peer group. Girls will want to be just like you from all over the world.


NOW you!! Yes you reading this right now, can become a Tourism Girl and wear the "Crown of Stars" Here's how...


Go to the International Miss Tourism Website at www.firstrowproductions.com/applynow.htm fill in the online form on the apply now page HIT the SUBMIT button.


Then immediately after, email a head and shoulders photo of yourself to firstrowproductions@hotmail.com with the subject I APPLY.
That's it!! Entry fee is on discount. But, Hurry this won't last forever we can't do this all day!!!


Can you handle the POWER of The CROWN OF STARS??.








CONTINENTAL GLAMOUR GIRL PHOTO PAGEANT

Don't be the last to enter the "Continental Glamour Girl" Beauty Photo Pageant
ONLY $25.00 to enter… and… for a limited time only… we will allow a 2nd photo for FREE!!!!
This INSANE special will not last… follow us to www.firstrowproductions.com/events.htm
Come on girls get those
G-L-A-M-O-R-O-U-S FIRST CLASS Photo's in TODAY....


[ Post a Reply to This Message ]
[ Edit | View ]

S -- Sagirah Ahmed-Jankowski, 16:51:32 01/09/10 Sat [1]

Illinois Princess 2010 Spring Fling Pageant
April 1 * Chicago IL
Gorgeous Crowns * Custom Sashes * Cash Prize


Every entry receives a crown

http://illinoisprincesspageants.webs.com/

Sagirah Ahmed-Jankowski
224-234-1965


[ Post a Reply to This Message ]
[ Edit | View ]

Beauty Pageant at Gallatin High School January 9th 2010 both Glitz and Natural Prizes -- A Beary Special Pageant, 10:52:02 01/06/10 Wed [1]

Beauty Pageant at Gallatin High School January 9th 2010
A Beary Special Pageant, 08:56:17 01/03/10 Sun
A Beary Special Pageant Presents Mr. & Miss Winter Wonderland
WE WILL BE AWARDING BOTH A GLITZ AND NATURAL WINNER IN EACH AGE GROUP
Saturday January 9, 2010 Gallatin,Tennessee Gallatin High School
Girls ages 0-21 Boys 0-12!
The Search is on for 2009's Prettiest Baby!
NO EXPERIENCE NECESSARY!
A PRETTY FACE IS ALL YOU NEED!
TALENT CONTEST AFTER BEAUTY PAGEANT $25.00 Entry
Special BONUS $95.00 to enter ALL EVENTS in this Prelim (excluding talent)
Call Sheri or Cheryl today for info!
(615) 431-2399 or (615)310-0801
Or e-mail bearyspecialpa2@yahoo.com
Registration from 10:30 -11:30
Pageant starts at Noon!
Come enjoy the FUN!!!


[ Post a Reply to This Message ]
[ Edit | View ]

Miss Tourism -- Wants you, 18:32:29 12/27/09 Sun [1]

FIRSTROWPRODUCTIONS@HOTMAIL.COM


Super Model & Cover Girl of the Year only $25.00 Photo entry $15.00 each additional photo or $75.00 unlimited entries. Visit www.firstrowproductions.com/photopageants.htm
We want you!!! Join the International Miss Tourism Pageant where you will have a chance at winning one of four Prestigious titles and one OF 4 faux fur jackets or coats in each AgE GrouP. WEBSITE: WWW.INTERNATIONALMISSTOURISM.COM
Crowning:
International Miss Tourism
America's Miss Tourism
Miss Tourism North America
Miss Tourism United States
In each age group!!




All girls ready to ROCK...Hurry to Miss Tourism Pageant...Enter now!! Waiting could prove to cause anxiety, restless nights and a sense you are missing out on something...The only CURE is to enter. So hurry over to Miss Tourism Pageant before it is too late...



There'll be dancing, dancing in the streets.
its just an INVITATION ACROSS THE NATION, a chance for folks to meet.
There'll be laughing and singing,
It doesnt't matter what hat you wear,just as long as you are there,
So come on Get your Tourism title and Come Dance with us November 20 & 21, 2010!!
At the Holiday Inn and Conference Center Cincinnati Ohio at Eastgate We'll be dancing!!!
[ Post a Reply to This Message ]
[ Edit | View ]

Plus Teen South East Regional Pageant Contestant Search! -- Lady Rerun (Blessed), 22:28:52 11/20/09 Fri [1]

The Plus Teen South East Division will be having an upcoming Regional Pageant which will be held in Atlanta GA, on July 17, 2010. We need contestants, State Directors, recruiters, pageant coordinators, stage crew (including being able to help with lighting and sound), pageant judges, advertising & sponsor recruiters and general volunteers to help make the pageant great!

Teens ages 13-19, size 12 & up and resides in the following states: GA, FL, AL, TN, SC, NC, VA, WV, KY, MS, AR, LA are able to compete in this regional pageant! Pageant Entry Fee is $159! To learn more about becoming a contestant and to apply visit
http://www.plusteenusa.com/becomeacontestant.htm

We are looking for state directors that are passionate about the plus size industry, has a positive attitude and are willing to help make this pageant the best experience for Plue Teens who have been forgotten about until now! Dutes include recruting Contestants, Sponsors, Business Advertisers and Supporters in your state. States that need directors are FL, AL, TN, SC, NC, VA, WV, KY, MS, AR & LA!

State Director & Recruiter Positions are commission based All other positions are volunteer but have great benefits like free admission to pageant, exposure (Event will be streamed live on several internet tv sites), will be put on the volunteer list in the program book and other benefits TBA.

We also need sponsors, vendors, business advertisers, organizations, plus size entertainers, local celebrities, schools, churches, volunteers and anyone that would like to help and support this wonderful event! Please contact the Regional Director, Lady Rerun or Assistant Director, Malika Flowers at plusteensoutheast@gmail.com or 206-984-5105 if you would like join the Plus Teen South East Division Family! In your email please put what position you are applying for, pic/bio/resume!

Also please join the Plus Teen South East Division website at http://www.plusteensoutheast.ning.com This is a social networking site that you can post pics, videos, blogs and music too! Please spread the word and tell your friends!

Also join our Facebook at http://www.facebook.com/pages/Plus-Teen-South-East-Division/209784456981

[ Post a Reply to This Message ]
[ Edit | View ]


---