VoyForums Announcement:
Programming and providing support for this service has been a labor of love since 1997. We are one of the few services online who values our users' privacy, and have never sold your information. We have even fought hard to defend your privacy in legal cases; however, we've done it with almost no financial support -- paying out of pocket to continue providing the service. Due to the issues imposed on us by advertisers, we also stopped hosting most ads on the forums many years ago. We hope you appreciate our efforts.
Show your support by donating any amount. (Note: We are still technically a for-profit company, so your contribution is not tax-deductible.) PayPal Acct:
Feedback:
Donate to VoyForums (PayPal):
---
Discussion of Nutro / Natural Choice Dog Food Products


Welcome to the Nutro and Natural Choice dog food discussion board. Please only post topics that pertain to Nutro or Natural Choice Dog Food Products. This board is mainly for the recent recall of the pet food and how it pertains to the safety of our pets. Nutro and Natural Choice Wet dog food was recalled. This message board is particularly interested in hearing from those that believe their animal has fallen sick due to the consumption of the DRY dog food that has not been recalled.

This board is not affiliated with the Nutro or Natural Choice Company in any way. This is a discussion board for informational purposes only. Messages posted on this board do not reflect the opinions of Voy or necessarily the board owner. Messages posted here may or may not be proven facts and could be opinions, observations, or fictional stories posted by and/or about unknown or non-existent individuals.

Please try to only post TRUE stories and facts. Share your stories, vent, but please do your best to stick to the facts.
Do not use foul language.

We hope the information on this board will be informative for other pet owners. We do not get paid for this board. We have no budget and receive no compensation.

Important Links

Menu Foods Recall List

FDA Pet Food Recall Topics

Nutro Products Website

Report Pet Food Complaint to FDA

Place A Pet Food Complaint To Federal Trade Commission

Hub Pages Discussion 1

Hub Pages Discussion 2

Pet Food Tracker Blog

Consumer Affairs Nutro Complaint - Submit A Pet Food Complaint


If your dog has consumed Nutro or Natural Choice DRY dog food and has became ill, please post your story to the message board. Please include your name, dog breed and age, the type of dog food that was consumed, the dog's symptoms, and how long the symptoms have been shown.

---
Asking for Advice on Using the Limited Diet Natural Choice -- Charlene leigh, 21:36:03 03/13/12 Tue [1]

Hi, I notice that all the posts were done years back. My question is have they improved on the safety of Natural Choice since 2007? I have been feeding my little Maltese and little Yorkie the Natural Choice chicken and rice now for about two years with no problems. Just purchased the limited diet of Turkey and potato to see if I can put my new little dog on it since he is 6 months old and has had trouble transitioning onto the Natural Choice, Chicken and Rice. I have him on the canned Canidae to regulate his bowels but would like to get him on a kibble and i selected the above.
Any suggestions, feedback, would be greatly appreciated. Maybe I should not use the Natural Choice at all after reading the posts from people who have had horrible experiences.
Thank you, Char


[ Post a Reply to This Message ]
[ Edit | View ]

my experience with nutro -- Konrad, 06:19:18 05/20/11 Fri [2]

Ive had a recent experience with nutro as well, and i hope i can contribute in reaffirming what everyone has been saying about nutro. As far as background goes, my dog is a 3 year old chihuahua/min pin mix, with a stomach of steel. I mean, this dog has accidently gotten into spoiled trash, dirt, all sorts of human food from pizzas to burritos, and at on point while i was away at work he managed to get into a whole sealed pack of greenies, and had taken down 9 greenies in one sitting before i caught him (his poop was green for 2 days, and ive sinced stopped feeding him greenies due to the risk of indigestion which im sure u are all aware of). He's eaten all these things before without diahrrea, vomiting, or any ill symptoms...which leads to the fact that food brand changes have always been easy for us. Well recently Ive noticed hes been having a lot of excessive shedding...more than i can attribute to just climate change. I did some research and realized that his diet was a large contributer to his skin and coat health, and proceeded to go to the local big chain pet supply retailer, and picked up a small bag of Nutro Natural Choice Lamb and Rice small bites assuming that they were the best commercial food on the market for the same reasons why everyone else puts their pets on nutro. Regardless of his stomach of steel, I did the right thing, and started with a mix of a low percentage of nutro and a majority of his old food (Iams). I fed him for 2 days before he started vomiting bile, and shaking in the mornings (the only time he had shivered like this before was when he had a stomach infection of some sort that required antibiotics.) I knew it wasnt simply food transition problems, and searched online until i found this website. I stopped all the nutro, and have done a food change with Wellness. I pretty much switched him over to wellness in just 3 days, pretty fast i know but i was eager to get him off of nutro or anything food with wheat corn or rice filler) Hes doing great with no ill effects. As a matter of fact this is the most normal ive seen him in a couple of weeks, with a eagerness to eat that had gone missing for the past couple of weeks even before the food changes. For the 2 days that i fed him nutro though i noticed some things. First, it was like my dog was on crack. Nutro advertises that their food gives dogs more energy...but this was just absurd. He would wake up at 6am to play, toy in mouth. He normally doesnt wake up til 830, and that just cause he needs to pee. His thirst level did seem to increase, though i may attribute that to the "crack" effect. This was then followed by the sickness phase that i mentioned earlier. But the part that really conviced me was my roomates experiences with nutro. His dog has been on nutro since day 1, and his dog has always been insanely hyper, drinks lakes worth of water, and throws up often. All this time i thought that was the dogs character. Im convinced something is up with their food, and I hope you will listen if u havent already. Thanks to everyone whos contributed so far; you've shed light on a gray area and have helped many, including my own dog, and for that I thank you all.


[ Post a Reply to This Message ]
[ Edit | View ]

Replies:

[> Re: my experience with nutro -- Carol, 06:19:18 05/20/11 Fri [1]

I agree that your dog was affected by the nutro food, I have had 4 dogs on nutro who have vomitted within days of eachother, they will not eat the dogfood and now I have an older dog on the seniors one that has major blood in the stools. This is very serois, we don't buy dogfood to have our dogs die and this is totally unacceptable. I hope that everyone in this forum goes and emails the company of Nutro dogfood and makes a complaint when you get too many people complaining it stops for awhile. I am glad to hear their is a lawsuit as well.


[ Post a Reply to This Message ]
[ Edit | View ]

Natural Choice Chicken, Rice and Oatmeal -- Irene Z., 11:52:13 01/22/11 Sat [2]

I made the switch to Nutro for my miniature poodle approx. 2.5 years ago. I was feeding her Iams at the time and wanted to give her something better, more nutritious, hence chose Nutro because I heard it is a "premium" brand. I started with Nutro Max for small breed (small kibble), instantly her stool became very runny and awful, even though I only gave her a little bit. So I immediately stopped it, and started her on the Chicken Rice & Oatmeal for sensitive stomach. She was okay on it, nothing awful happened immediately. However, a couple months into the food, she started vomiting bile every day. This worried me so much I took her to the vet. Vet gave her some medication for stomach ulver, and the condition subsided. At this time, I thought my dog had developed sensitive stomach, so my husband and I stopped feeding her people food altogether to avoid upsetting it even more.
A year down the road, just to give her variety in feeding, gave her the Herring formula for sensitive stomach, and within a few days, she had bloody diarrhea!! I took her to the vet and mortified, I know for a fact this is what caused it! Unknowingly, I put her back on the Chicken formula. After the last incident, she did not have any more bloody diarrhea, but continued to vomit bile, sometimes everyday, sometimes only occassionally. The vet would give her medicine to relive her stomach, but could not figure out what was wrong with her. She seemed to be healthy otherwise.
Last week, I stumbled upon the website containing hundreds of complaints from people whose pets got sick from eating Nutro food. I read and continued reading in horror, how their stories are so similar to mine!!! Suddenly it struck me that there is nothing wrong with my dog until it got poisoned by Nutro! I stopped dead in my tracks, bought my dog a new brand of food, took everything Nutro out of my house and my sight, and vow to never go back to Nutro again! I deeply regret not knowing about this sooner, we could have avoided all the suffering my poor dog has gone through, all the stress, anguish, and vet bills, and we still don't know what the long term effects this will have on her. I just pray for the best. I cannot forgive myself for poisoning my dog, even though I did not mean to.
I spoke to a Nutro salesperson in Petco when I went to buy her a new food, told him all about how it made my dog sick. He claimed that Nutro made the best food, and all of people's complaints are "false". I told him, "so those hundreds of complaints are false?" Hey, I am speaking from my own experience!!! All those allegedly "good" things he said about Nutro won't change my mind.


[ Post a Reply to This Message ]
[ Edit | View ]

Replies:

[> Re: Natural Choice Chicken, Rice and Oatmeal -- shafal, 11:52:13 01/22/11 Sat [1]

Hang in there... almost 4 years after Nutro poisoning our sweet golden lab has been diagnosed with severe liver disease... So far she is hanging in there, we are feeding her homemade liver-healthy foods and she is on expensive medication... Wish we'd had her blood tested sooner so we could have begun treatment and possibly slowed the effects.


[ Post a Reply to This Message ]
[ Edit | View ]

Symptoms a lot of the dogs are experiencing: *Updated* -- Board Owner, 19:57:14 11/16/10 Tue [2]

From reading the emails, many dogs have the following symptoms in common:

Energetic dogs that now appear lethargic
Dogs that refuse to eat
Vomiting
Seizures
Shakey legs
Hair loss
Constant thirst--never satisfied
Crying for no apparent reason
Eating grass
Shaking during and after vomiting
Dialated pupils
No appetite
Gassy
Bloody bowel movements
Frequent urinating and urinating in the house (when its not their character)


[ Post a Reply to This Message ]
[ Edit | View ]

Replies:

[> Re: Symptoms a lot of the dogs are experiencing: *Updated* -- K.C. Clark, 19:57:14 11/16/10 Tue [1]

I swithched to Nutro sensitive stomach and Natural Choice 2 weeks ago at the begining of November. Novemver 13 my 4 year old great dane died of a 360 degree stomach flip. She had been showing signs of not liking the food, but she is or was a picky eater. My mutt that has a stomach of steel has now been vomiting for two days. It is Nov 16th and i will be switching foods immediately. I have 5 dogs, now 4, all of different breeds and ages. I have NEVER seen a reaction to food like this. My dogs are between 4 and 10 and not once has food been an issue. my baby girl that passed away was the most healthy out of them all. This was a complete shock. I hope that my mutt doesnt suffer the same issues that my dane did. If something happens to her I will never forgive Nutro. Respectfully, K.C.


[ Post a Reply to This Message ]
[ Edit | View ]

Natural LIfe Adult Lamaderm -- Penny Stimpert, 14:56:50 09/09/10 Thu [1]

My daughter's Min Bull Terrier, Nip has suddenly started peeing large quantities in the house. She hasn't had an accident in at least a year (since a month or two after she bought her). She also has red bumps on her muzzle, one that is dime size. The rest of them are small, pimple type spots. She also has them on her belly, some of them have what looks like a pimple head... white spot in the center that is raised more than the rest of the red spot. She has what look like blood blisters on her feet and between one or two toes. My daughter recently started feeding Nip, Natural Life, Adult Lamaderm dry food as "they" believe that Nip has food allergies. Since this food specifically says tha it has no ingredients known to cause allergies, they chose it..... I recommended Taste Of The Wild which has no grains and is the food I have finally been able to feed my 5 month old mixed breed GSD/?. I've tried to go through posts to see if anyone else has had problems with this food but, all I could find was one reply mentioning this food and how glad they were that they found this forum... No mention as to what they learned about Natural Life, Adult Lamaderm.

Could someone please tell me whether Natural Life Adult Lamaderm has any "problems" associated with it?

Thanks In advance for any and all help!
Penny


[ Post a Reply to This Message ]
[ Edit | View ]

Getting Sick since last bag of Nutro -- Walt Foster, 21:48:58 08/19/10 Thu [1]

We have been feeding our dogs, a black lab and Pudel Pointer, Nutro Natural Choice, Lamb and Rice for several years and have been very happy with the dogs overall health and quality of coat. Last November we had to put our lab down, nothing related to the food, he was just old, 14 years.

Last week I purchased another bag from our local pet store and Maggie our 5 year old Pudel Pointer refused to eat it. Natural Choice is the only food she has had for the past 4 years. The weather here has been hot and we figured maybe she had lost her appetite because of the heat. We tried the ole adage, 'when she gets hungry, she will eat.'

She continued to just smell it and walk away. At $50 bucks a bag, we decided to disguise by adding an egg to her food. She began eating again but now is very lethargic and has a sick appearance. Tonight I purchased a different brand and offered both to her. She eats the new food, and still rejects the Nutro.

I will post her condition after we have had a few days of her eating the new food.


[ Post a Reply to This Message ]
[ Edit | View ]

Nutro bought by Proctor and Gamble? -- Bob, 13:08:39 06/25/10 Fri [1]

I have heard that Nutro pet foods has been acquired by Proctor and Gamble. Is that true? When will the change take place? Will the processing of the food be moved to P&G plants?
Thanks


[ Post a Reply to This Message ]
[ Edit | View ]

DRY Natural Life Lambaderm dog food -- Renee, 12:50:22 03/11/10 Thu [-2]

I purchased this at Walmart - a small bag as the package says it contains no corn meal. My beagles have been acting as if they might have allergies, so I was going to try this pet food that the pkg says has no ingredients known to cause allergies.

I mixed it about half and half with their existing food and saw one of my dogs vomit within a short time. This is something I have never seen her do.

I read this forum and am glad I did -hopefully there will be no lasting damage. I have read the heartbreaking accounts on here and I can't believe this is still on the shelves.

Thank you so much and my heart goes out to all those who have had suffering pets, and those that have actually died.


[ Post a Reply to This Message ]
[ Edit | View ]

Rocky and Nutro -- Mark, 13:37:04 02/03/10 Wed [2]

I use to feed Rocky (my boxer) Nutro food. I thought it was better than most foods and with several times seeing "Nutro Reps" in the stores felt that it has got to be pretty good. Well I had to put Rocky down in May. He was sick and lost a lot of weight in just a few weeks. I took him to the vet in early May and got a clean bill of health. He did scratch a lot and always smelled like a dog, but I thought it was normal. Just a dog being a dog. well then he started to vomit, drink lots of water and pee. He pee'd in my bed at night a couple of times. It was if he would sleep through the urge to go or could not wake up, but then it was several accidents in the house. I took him back to a different vet and he treated him for allergies. Then it got worse and off to the emergency vet. Several hours and close to $1000.00 later I was leaving with a collar and his leash. His kidneys has shut down and the poisons had made him so sick that the vet said that there was nothing else to do. I feel like a total idiot. Why did I not see this? I trusted Nutro and never thought it might be the food. Well I went down to West Virginia and adopted a white boxer. I feed her Canidae food or food I make for her. I will not buy anything else for her. I will not go through that again. I had to put my buddy down because of some big execs that put money and profits in front of right and wrong.


[ Post a Reply to This Message ]
[ Edit | View ]

Replies:

[> Re: Rocky and Nutro -- Ann, 13:37:04 02/03/10 Wed [1]

Read the reviews of Canidae and switch to something else. I had fed my dogs Nutro and realized it was causing incontinence, bedwetting and blood in the urine. The vets just kept prescribing different stuff. Not one said to change the food, because it was Lamb and Rice. I researched Canidae and found a similar list of horrors. We have to be so careful with our pets. I now feed Wellness and California Natural, but am keeping my eyes open about them, too.


[ Post a Reply to This Message ]
[ Edit | View ]

Food For Thought -- Board Owners, 19:54:22 11/21/09 Sat [2]

The Mars Company makes Nutro Dog Food. The Mars Company also makes Pedigree DentaBones. If you turn the DentaBone package over, you will see the "Mars" logo.

Visitors have suggested allegedly something may be not be quite right about these DentaBones. It is a matter of opinion but "Pedigree" products have appeared on past recall lists.

If your pet shows sign of illness, it is opinion to discontinue use of the treat/food.

Try another food that is made by an entirely different company. Research the dog food brand to see which company makes the food. It only takes five minutes. It's worth the time.


[ Post a Reply to This Message ]
[ Edit | View ]

Replies:

[> Re: Food For Thought -- Benjamin, 19:54:22 11/21/09 Sat [1]

I have used 2-1/2 bags worth of nutro natural choice dry food(both senior and lite)and even canned food.My dog tolerated it fine,NO problems.However,I figure we`ve just been lucky,and because of nutro`s poor record since 2007,I figure its best to go with another brand.On the recommendation of a friend,I am using "by nature"(blue seal)now.


[ Post a Reply to This Message ]
[ Edit | View ]

allergic reaction causing blindness -- Kirk Miller, 07:50:22 10/08/09 Thu [1]

Good day,I live in canada and here Nutro makes the Presidents Choice Lean dog food.I switched from pro plan to the presidents choice lean as I was told that it was of the same quality as the pro plan.Well by the third bag(in one month)my dogs eyes had a greenish moucus slime on them and when I called my vet he told me to take them off that food immedietly and she was at the vet the next day.it was a reaction to something in the food.I have 3 pugs a 7 a 5 and a 2 1/2 year old.the 7 year old(Peggy) is now blind as she has a pigment in her cornea that is only removable with surgery which she is going for next week.This all happened over a 2 month period,the first month she ate the food,the next month she was blind.If you have a similar story I would love to hear from you.You can email me at ktmiller@prairie.ca and have a Good Day EHHH...Kirk


[ Post a Reply to This Message ]
[ Edit | View ]

Nutro dog food -- R. Nygaard, 20:00:48 08/06/09 Thu [3]

I recently purchases a 40# bag of Nutro dog food(silver bag w/glucosomine&chondroitin)from petco. Was out and needed food now so got it there. I have an 85# boxer-springer mix. 10 yrs. old. Read the bag and felt reasonably ok about this dog food.I usually get all my animal foods at Fleet Farm and knew they had that kind if I should continue to use it later. Since my dog is 10 I do expect his time is limited Therefore I was not surprised to have him show some signs of congestive heart failure. Lots of coughing and heavy breathing during the hot weather we were having. His condition deteriorated w/lethargy-loose stools. He smelled bad. Just generaly bad condition everyone comented on. The bell still hadn't gone off in my head. My son spent several days w/us w/his dog who ate the food. I now know why that dog was vomiting and letting loose stools. My neighbors dog spends alot of time here and has access to our food also. They called me about thier dog vomiting and having diaheria after spending time here. The pile of vomit from there was clearly the food she had eaten at my home. I then went on line looking for this dog food and was shocked to see all the postings. This food was just purchased end of june-first of july 2009. I'm seeing postings back to 2007. What is going on? This clearly needs to be stopped. Why did I not hear about this till I started digging? I still have some of the food. They want me to return it to Petco for a refund. I did not save the bag. By the sound of things they are still selling the stuff.Is anything being done? Any suggestions. My dog appears to be recovered now that he is not eating this dog food. R.Nygaard


[ Post a Reply to This Message ]
[ Edit | View ]

Replies:

[> Re: Nutro dog food -- Board Owner, 14:15:54 08/03/09 Mon [1]

Sorry to learn your dog was ill. We are glad your dog recovered though! It seems Nutro does not have to answer to anyone regarding the alleged illnesses that could possibly be from their brand of dog food. Our opinion is to discontinue use of any Nutro products. Until someone in a powerful position can urge Nutro to face the alleged issue, consumers will be forced to strictly watch out for themselves and their animals well being. We now internet search all potential products we are interested in giving our dog BEFORE we give them. This way we can stay educated on whats out there! Spread the word.


[ Post a Reply to This Message ]
[ Edit | View ]

[> Re: Nutro dog food -- Heather, 20:00:48 08/06/09 Thu [1]

Wow, I did not realize that Nutro was still having problems. My dog is my service dog and when he was about 6months old (back when the pet food recall happened) he was on Nutro Natural Choice. Just a couple months later after starting on Nutro and couple months before the recall he started throwing up and had the runs. The vet doesnt know if it had anything to do with the recall when I finally got him in. Well now he is 3 1/2 years old and he started throwing up again and having the runs on a different brand. Well ever since the recall my dog has been having horrible problems with ALL dog foods in general and his digestive system. I have had xrays and his stomache wall never was inflammed until the Nutro. I was going to try Nutro again but now that I know all this is still going on I am glad Iam now feeding a homemade diet and so far no problems have come up. He gets organic everything from the store. I will even eat with him. I've come to the conclusion store bought pet food is a big NO NO for my guy Dakota. If I won't eat it he doesn't get it either. I'd rather pay over $200 a month in dog food then over the $5,000 I have spent on his digestive problems at the vet since the recall.

If you want my opinion STAY as FAR, FAR away from Nutro as possible. Your animals will thank you.


[ Post a Reply to This Message ]
[ Edit | View ]

nutro max dry dog food -- dian, 18:49:57 04/29/09 Wed [2]

two weeks ago my dog who has been nutro max for several years became ill with what appear to be bleeding in his eyes. Took him to a vet and his platlets were dangerously low and his red blood cells were attacking the platlets as a foreign body. He is now on steroids and two eye medications, has had a bone marrow test and they tell me that his condition has something to do the immune system has been compromised. My bill is now at $4,500.00 and I am going to find out if the food has had anything to do with this condition.


[ Post a Reply to This Message ]
[ Edit | View ]

Replies:

[> Re: nutro max dry dog food -- Margot, 18:49:57 04/29/09 Wed [1]

I'm so angry! I'm grateful though that I found this site because otherwise I wouldn't know what is happening to my 4yo beagle. I started feeding her Nutro Natural (Venison) for Sensitive Stomach only last Sunday because it was recommended to me by the Nutro lady roaming around Petsmart. There was a letter displayed from Nutro's CEO contesting the news floating around about an investigation on their line of products - I read it and thought nothing of it...my error. I bought a small bag to start as well as 4 cans of their soft food. Immediately Sunday night, she started throwing up which I thought was just the seasonal allergies. However by Monday her stool moved from normal in the morning, to very wet in the afternoon. I continued to feed her Nutro then within 3 minutes her stool became globbish, dark red!! Still I thought it could be parasites or her intestines have been severely cut by something sharp she ate. Same thing happened tonight although not as much because I stopped using the Nutro soft food, and went back to Purina One soft and kibble, and a little of Nutro kibble, still not realizing it was the Nutro brand that's killing her. I did extensive research online and came across several complaints about Nutro and the effects on their dogs which are very consistent to my beagle's case. I won't feed her until tomorrow night which will only be bland food of rice and boiled chicken,then if she improves, it's back to Purina One. I will keep a log of the changes if any.


[ Post a Reply to This Message ]
[ Edit | View ]

Kidney failure in dog fed Nutros -- susan, 10:04:22 04/15/09 Wed [1]

We just lost our blk lab family member of 5 years. Kidney failure. We had him from a puppy and had been fed Nutro lamb and rice formula from 1 yr. About 6-8 weeks ago, our store was out of lamb and rice and we substituted chicken rice oatmeal formula. He was ill, diareah, etc. We thought it was the sudden change in food and as soon as the lamb and rice came in, we switched him back, he had been on the other formula about 2 weeks, and he seemed better. Until he suddenly refused to eat breakfast, seemed bloated and had a stiffness to his walk. We took him at 6:30 am to the vet, low Albumin, protein in urine, water loss outside the intestine. We lost him just after 9 pm, despite the best efforts of 3 vets at our animal hospital. His food may have nothing to do with it, we don't know.


[ Post a Reply to This Message ]
[ Edit | View ]

Let's do something about Nutro's Pet food -- Courtney, 05:39:54 02/21/09 Sat [2]

I gave my dog(mini dachshund) the Nutro Ultra adult dog food and she had terrible #2 problems. I had to help her get it out a couple of times that week and she tracked and rubbed her bum everywhere. Anwyays... I happen to work for a lawyer and asked if he could do something about it and after reading a couple of posts he asked me to post this little contact blurb below!!

***** I read your posts about Nutro pet foods with great interest, as our firm is currently investigating consumer concerns surrounding the Nutro Ultra line of dog foods. I am a consumer class action attorney located in Birmingham,AL. As part of our investigation into Nutro Pet foods, I would be interested in talking with you or anyone else about the experiences with the pet food. I can be reached by email at birby@mhcilaw.com or toll free at 1-888-230-2622.


[ Post a Reply to This Message ]
[ Edit | View ]

Replies:

[> Re: Let's do something about Nutro's Pet food -- Mike Berger, 05:39:54 02/21/09 Sat [1]

I fed Nutro-Max dry food for years with no problems, but recently two of my dogs (greyhound and airedale) developed chronic diarhea, I had no idea that others were having problems with Nutro, but I'm switching...


[ Post a Reply to This Message ]
[ Edit | View ]

The Disappearing HubPage @ HubPages.com -- Board Owner, 12:24:57 01/15/09 Thu [1]

Our Nutro Hub Page, located at hubpages.com has been removed from their web site. After exchanging emails back and fourth with them, we have no real explanation as to why our board was removed. The emails are confusing and in our opinion, the email explanations make no sense on purpose.

The board contained hundreds of posts from heart felt pet owners sharing their experiences about the Nutro brand pet food. There was even scientist posting on the HubPage and information about Nutro's facility.

We understand that allegedly Nutro contacted Hub Pages asking them to do something about the page. This is wrong. That is a violation of freedom of speech under the Constitution of the United States of America. Just so Nutro knows, every single message from hubpages.com has been backed up, saved, and copied. We fully anticipated Nutro would try to make the information disappear. We intend to redirect the information to a NEW SITE.

If Nutro has NOTHING TO HIDE, why is the company going after message boards and community web pages? Makes you wonder!


[ Post a Reply to This Message ]
[ Edit | View ]

Nutro Venison and Brown Rice -- KW, 07:30:28 12/05/08 Fri [1]

Fed my young Standard Poodle Nutro since 4 months. Switched from Puppy Lamb and Rice to Adult Lamb and Rice at 1 year. I've owned a number of Standard Poodles, but this one will not anything except dry dog food and always a colicky stomach. Will eat and several times a day, just throw up and go his merry way. On September 13, I bought Nutro Venison and Brown Rice at Petsmart in St. Louis Park, MN because the bag states it is useful for sensitive stomachs. The dog liked the food, but noted he threw up more - my vet later cautioned me that I should ease the transition to a new food over several weeks. On September 15, took the dog for a walk and he became agitated, threw up and "licking at the sky" which I recalled were symptoms of BLOAT. Immediately, I took him to the vet and insisted he be seen. The dog had bloat which fortunately was resolved by decompressing the stomach and not having to do surgery. At his post procedure check the next morning, the vet told me she would never have believed the dog had bloat until x-rays confirmed AND, no other client had brought a dog in early enough to avoid the surgery. For those who have experienced this situation, understand that surgery is highly risky and costs several thousand. Many dogs die even with surgery. This day cost me $700. Thinking about the food switch, I thought that perhaps my dog over ate, I had exercised him too quickly, etc. I tried to mix in the Nutro Venison and Brown Rice with a new bag of Nutro Lamb and Rice and he still kept throwing up more than usual. I threw out the remaining Nutro Venison and Brown Rice and he is just eating Nutro Lamb and Rice. I also switched to the smaller chunks and am being extremely careful about timing meals, water and exercise. Honestly, I have grave suspicions that there was something wrong with the bag of Nutro Venison and Brown Rice and will not risk ever feeding it again. I am also concerned that several years of colicky stomach might also be related to any Nutro products. I didn't retain the bag for it's lot number. Sorry. I would welcome suggestions about bagged dog food which I can safely feed my dog (and cats). Thank you.


[ Post a Reply to This Message ]
[ Edit | View ]

Nutro Natural Choice Dog Food -- Terry Brown, 11:18:39 10/18/08 Sat [1]

My Akita is a year old. She has always had a sensitve stomach, oftentimes getting diarrhea when her food was switched. As I was looking for a sensitive system formula in PetSmart, a Nutro representative urged me to try the Chicken Meal, Oatmeal and Rice Natural Choice. I told her about the sensitive stomach issue, and she said this would be a good choice as it was formulated for dogs with just such a problem. My Akita ate it once and vomitted severely all the next day. I have never seen her so ill--she wretched until there was nothing left, and then she dry-heaved. I immediately suspected the Nutro and did not give her any more, even though it had cost me $37.00 for the bag. My daughter, who had had a similar problem with one of her dogs when the whole contaminated food issue broke, recommended Canidae All Life Stage Formula. I started feeding it to my Akita and have not had one problem since. I am only glad that my daughter had done her research and shared with me. Like many of you, my puppy is my baby, and I think it is unconscionable for a company that produces such an expensive food to knowingly continue to put our pets at risk!


[ Post a Reply to This Message ]
[ Edit | View ]

This is a NEW recall -- Board Owner, 14:04:28 09/14/08 Sun [1]

Make sure your pets arent eating this food. Mars makes Nutro too...just FYI. Nutro does not appear on the recall list but THINK about it...

http://www.petcare.mars.com/


[ Post a Reply to This Message ]
[ Edit | View ]

Nutro Natural Choice chix, rice, and oatmeal -- Meghan, 20:29:21 09/07/08 Sun

I have two dogs a 2 year old Weimaraner/Shar Pei mix and a 1 year old English Springer Spaniel. My 2 year old has always had allergies to wheat, beef, and gluten. I had a hard time find a food for him until 02/2008. I bought him Nutro Natural Choice Chix, Rice and Oatmeal. It worked! His stomach problems subsided and so I switched their food to it. Then around the beginning of Aug I bought a new bag (same food just a new bag) and within 12 hours both dogs had severed diarrhea and vomitting.

I didnt think it was the food at first. But what else could it have been they hadnt had anything different but a new bag. My 2 year old was losing weight. I would leave them in their kennels and when I would get home from work they would have gone in there and I would have to give them baths and clean the kennels. I stopped them on it and the diarrhea and vomiting stopped. I also took them to the vet, they said it was probably the food and to contact the company. When I contacted them they said they hadnt made any changes to the formula and didnt know what it was.

I changed them to a new food California Natural Chix and Rice and they have done excellent on it. Its been about 2 weeks now and no problems. However, I still had some Nutro treats laying around the house and my husband accidentally gave the dogs the Nutro treats and within a few hours the diarrhea started again w/ both dogs.

That just proves to me that it MUST be the Nutro. I am so disappointed in this company. Luckily I did my research and found California Natural and I will stick w/ that.


[ Post a Reply to This Message ]
[ Edit | View ]

Nutro Lamb & Rice Small Bites -- Diane, 10:33:27 08/29/08 Fri [2]

We have been crazy with worry since May,08. Our 2 mini dachshounds have been eating Nutro Lamb & Rice Small Bites for years now so we didn't suspect the food. They generally have cast iron stomachs and have not had issues with food. They both developed colitis and vomiting, somewhat incresed thirst, shaking, lethargy, weight loss, loss of appetite. They are small dogs so a few pounds is a lot of their body weight. We took them in almost every other day for rehydration injections. They became so weak they could not walk up a small step. We have spent quite a bit at the Vets and had tests and x-rays done with not definitive results. We did change their diet and had them on meds. They got better. The vet concluded that it must be a GI virus and it ran it's course. We started the dry food up again a week ago (along with wet food) and one has developed a dry retching and eating a lot of grass. I went online to do some researh and found the Consmer site and this one. I immediately threw out all of the Nutro products and purchased some Wellness brand. I hope this resolves the problems and my dogs stay well. I would like Nurto to acknowledge a problem and not sacrafice our animals. I told my local pet food store, who coincidentialy is dropping the Nutro line and informed my vet. Thanks for your grass roots forum.


[ Post a Reply to This Message ]
[ Edit | View ]

Replies:

[> You are welcome. -- Board Owner, 10:33:27 08/29/08 Fri [1]

Thank you for visiting the forum and sharing your experience. We hope your sweet dachshounds recover and remain healthy.


[ Post a Reply to This Message ]
[ Edit | View ]

Nutro lamb meal & rice -- Bruce Edgecombe, 21:20:30 08/11/08 Mon [2]

This is too similar to other reports I am seeing out on the web. I am a long time user of Nutro lamb meal & rice adult formula. Our dog seemed different more slow less peppy. When he stopped eating we first thought it might be a bad bag of Nutro so we bought a new bag of Nutro. At the same time we were experiencing the health problems as described in our dog's death notice below. To get our beloved companion to eat we doctored up his Nutro with his favorite tuna he than ate the Nutro. Little did we know that we were killing him We need to get this information out to the general public as soon as possible. I am convinced it was the Nutro and am going to have the rest of the dog food analyzed. I hope the blood samples are still available for further tests !!!!

ROUGH SEAS' NEWPORT BLACKWAVE
AKA: NEWPORT
AKA: NEWPEE
It is a very sad day today. As most of you may know Newport has not been feeling well for the last couple of weeks. Blood tests last week confirmed that something serious was wrong. After further blood tests x-rays, and needle biopsy's. It was confirmed early this week Newpee had a tumor-growth that had taken over most of the left side of his belly. Surgery was contemplated but with less than a 10 % chance of success. Cortney and I made the right loving decision to put him to sleep. Newport's long time Vet Chuck came over to the house. Newport went to sleep peacefully in his bed in Bruce Cortney and Joey's arms at 3pm Wednesday afternoon. We buried him on Cortney's family's farm later that day below a nice shady tree.

Our beloved pet for 10 years is dead Our Vet bills exceed $800.00 The cost to replace our dog with a new dog of the same breed will exceed $2,000.00 the emotional toll is incalculable


[ Post a Reply to This Message ]
[ Edit | View ]

Replies:

[> Re: Nutro lamb meal & rice -- Darlene, 21:20:30 08/11/08 Mon [1]

I am so sorry to hear about your loss. My heart goes out to you & your loved ones. My two dogs survived after a long illness & over $10,000. Be sure to report to FDA in your state. I hope you saved the dog food for lab testing.

my deepest sympathy
Darlene


[ Post a Reply to This Message ]
[ Edit | View ]

Nutra Ultra line? -- Lisa Morano, 23:42:21 07/10/08 Thu [1]

Hi, I've been reading these and other posts about the horrible experience so many dogs, cats and their owners have had with this brand of pet food products. A question: have there been any pet owners reporting similar experiences with the Nutro Ultra line? It seems that in every case the suspected culprit was either Natural Choice or Max. We've been feeding our 5 yr old Brussels Griffon the Ultra Weight Management dry kibble for about a couple of years now with no adverse effects whatsoever and a healthy, gradual weight loss. Please advise; we just bought a new bag, and, while Andy is not showing any of the symptoms these poor people have described, I am considering switching once this bag is finished, as long as he continues to do fine.

Many thanks - and thanks for the service your board provides.

Lisa Morano


[ Post a Reply to This Message ]
[ Edit | View ]

Nutro Natural Choice Lamb and Rice -- Hank Szlenkier, 07:42:14 07/01/08 Tue [1]

Fro the last month or so, my three dogs have been refusing to eat the Nutro Natual Choice Lamb and Rice. I'm wondering if it is the heat effecting their appetite or something else. Anyone else seeing this problem?


[ Post a Reply to This Message ]
[ Edit | View ]

skin problems? -- Andrea, 00:31:07 06/28/08 Sat [-1]

Hi,
I have reported a few times on this forum about my 16 month Corgi Cash. He was one of the luckly ones to survive nutro's posioning. He now has hot spots which caused a staff infection. I was wondering if anyone else had this come up after the dog began to recover? These days I do not know what is a by-product of his posioning and whats not. He's on anti-biotics for the infection which seems to haved cleared but he is still itchy. Thanks for keeping this forum going, keep up the good work! It makes me sick to my stomach whenever I read all these complaints wondering when is someone going to do something, when is someone going to be held accountable? Here is a link to a report I found from Consumeraffairs.com. You can report your case to them too. Maybe they will continue to look into it if they hear how many have really been effected!


http://www.consumeraffairs.com/news04/2008/04/pet_food_recalls93.html


[ Post a Reply to This Message ]
[ Edit | View ]

Dog very sick from Nutro Dry Dog food -- Christy Morey, 11:05:32 06/13/08 Fri [3]

May 2008 Our dog Maya ( a 3 year old bichon mix) became very sick from a new bag of Nutro DRY dog food Lamb and Rice. She was throwing up, eating grass, diarehea, bad gas, and not eating. Her stool and throw up started getting some blood in it. We took her to the vet and she had blood tests in which her protien levels were very low. The vet immediately put her on an IV and had us handfeed her boiled chicken and cottage cheese over the next couple of days. She started to feel better and a week later we tryed to reintroduce her to the Nutro dog food - and she started to get sick again. We stopped feeding her the dog food and she got better. We are now feeding her baby food and chicken and cottage cheese with a multivitiman. We do not trust the dog food companys anymore. We thought we were buying her premium food only to find out we were lied to and our dogs health put in jeapordy.


[ Post a Reply to This Message ]
[ Edit | View ]

Replies:

[> Re: Dog very sick from Nutro Dry Dog food -- angelique, 14:54:44 06/07/08 Sat [1]

My dog used to get me out of bed in the morning to feed him - how excited he was! I switched to Nutro Natural Blend Lamb & Rice Formula and things went down hill. He won't touch his food until the end of the day when he's starving. He's eating more grass, his stool if loose, his breath is worse than ever. Worst of all, though, he's always dry heaving now. He throws up considerably more and he has gas. I woke up late the other night, having had it occur to me all of a sudden that perhaps his food was poisoning him. I come to the internet and come across all of these similar stories and now as soon as I am finished typing here I will go out and purchase new food - but what?!


[ Post a Reply to This Message ]
[ Edit | View ]

[> Re: Dog very sick from Nutro Dry Dog food -- a friend, 11:05:32 06/13/08 Fri [1]

There is currently a discussion about Nutro in a thread over at Itchmo, people are welcome to join if you are interested. http://itchmoforums.com/your-problems-with-pet-food/do-any-forum-readers-personally-have-problems-with-nutro-food-t5071.0.html


[ Post a Reply to This Message ]
[ Edit | View ]

Hub Page May Be Deleted -- Board Owner, 19:46:47 06/06/08 Fri

Thanks for continuing to post and share your Nutro stories with everyone that reads this forum.

We received a message at the top of our "hubpage.com forum" stating our hub page would be deleted due to some sort of inactivity. The forum appears to still be very active with viewers, therefore we find this message to be unsettling and suspicious.

The information on hubpages and voy.com are opinions and deleting our forums in any way would be a violation of the United States Constitution. We are entitled to share our opinion and views.

All the posts, stories, and information are backed up/saved on a daily basis. If the forums should be deleted, we will make a new forum and make sure the forum can be located asap.

Thanks to our readers for continuing to support us.

To the companies trying to take down our forums, MANY unique users are posting. If you would fight as hard to make your dog food PURE, instead of trying to take these boards down, you wouldn't be having a problem with what people were saying.


[ Post a Reply to This Message ]
[ Edit | View ]

Nutro Ultra -- Linda Tew, 22:25:54 06/01/08 Sun

I have 5 dogs and the youngest is 6 months old. I had not used Nutro until I bought her and the seller highly recommended that I continue to use the Lamb and Rice formula Nutro Natural Choice. I am blessed it did not kill her. She always had bad breath and loose stools, though.

Two days ago I started really trying to find a good food for all the dogs. I had the 2 Bichons and the 2 miniature schnauzers on Natural Life Lambaderm for a year with no problems but then I started reading about all the recalls and through I should get better. I bought Nutro Ultra like an idiot 2 days ago. Yesterday they were all throwing up--all 5 of them. I have the mess ready to take back and today went and bought bags of Buffalo Blue and their dog biscuits, too. Then after they ate tonight I saw where the Blue biscuits were recalled last year but the company said the company that made them put in rice gluten without permission and they would no longer use them.

I am so frustrated I do not know what to do. These dogs are like my children and I have no way how to find out the best food or if the Blue is o.k. One website will tell you one is great and the next will say it is not.

I do know I will NEVER have another drop of Nutro anything around here.

Thanks and I would appreciate any tips on food. I am so sorry for all of you who have lost your pets due to this criminal behavior on the part of dog food producers.

Linda


[ Post a Reply to This Message ]
[ Edit | View ]

If you feed NUTRO your dog is going to be DEAD! -- David G., 01:55:51 05/21/08 Wed [1]

I had a six year old Newfoundland who was killed by NUTRO. He was healthy and vigorous until 5 days after I started feeding him NUTRO. He became extremely ill, I rushed him to an Emergency Critical Care Vet Hospital. After an hour or so a vet tech came out and told me that when he came in that my newfie had almost no blood pressure, and was hypoalbuminic. Albumin is a very basic protein that the liver makes. Basically his liver was shutting down. She said that they were trying to get him stablized. I asked if I could see him she let me look from the doorway. There were two medical people on the floor with him and he had more tubes and cables and displays around him than I could believe. She said she had to go back to help and that I should wait in the lobby. I waited all night until the next morning. In the morning the ECC Vetrinarian came out into the lobby and told me that he was in critical condition but they had him stabilized and he had rested a while and now was raising his head and looking around. The Vet said that I should go home and get some rest because they needed to keep him until they had a diagnosis. In the afternoon I got a call from the Vet hospital telling me that his vital signs were starting to look better and that visiting time was at 7pm. When I went to visit him they told me it would be just for a few minutes that he was in the ICU. He had a urinary catheter, two IV's, a heart monitor and a blood pressure monitor. When he saw me he tapped his tail but he didn't get up. They told me they will call tomorrow and I went home. When they called the next day they said he wasn't eating or drinking and that I should come at 7pm. This time he sat up for a minute or so and only had one IV, a urinary catheter and a heart monitor. Again they said they would call with an update tomorrrow. When they called they said they had removed the urinary catheter and that he had been taken outside to urinate but was very weak in the hind quarters and needed to be assisted to walk and that visits were at 7pm. I went to see him at 7pm. This time they had me wait in a room. When he came into the room he looked a little better but they were assisting his hind legs with a sling. They told me he had started drinking but was refusing food. I stayed with him a while then they came in the room and assisted him back into the ICU. The next day I got a call and they said he had started eating a bland diet and that he could go home if he continued to improve. I brought him home and read the discharge instructions. They said give the pills two times a day with food and feed normal. Thirty minutes after he ate the food (NUTRO) and pill he vomited everything back up. I notified the hospital. They thought it might be the medicine so they said to bring him in for daily injections of medicine instead. He was drinking lots and lots of water. He didn't seem to be getting better each day he seemed to be getting worse. On the sixth day out of the hospital he was wretching trying to vomit but nothing came out. I took him back to the hospital and they did abdominal ultrasound and didn't find anything. But his bloodwork showed a super high white count. They gave him an injection and said to bring him back the next day for another injection. When I took him home and put his bowl of food (NUTRO) in front of him he put his nose under the bowl and flipped the food all over the kitchen floor. So I swept it up and threw it away. The next day when I took him in for the injection a vet tech checked his heart with a stethoscope. The vet tech turned so pale I thought she was going to faint, her eyes got really big and she hurried out of the room. 30 seconds later she came rushing back with the director of the hospital. They said they needed to do cardiac ultrasound. They brought him back to the room an hour or so later and told me that a valve in his heart was getting damaged, and he was hypoalbuminic again, and that he would have to go back into the ICU. He was in the ICU for five more days and on the fifth day they told me that the valve was destroyed and his condition was fatal and there was nothing they could do. So I took him home and stayed with him in the yard under a tree and brought him water and he hobbled around, took a nap, hobbled a few feet and pee'd this went on for 26 hours then he sat up for a moment and let out a horrible scream and collapsed DEAD.


[ Post a Reply to This Message ]
[ Edit | View ]

Nutro Never Again! -- Rick, 10:35:19 05/09/08 Fri [1]

I was a loyal Nutro customer for 4 years. It started when we got a our yellow lab as a puppy and were taking for obedience classes at PetSmart. Our trainer recommended Nutro for us because we needed a food that would meet the needs of the younger growing lab (he was 9 months old) and our 4 year old Shih Tzu. Nutro was great! The boys loved the food and they seemed to really benefit from it. Then came the recall of 2007. Nutro dry dog food, Natural Choice Lamb and Rice Formula, is all that we fed our dogs, and it wasn't on the recall so we didn't worry. Later that summer, around June and July, both dogs started vomiting. Every dog vomits every now and then so I dismissed it at first. Then the vomiting became a daily occurence and was accompanied by diarrea. Suddenly both of my dogs were sick. I kept telling myself that it wasn't the food because it wasn't on the recall list and that it was such an expensive brand. We had just bought a new 40lb bag of the food and I didn't want to just throw it away. After a week and a half I began to panic because they started losing weight. Both dogs went to the emergency vet because they were lethargic, not eating and drinking water like crazy. Lab tests showed elevated levels of something having to do with the liver and a high white blood cell count . I went home still unsure of what it was. I decided to just stop the Nutro to see if that worked. I fed them both beef and rice (home made) by hand and after a couple days they started acting better. I then went out and bought another brand, one of the few brands accessible to me that wasn't on the recall list. They have been on that ever since, their coats are better, they have boundless energy, and the lab has really benefited from the protein, he is extremely strong and fit. I will never trust Nutro again! Like many others, I wrote and called Nutro and recieved no help what so ever, they wouldn't even address the issue. I do believe it has something to do with Mars buying them out. They have changed the formula, just read the ingredients on the bags from now and from 3 or 4 years ago, they are different. Mostly the same but a couple things on there are different. As for those of you who say it is a great "Premium" food, Nutro calls itself a premium food. I don't consider any dog food company a premium food when they manufacture their food in the same place as O'le Roy dog food, which was the case with Nutro during the Menu Foods Recall. I drove 45 minutes south to go to PetSmart to get that food, when I could have gotten food made by the same people in the same way right up the road at the local pet store or Wal-Mart. Nutro in my opinion has now become nothing more than an extremely overpriced below average grocery brand, it's definitely not a premium brand, much less a "super premium" brand.

I mean come on, $40 dollars for a dog food that is made right next to $8 O'le Roy?????? That's a slap in the face!

As for the dry dog food, sure, it's made in the USA, but I bet some of the ingredients (if not all) come from somewhere else!


[ Post a Reply to This Message ]
[ Edit | View ]

Nutro Natural Choice/Chicken, Oatmeal and Rice Caused Vomiting -- Kimberly Johnson, 14:52:30 04/21/08 Mon [1]

I was approached by a Nutro specialist while shopping in the dog food section of Petsmart. I normally feed my 6 month puppy Purina since that is what his local breeder recommended and the "specialist" stated that was the lowest quality food and to give my pup a healthier coat, I should use the Nutro Natural Choice Puppy product. I was persuaded and started my pup on the new food gradually. I made sure to mix small amounts of the old Purina food with the new Nutro food. By the 4th day, he started vomiting morning and evening. I thougt I may have given him too much of the new Nutro food so I gave it to him for one more day to see if he would get used to it. Nope! There was still vomiting. I decided to check online and I'm so glad I did! There has been many complaints on the consumer affairs website. I was so upset, I returned to the Petsmart store and told them my dog is vomiting from the food and to check online since there has been many complaints. They told me they haven't heard any complaints. There was another Nutro specialist working and I told him that the food made my dog vomit. He said that Nutro is in the process of switching suppliers from out of China and changing their rice supplier so there has been changes to correct this. WHAT!!! Why is the old stuff still being sold then? I also noticed there has been recalls on this same company last year. I was so fortunate to catch this early! I switched back to Purina and he hasn't thrown up since. Please let everyone know. I have read sad stories of other dogs that had worse reactions to the food some involving death and I surely hope they pull this contaminated food off the shelves.


[ Post a Reply to This Message ]
[ Edit | View ]

Nutro Max -- Kelly, 13:34:21 04/14/08 Mon [1]

I have a beautiful american bulldog now for 6 years. She has been on Nutro Max since a puppy. I would say in the last 3 months she has been having nothing but problems-with her skin- red rash and scratching uncontrollable. Also she was taken to the vets given a shot and medicine which then it cleared. Then she was having some weight loss, which it was then determined she has parasites we were also given medicine. $300 later, she now has the rash back - I have since then taken her off of Nutro Max. Thinking maybe a skin allergy from the food. I was in shock to see the complaints from this dog food. I never heard of any of this! Now, I am so upset. We will once again have a vet check her out. Before this time she was an extremely active, and the best guard dog...it seems she has totally changed. Please if anyone has some in sight as to what we need to do please let us know. After reading some of the horror stories from this food- I am in utter shock this food is still being sold. How can this happen?


[ Post a Reply to This Message ]
[ Edit | View ]

Update -- Andrea, 10:52:48 04/14/08 Mon [1]

I wanted to update you on Cash. After I posted on Friday the 28th of March he got worse. He was vomiting all day and that nihgt started with diarrehha. I took him to the vet Satruday morning where they gave him and IV, anti-nausea meds and antibiotics. His blodd test came back showing blood in his urine but all other kideny functions were normal, he had high beli-Rubin but all other liver functions were normal, he had a very high white cell count and very low potassium. After he got his fluids and stoped vomitting we took him home. It has been a slow recovery but he is doing much better. I slowly started feeding him rice and chicken and after a while of keeping that down I started him on Bil-Jac. He has kept in down and loves it! I pray that no premanent damage was done. I wanted to start showing him but that will have to wait now that I put all his training money into $1000 vet bills. I took him back to the vet a week later and his blood test had improved. His white cell count was down but his beli-Rubin was stil higher then normal. The liver regenrates so hopefully this will improve in time. I have passed this owrd on to many dog owners and vets. Everytime we go into Petsmart to get their Bil-Jac we tell atleast one person about our situtation in hopes that dog and it's owner won't have to go through the unthinkable. Thank you again for this site. I hope that someone can pass this site on to someone that can bring this to eveyones attentions in a big way to get the word out.


[ Post a Reply to This Message ]
[ Edit | View ]

Nutro Max -- Kelly, 10:34:24 04/14/08 Mon [1]

I am beyond furious. I have a beautiful american bulldog she is 6 years old. She never ever had skin problems, and always so active and just filled with energy. The last couple of months everything has changed.

I have had her to the vets 3 times. She cannot stop scratching, and seems to have a really, bad allergic reaction. She looks awful. Then I happened to email the breeder who suggested taking her off of Nutro Max-possible food allergies. That is what I have been doing, the scratching has slowed a little. After spending over $300- now thinking of taking her back. Our dog is like our child. We love this dog dearly!!!

I happened to think of putting in the food to see if anyone else had complaints. I am in utter shock!! This has been since 2007- I have heard NOTHING of this dog food being so harmful. I am so outraged...that right now, I will write to whoever do whatever it takes to get to the bottom of this. I pray to God my dog will be okay. I am afraid of seeing all the outcomes from this forum what my dog's diagnose will be! Please if anyone can give me some information to complain get help etc....please do! This has literally made me sick to my stomach! Someone needs to be held accountable for this!!!


[ Post a Reply to This Message ]
[ Edit | View ]

Dry Nutro -- Amanda Johnson and Ethan Baker, 08:42:35 04/11/08 Fri [1]

My fiance and I had to put down our 15 month old great dane in October of 2007 due to severe complications that could not be diagnosed: Achiness and Pain in the abdomin, Discharge from urithra/Vagina ( She was fixed the year before so there should hav been no blood and yet there
was). Dry mouth. Occasional Diarrehea. More advanced bleeding dispite antibiotics throughout the summer of 2007. In October she started to collapse and refused to eat. We had contacted the Nutro company directly
but were told the dry was safe repeatedly. She lost 30 pounds and her organs began to shut down. After exploratory surgery, tests for cancer, parasites,and just about every other disease all came back negative.

We saw three different specialists...they were stumped. We had to put her down in late October. We had let the issue go until we recently got another Dane, and went to the pet store only to be shocked that the store is no longer restocking the dry Nutro because they suspect it is contaminated ( They cannot put the current stock because of a threat of suit from Nutro).


[ Post a Reply to This Message ]
[ Edit | View ]

my dogs illness -- Margaret Stelmach, 18:38:42 03/31/08 Mon [2]

This website was brought to my attention today. I would like to inform you that
early in August 2007, my little coton du tulear began to vomit with evidence of blood. We immediately took him to our vet . She diagnosed him as having ingested rat poison. That was difficult to believe as our dog goes out to relieve himself in our fenced yard and we are always present. That is the limit of his outdoor exposure. The vet flushed out his system , and did some blood work to determine if any of his organs had been damaged. Fortunately, there wasn't any internal damage. After he was observed we were able to bring him home He was on medication that coated his intestinal tract and we had to limit his diet to i.d. and rice canned. It took him several days to fully recover. We were still worried about him after hearing the words rat poison. He has been on your Nutro chicken, rice & oatmeal for sensitive stomachs (dry small kibble) for about two years and we had trusted the product. However, today after reading the FDA reports I can see where some residue of rat poison could find its way into your product or any product that is processed where rats could be a problem. I need reassurance from Natural Choice that you take precautions against contaminated dog or cat food.


[ Post a Reply to This Message ]
[ Edit | View ]

Replies:

[> Thank you for sharing your experience. -- Board Owner, 18:38:42 03/31/08 Mon [1]

Thank you for sharing your experience with us. The Nutro company never acknowledged receiving our package for lab testing. No response. Follow ups result in a customer care operator (that has no idea what is going on) dodging questions regarding the company.

Our opinion is for you to switch your dog to another brand of dog food. Nutro is owned by the Mars company. We also try to not knowingly purchase any products made by Mars.


[ Post a Reply to This Message ]
[ Edit | View ]

Thank you for supporting this Message Board -- Board Owner, 18:30:19 03/31/08 Mon

Hello Everyone:

Thank you for continuing to support this message board. We love reading your emails and hearing from you but when we do receive a new e-mail, we also feel sadness. We feel sad because dogs are still getting sick from (in our opinion) eating the Nutro dry dog food. It is our opinion that something just isn't right. We read the recall reports every day. We constantly keep our eye out for reports regarding Nutro and the Nutro/Natural Choice Company.

One thing we did want to share is that when our dog was consuming the Nutro dog food, she was very gassy and her breath was constantly horrible. Her bile was even worse. After removing Nutro from her diet, the odor disappeared and her eyes got a bit brighter. For a while there, we honestly thought she was going to die. She's still not 100%, never will be again. But at least she's not losing hair and throwing up all over the place.

Below is a letter that we received recently. These wonderful people that share their stories with us are the reason we keep the board open. If this board can continue to share information and save lives, we feel more than accomplished.

---------------------------------------------------

A Recent Letter...

I have a one year old Corgi who has been throwing up bile every morning almost. We've been to the vet and they weren't sure, took blood tests that only showed high white blood cell counts but that because he also had an eye infection. I wrote my breeder asking her if she had any
idea and she told me about this Nutro Ntaural choice not recalling their dry food. My Cash (his name) was on Nutro Natural Choice Lamb dry food when we got them at 7 months old so we continued to use it then he started having nasty gas spells so I switched him to the Chicken Sensitive
Stomach formula to hopfully stop the gas. It did stop the gas but the throwing up has only gotten worse. I am so thankful the my breeder brought this to my attention. If there is any doubt in this product I am going to discontinue using it for the safety of my aniaml. After seeing this website there is definatly doubt on this product so I am switching today. Thank you for posting this website and possibly savign my dogs life!
Andrea


[ Post a Reply to This Message ]
[ Edit | View ]

Question about feeding Nutro? -- Cathy, 11:48:03 03/28/08 Fri [2]

Hey, I'm just wondering about something. Did some of you wet the dry food before giving it to your dogs?


[ Post a Reply to This Message ]
[ Edit | View ]

Replies:

[> Re: Question about feeding Nutro? -- Andrea, 11:48:03 03/28/08 Fri [1]

Yes, I would wet down their food a little and warm it up to 15 sec. I did this so that he might want to eat it. He wasn't interested in the food (Nutro Natural Choice)so I thought by doing that I would make it more interesting. He won't touch it now ( I took it away today on finding this and other forums) and he won't eat the rice I've given him. He keeps drinking tons of water and vomitting it up. I'm praying he'll turn around soon.


[ Post a Reply to This Message ]
[ Edit | View ]

Regarding Nutro Dry Dog Food -- Board Owner, 22:18:40 02/24/08 Sun [2]

I visited my local Petco today to buy BIL-JAC dog food. This is what I am feeing my dog now due to the recalls. Right above the shelf where the BillJac dog food is, the Bil-Jac company has a letter posted about their Bil-Jac products stating the dog food is 100% good and would not be recalled. They stated they had been in business for 60 years and the food did not include any of the melamine or gluten that was killing animals. I found that VERY reassuring.

However, I walked over to the Nutro/Natural Choice dry dog food isle and read a letter posted over those products that read Petco will pull recalled dog food off the shelf asap upon notification. There was no nice letters from Nutro/Natural Choice claiming how wonderful their products were. Again, I felt sick to my stomach.

I just wanted to share this with everyone.

BTW - After all the complaints I have filled with Nutro/Natural Choice, they have not followed up with me. I do not find this to be shocking, but definitely unprofessional and cowardly.


[ Post a Reply to This Message ]
[ Edit | View ]

Replies:

[> Re: Regarding Nutro Dry Dog Food -- Stephanie, 22:18:40 02/24/08 Sun [1]

My dogs won't even touch Biljac.


[ Post a Reply to This Message ]
[ Edit | View ]

Thanks for the warnings.... I'm switching foods tomorrow!! -- Emily, 18:30:08 02/24/08 Sun [1]

I've had my little corgi puppy for about 5 weeks now. I had been feeding her Purina Puppy Chow (as the breeder had been feeding her) until the pet store recommended Nutro Natural Choir Lamb and Rice puppy food to help with her dry skin. They told me that it had more sunflower seed oil that would help with dry skin and give her a good coat. I went ahead and bought a bag on Thursday and started feeding it to her. Haven't had any problems yet, but I do like to go online and read product reviews, and after finding this forum, I'm scared to death that this food might be hurting my baby. She's a wonderful dog and I want only the best for her... it looks like if there's any question about the safety record of this food and Nutro is not taking a proactive effort to identify the cause, I will be finding another food, even if it costs more $$$. My dog deserves to be fed a product is safe and nutritious.


[ Post a Reply to This Message ]
[ Edit | View ]

Nutro Max Adult Dry Dog Food -- Darlene Hickman, 14:58:04 02/03/08 Sun [1]

I purchased Nutro Max Adult Dry Dog Food 12/20/07 at Petco. I have two dogs; a yorkie & an american eskimo. I took my yorkie to the emergency vet 12/23/07 for blood in his urine. They treated him for UTI & sent him home. 12/27/07 I took him to my vet & she transferred him to a hospital for a blood transfustion. As of 2/3/08 he is still on medication & has to follow up in a week.

Meanwhile my American Eskimo was vomitting & had diarrhea. 12/31/07 I took him to the vet & she put him on meds. 2/1/08 I had to admitt him to Gulf Coast Internal Medicine & Veterinary. I should find out tomorrow the results of the tests he has undergone 2/4/08.

I emailed Nutro Products about 3 weeks ago - no response. I called them last week & left a voice mail at Corporate Customer Service - no response. I feel strongly that it is the Nutro Max. I had two healthy indoor dogs until they ate the Nutro Max. Thank goodness it was for only 3 days.


[ Post a Reply to This Message ]
[ Edit | View ]

Nutro Natural Dry Food is Dangerous -- Susanne, 09:22:11 12/30/07 Sun [2]

This dog food company has to be stopped! I am a dog breeder and strongly believe that it is no coincidence that when I weaned two litters of puppies on Nutro Natural that they started dying. Let me first say, that I usually feed my dogs and puppies Purina Pro Plan but when I went to buy food they were out and the Pet Store strongly recommended Nutro Natural. I bought it not only for my puppies but my adult dogs. I soaked the Nutro Natural Lamb and Rice Dry Puppy Food and they ate that for 2 days. I was running low on this bag and bought a new bag of the Nutro Natural Chicken, Oatmeal, and Rice. I fed them in the morning like normal and by that afternoon my one little guy was clinging to life. I did everything I could think of to save his life but I lost him in the night. Suspecting it might be the food I changed borrowed some from my mom and changed them. I left the Nutro in my fridge (to be tested) and soaked them some new food. My husband was helping me feed the puppies and got the foods mixed up and continued to feed them the Nutro. Needless, to say in the next 2 weeks I lost the other four babies. I have taken all of the puppies for necropsies and I am having the food tested also. When I called Nutro (I got the phone number off of their website that under the recall info.) I told them I had a complaint and asked who I needed to speak with. I was told that they could handle my complaint until I started with my complaint. Then I was told I would have to transfered to the corporate office. When I asked for the phone number to corporate just in case we got disconnected he gave me a number and told me it was the only other number he had. I left a message at corporate (you get a direct answering machine) and I called back the number I was given. Guess what, it is the phone number for their breeders program. I called back and was again told I would have to be transfered. This time when I asked for the number I was told it was all automated and they did not have the number. So I asked for a supervisor. She told me that they have no number for corporate. I asked her for the address. No address information either! I asked just what the number I called could do for me and she said they are a call center that can answer any questions you might have about Nutro products. I told her I had a question alright how many puppies had they killed with their food. She told me none to her knowledge and hung up on me. No wonder no one has any knowlege of problems with the food because you can not get through to anyone to tell them your concerns. What kind of company hides behind a customer call center and will not give you their address or their corporate office? Please Please Please do not use this food! It has caused my family (I have 3 kids that this has deeply affected) so much pain and anguish that I would not wish on anyone. I always believe that you should follow your first instinct and there is no doubt in my mind that this food killed my babies!


[ Post a Reply to This Message ]
[ Edit | View ]

Replies:

[> Re: Nutro Natural Dry Food is Dangerous -- Robin Flannery, 09:22:11 12/30/07 Sun [1]

OK, so we've been away for about a week. While we were gone my Mom watched Frank. He eats dry Nutro Natural Choice Chicken Meal, Rice & Oatmeal Formula kibble. I bought a new bag and left it with my Mom when we left. Usually Frank eats this so fast it is unbelievable.

When we picked him up, my Mom said he didn't eat much - but I attributed this to the confusion about being left with her. When we got home, he wouldn't eat either. To have food left in his bowl untouched is beyond unusual!

Thinking he was still out of sorts, as a treat, I mixed the canned food with the kibble. He actually licked the canned food and left the kibble. Then I thought maybe the bag had expired or something (nope - best if used before April 2009).

After reading these posts, I'm alarmed. Has there been a change in the formula or something???


[ Post a Reply to This Message ]
[ Edit | View ]

dogs sick from nutro natural choice -- Louann McDonald, 23:51:47 12/29/07 Sat [2]

I have six dogs, 4 Maltese and 2 Lhasa Apsos. I have been feeding them Nutro natural choice chicken meal, rice and oatmeal formula. I recently opened a new bag of food and all six of my dogs fell ill. They were all vomiting the food they had eaten immediately, then later vomiting bile, and all had blood tinged diahrea, all six starting last week when I gave them the dog food. Two of them developed hemorrhagic gastroenteritis, blood tinged vomit as well as losing almost pure blood rather than slightly bloody diahrea. I fed the dogs this food for about a week before the symptoms got really bad; I thought maybe they had a virus, but the vet says that is unlikely. They were in the dog hospital Saturday, Sunday and yesterday on fluids and flagyl. Neither ate nor drank anything until I brought them home last night and hand fed them a little boiled chicken. They are better, but still had their iv's in today so I took them back to the vets for more iv medicine. They took the iv's out later today as they are not bleeding like they were. They are still having bloody diahrea, but nothing like they were. They are still sickly babies. My other four are also sickly, but I am giving them oral flagyl and fluids and hoping for the best. Both hospitalized dogs had elevated liver enzymes, but that may go with hemorragic gastroenteritis. I am very worried and hope they will get much better, but from reading the posts on this forum it looks like I'm definitely going to have to watch them carefully and pray for them. I have emailed Nutro tonight to ask them if they have had other complaints about this food. Looking at this forum, it is obvious they have, no matter how they respond. At this point, I am simply worried and hoping my dogs will survive and be healthy again. I really think the food has caused this, as none of the dogs has "gotten into" anything. I watch them carefully, keep everything clean, as well as keeping the yard clean so they won't pick up anything there. Also, I never let them in the yard but for a few minutes and I watch them carefully, because I consider them my kids. I so wish I had never fed them Nutro, as that looks like what must have made them ill. The best by date was Feb 07, 2009. How on earth can we warn other pet owners? Thank you,
Louann


[ Post a Reply to This Message ]
[ Edit | View ]

Replies:

[> Re: dogs sick from nutro natural choice -- Cat breeder, 23:51:47 12/29/07 Sat [1]

I know how you feel. I have big problems with their dried cat food too. Hind limb ataxia, eye focusing problems, dead kittens, haemorrhage, uterine inertia.... friends also have had big problems with their cats when they were feeding Nutro dried food.
Keep telling people and we just might save some more.


[ Post a Reply to This Message ]
[ Edit | View ]

Hindsight and Too Late -- Mark, 19:23:13 12/12/07 Wed [6]

I'm disheartened after reading the articles on this site. I fed my Lil' Min Pin "Natural Choice Lamb Meal and Rice Formula" all 7 years of his life. Just bought a 40lb bag within the last month and all was fine until one day he would not eat his food anymore. When I gave him a treat, he loved it and I "thought" he was spoiled and just wanted the treats more. Then all the sudden he didn't even want his treats and I knew something was up. He started drinking lots of water and urinating excessively. Took him to the Vet that very day hoping to find out it was just a virus, he'd be given antibiotics all would be fine. Boy was I so FAR from reality. Blood work showed his Creatinine and BUN to be elevated nearly double. Vet said he was in renal failure. Just 5 months ago when I took him in for his shots, complete blood work was done and all was perfectly normal. So how within 5 months could the little feller be in renal failure. Vet said he was young for this and could only guess it was hereditary or he'd gotten into something at home. I searched the house over and found nothing out of the ordinary except for his bowl of Natural Choice Lamb Meal and Rice Formula sitting in his bowl untouched. Never once did I think it was this food. Hindsight, I feel like a fool. I had to put him down last Saturday and I can't recall going through anything as difficult as that was. Now I realize he could sense something was wrong with the food and I didn't catch on until it was too late. I just don't understand why all the sudden this mess is happening to our animals. What cruel people there are in the world and it seems to be all about money, money, money!

Hindsight is....remembering our dogs are smart and if they're doing something out of the ordinary...they're probably telling us something best way they know how.

My cousin lost two of her dogs from food, called the company that put out her brand of Diamond Dog Food and they swore up and down their food had no problems. Her dogs died and shortly thereafter...what happened...the very food she inquired about was recalled!


[ Post a Reply to This Message ]
[ Edit | View ]

Replies:

[> Re: Hindsight and Too Late -- Mark, 21:21:04 08/23/07 Thu [1]

Just an update. I rec'd a call from the Corp office of Natural Choice. They're gonna send me a self addressed envelope for me to send some samples of the food to them. They've also asked for me to include my Vet bills. Said they do extensive research and testing on their food and still haven't had anything bad to come back on the "dry" food but wants to make sure nothing is happening between the time it leaves their plant to the stores. The gentleman was very nice and sympathetic regarding the loss of my pet. We'll see what happens. Getting a call from them was a nice effort. I'll update you as I know more. Thank you, Mark


[ Post a Reply to This Message ]
[ Edit | View ]

[> [> About mailing the food in. -- Board Owner, 12:54:15 08/27/07 Mon [1]

Good luck to you. After receiving a postage paid envelope from Nutro, many people have reported they mailed food and vet bills to the Nutro company. The Nutro company allegedly either did not offer any response or responded by saying nothing unusual was found and they couldn't help.


[ Post a Reply to This Message ]
[ Edit | View ]

[> [> Re: Hindsight and Too Late -- Mark, 04:31:45 08/29/07 Wed [1]

Thank you for that information. Honestly, I'd be shocked if they admitted something was wrong with it or paid a dime on anything. Ironically, take a look at this link. Sure is interesting! http://www.consumeraffairs.com/news04/2007/08/pet_food_recalls69.html


[ Post a Reply to This Message ]
[ Edit | View ]

[> [> [> Re: Hindsight and Too Late -- Mark, 19:23:13 12/12/07 Wed [1]

I said I'd keep you all updated so here it is. After sending 4 small bags to Nutro as requested/instructed, about 2 months later I rec'd a call from the company saying the dog food I submitted had some other food in it that wasn't their food and they would not test it. They gave me the choice to either them send the food back to me, them keep it for 90 days (for what I don't know) or to send some more samples to them. I agreed to send more samples to them and to date, I have not rec'd the package promised me. In a nutshell, they're full of crap and giving me the run around because there was nothing else in the bags I sent to them besides their dog food because I didn't feed my dog anything else period. I had a habit for YEARS of transferring the food from the bag into a container that I kept the dog food in for easy access. Nothing at all ever went into that container besides their dog food. I will never purchase their dog food again and discourage everyone to stay away from it. It's way too odd for so many animals to experience the same symptoms eating the same kind of food and nothing be wrong with it. I'm a firm believer of reaping what you sow and sooner or later, it'll all come home to them.


[ Post a Reply to This Message ]
[ Edit | View ]

[> Re: Hindsight and Too Late -- Cathy, 21:58:38 08/29/07 Wed [1]

Mark, I'm so sorry. I'm sure part of your heart feels ripped out. That's how we felt, and still do at times. How could we have been so stupid. We thought we were good pet parents. The only thing I can say is that from what I've read on many, many sites, there are alot of people just like you and me out there. Use your anger and grief to help other pets. File complaints everywhere you can - FDA, BBB, FTC, government officials. Itchmo.com has had updates recently involving Nutro products. Again, I'm very sorry about your little guy.


[ Post a Reply to This Message ]
[ Edit | View ]

nutro max large puppy dry food -- James Stanton, 13:07:11 11/15/07 Thu

As I write this as our 12 week old boxer pup is at the vet hospital for the second time. He's there for vomiting bloody mucous, bloody diarrhea, urinating large amounts and lethargy. The tests by the vet have not shown any specific cause. The first hospital stay was brief after he was given IV fluids and he perked up and stopped vomiting. Shortly after returning home his symptoms returned and is now in the hospital on IV fluids. The vet says the tests haven't shown any cause for this. I begain to wonder about the dog food in light of the recalls of pet food. WE were feeding him Nutromax for large puppies dry food. I googled Nutro Max dry food and to my amazement and horror found that other dog owners were describing the exact symptoms that my dog had in their pets who had eaten Nutro dry food. I've printed out the information and will give the vet a copy. I am saving the Nutro dog food in case it needs to be tested. My dog is NOT going to get this food any more. We haved contacted the dogs breeder who feeds the puppies this food to warn him to watch for these symptoms. Hopefully we can bring our dog home tomorrow.


[ Post a Reply to This Message ]
[ Edit | View ]

Thanks. -- Board Owner, 14:28:35 10/31/07 Wed [1]

We would like to thank all of the people that continue to post and share their situations. Please keep the posts coming. Our hope is for the posts to continue to inform pet owners and save the lives of more animals.


[ Post a Reply to This Message ]
[ Edit | View ]

My Pup was sick... -- Vanessa, 08:42:16 10/31/07 Wed [1]

I am so grateful I found this forum. My pup Eve, a 6 month old APBT (American Pit Bull Terrier), from one day to another started acting very sickly. She was lethargic, sleeping most of the day, not wanting to get out of bed, she didn't even want to go outside to relieve herself. When I forced her to go outside she would do her duty and want to come right back home. I feared the worst. I made an appointment with her vet getting a steep estimate of all the tests that they had to perform on her. We just got Eve and had spent a good $300 in the past 2 weeks for vaccines, vet check up, obedience classes, etc. I honestly did not have the money for these additional tests for another 2 weeks or so. I started looking in the internet and to my amazement I found this forum. I started feeding Eve Nutro Max Puppy because it was recommended to me by the pet store as being an excellent dog food. When I read all these posts my heart dropped and I immediately took her off the food. I know you are supposed to gradually switch them but I was so afraid for her that I took her off cold turkey (she did not have a bad reaction like diarrhea). I went back to the pet store and they exchanged the Nutro to Nature's Recipe (my choice). I have not completely started her on the Nature's Recipe, I have been cooking for her to restore her health and adding a little of the dog food. I am happy to report that approx 2 days later Eve was back to her old self. I do not want to say it was definitely the fault of the dog food, but if not, it is a HUGE coincidence. I had to do so much research about dog food in order to give my Eve something that was really good for her, I ran into Nature's Recipe, which has no beef, corn, or wheat, no by-products or fillers, in case she has a food allergy. Her appetite is not completely restored, she used to eat anything and everything but now she only eats once a day. I was afraid that I would get her used to human food and she wouldn't want to go back to the dog food but if it means her getting healthy again then I might have to, from now on, make all her food.


[ Post a Reply to This Message ]
[ Edit | View ]

Nutro High Energy & Senior Small Bites -- Janice, 18:51:21 10/19/07 Fri [1]

I'm so sorry that many of you have suffered the loss of your dear pets. But I want you to know that because you took the time to post your stories, you saved one little Jack Russell Terrier. Looking back I think my dog started to not look well a few months ago (when we purchased a new bag of High Energy). Eventually we decided it was more than "old age" and took him to the vets. He could only find some back pain and suggested we might want to change to a formula for older dogs for joint support. That's when our little guy, Bradley, age 8, really started to get sick. He's never over eaten, but for some reason he was eating and drinking so much more than usual. We also noticed some drooling, and then he started with muscle spasms! They increased over the next 10 days or so, accompanied with moments where he just looked frozen, as if he just couldn't move for several seconds. These were not epileptic seizures, but something was wrong neurologically. In one week this little guy gained 4 pounds, but was looking sicker and sicker. We took him off the Senior formula as we were concerned about the weight gain but kept him on the High Energy. The muscle spasms stopped the next day, but he continued to just look very bad and drinking excessively. Something much more than back pain was going on. I continued to search the internet for some kind of answer (the vet had none), and stumbled on this website. I immediately took away the Nutro and gave him human food. Within 12 hours we started to see improvement - he was more responsive and less lethargic. His excessive drinking is subsiding. He's not 100% but in just the last couple of days we're seeing a huge improvement. I reported this to Nutro and got the same response as others -- "please send us a sample and we'll test." Again, I am so, so sorry for those of you who lost your pets. My heart was breaking as I read your stories. But please know that by sharing your experience, you helped to save a little guy that's very precious to me. Thank you all.


[ Post a Reply to This Message ]
[ Edit | View ]

New Info on Nutro and Other Info -- Cathy, 14:27:04 08/22/07 Wed [2]

Just though I would let you know some info I found on itchmo about Nutro. Their food continues to be poisonous. The FDA has posted info on bad food, but no press coverage or recalls.

http://www.fda.gov/ora/oasis/7/ora_oasis_c_us.html

Don Earl has filed a legal action against the FDA for pet deaths.

http://www.consumeraffairs.com/news04/2007/08/pet_food_recalls64.html

http://www.itchmo.com/pet-owner-pressures-fda-to-further-investigate-toxins-in-cat-and-dog-food-2261


[ Post a Reply to This Message ]
[ Edit | View ]

Replies:

[> Thank you, Cathy. You are wonderful. -- Board Owner, 14:27:04 08/22/07 Wed [1]

[ Post a Reply to This Message ]
[ Edit | View ]

Our Rottweiler -- Jodi, 13:25:04 08/15/07 Wed [2]

Since March 07 we have watched our poor bear's health deminish. He's gone from 130 pounds down to 90. We have had two vets look at him, none can tell us what is wrong and both want us to have a test that costs over 1500.00. we cannot afford this. we have already spent about 2000.00 and i'm without a job now.
He went for a long period, 9 days without eating..even people food he refused. then he started eating. then the vomiting came after he ate. the food did not seem to even be digested. But it's random..some days he eats (now at night only after a walk) and keeps food down, others he throws it up. diahrreah stopped, but barely any stools. He sleeps on his back now constantly and has horrible hot spots all over him that we have medication for and finally put a cone on him so he couldn't reach them. He was perfectly find up until March this year. He used to eat morning and night..now he barely eats at night..maybe a cup of food. We have fed him Iams , i've tried so many brands. I felt if the stores were still sellign them, then they should be ok. By reading all the messages I think differently.
Can someone tell me a receipe that is easy to do that i can make on sunday nights for the entire week? our poor baby is needing help and the vet can't help us.


[ Post a Reply to This Message ]
[ Edit | View ]

Replies:

[> Sorry to learn your dog is not doing well. -- Board Owner, 13:25:04 08/15/07 Wed [1]

Our greyhound was able to recover by eating chicken and rice. We made it for her. After she got back on her feet, we fed her the Bil-Jac dry dog food. She is doing okay now. Her eyes are bright and she has energy. Our opinion is to not feed the Nutro dog food. But do choose a food that was not on the recall list and stick with it. Changing a dogs diet too often might cause digestive problems. We chose a dog food that did not appear on the dog food recall list. It was also a dog food we could afford. *Also* In our opinion...just because it's on the shelves does not mean it is safe. These days, you have to do your homework.


[ Post a Reply to This Message ]
[ Edit | View ]

What do I feed my dog? -- Russell, 21:39:48 08/02/07 Thu [6]

So now I am completely at a loss. I've been feeding my dog Nutro's Natural Choice dry dog food (Large Breed Lamb and Rice) and his he is obviously not well. His symptoms are less severe than those previously mentioned, but none the less, he is not a healthy dog. I am very thankful (after reading some of your tear jerking stories) that he is drooling on my carpet right now rather than dead and buried, but now I, like many of you, have a difficult descision ahead - what am I to feed my dog now??? I've checked the "master recall list" link you've posted, and all the dog food brands I know are listed. Now what? Do I start making my own meaty-rice concoction? It seems those that make feeding American dogs their profession don't care if their target market starts to drop dead! How does this happen??? - So frustrating!!!

So, does anyone have a suggestion as to what food I should feed him now?


[ Post a Reply to This Message ]
[ Edit | View ]

Replies:

[> Researching the food -- Board Owner, 10:33:58 06/18/07 Mon [1]

In order to keep all the dog food representatives from jumping in and using this board as an advertisement and compensation, we recommend reading itchmo.com and the petfoodtracker.com. Select a food that isn't being allegedly investigated for causing illness. You might want to consider going with a company that had no recalls on the wet food or dry food. Since discontinuing the use of Nutro, we are feeding our greyhound Bil-Jac. She was very sick but now she is doing much better. Her coat is looking healthy and she has more energy. Bil-Jac did not have any food wet or dry on the recall list. This is why we selected their brand of food. Plus, for us, it's affordable. Go with the brand you research and believe to be safe. We realize it's hard to know for sure. It's our opinion that since we use Bil-Jac, it's the only food we can vouch for. Good luck.


[ Post a Reply to This Message ]
[ Edit | View ]

[> Re: What do I feed my dog? -- Kate, 11:45:48 06/23/07 Sat [1]

I think that Wellness brand has not had any recalls. The food is also quite high end, and Petco often doesn't carry it. Good luck. Personally I wish I had kept feeding my dog China home made foods. Feel free to e-mail me for recipes and ways that I figured out how to do it without spending your whole days cooking for your dog.


[ Post a Reply to This Message ]
[ Edit | View ]

[> [> Re: What do I feed my dog? -- Millicent Aynes, 13:38:51 08/01/07 Wed [1]

My dog threw up frequently and her heart beat so hard until I took her off heart worm pills. She is a Shih Tzu. After a year, her heart beats normally and her coat has grown back in. She is an inside dog. Heart worm medicine has arsenic in it. Some dog owners recommend using heart worm medicne part of the year when the mosquitoes are most prevalent.

My dog is having trouble with the dog food, too, and recently had an allergic reaction to dried chicken breasts made in Shanghai. I just bought Nature's Abundance dog food. I'm hoping it works out better for my dog.


[ Post a Reply to This Message ]
[ Edit | View ]

[> Re: What do I feed my dog? -- Chad Ernst, 08:51:25 06/24/07 Sun [1]

It is sickening to read these stories. Our dog is 2 1/2 years old and has eaten Nutro all his life. We recently opened a new bag of food - Nutro Large Breed Adult - and he wouldn't eat it. This is the same type of food he has been eating for the last two years and his appetite has always been healthy but with this food, we just sniffed it and walked away. He only ate a few bites when we hand fed it to him and once ate a bowl, we think out dire hunger. We purchased new food yesterday, Purina One, and his appetite has now returned. Our dog, which is a lab mix, has always had a sensitive stomach and throws up often, once to twice a week. Typically, there's nothing in it but some bile and grass. He also sheds excessively. We assumed both we're just normal traits of his but will now be keeping an extra close eye to see if any changes occur while feeding him the new brand of food. He also recently collasped in our house - we don't believe it was a seizure but he couldn't move his legs for about five minutes. We checked all the recall lists and Purina is not listed on there so we're hoping this will be a better choice for his health. Otherwise, we are considering making our own food for him as well.


[ Post a Reply to This Message ]
[ Edit | View ]

[> Re: What do I feed my dog? -- Cathy, 21:39:48 08/02/07 Thu [1]

My advice is to find a holistic vet in your area and let him/her help you figure out what will work best for your pet. I wish I had. It may be a little more expensive at first, but in the long run, your pet will be healthier with fewer vet bills. It's no different than what we are hearing about what we should eat - less processed - more natural foods. Good Luck.


[ Post a Reply to This Message ]
[ Edit | View ]

Nutro Natural Choice Lite Dry -- Jim, 15:17:08 06/27/07 Wed [2]

Our dog was fed nothing but Nutro Natural Choice Lite dry dog food. On 1/21/07 her last bag of food was purchased. By 2/6/07 she was so sick it required a visit to the vet. She was prescribed antibiotics. It seemd to help for only a short period. She died on 3/4/07 at the animal emergency center. The attending vet said that her stomach was full of blood. I still have 1/2 the bag of dog food left. Anyone have suggestions on how to go about getting it tested?


[ Post a Reply to This Message ]
[ Edit | View ]

Replies:

[> http://itchmoforums.com/ they have a forum regarding testing food -- Board Owner, 15:17:08 06/27/07 Wed [1]

[ Post a Reply to This Message ]
[ Edit | View ]

Nutro Weight Management -- Candace, 22:45:49 06/18/07 Mon [1]

I purchased a large bag of Nutro's weight management (lg breed) formula. The bag is about 4/5 gone, and my dog has been vomiting a thick, clear fluid with chunks of food. She's also had diarrhea-- once with blood. I stopped feeding her for a day and a half to let her stomach settle, and she was fine. As soon as I picked up the Nutro regime again, I started finding vomit around my house. She also had a diarrhea incident in my parents' living room. I'm afraid that the food is the cause of these sudden behaviors. Any advice is appreciated!


[ Post a Reply to This Message ]
[ Edit | View ]

nutro natural choice dry dog food -- marge, 19:25:16 06/14/07 Thu [2]

i lost two of my beautiful alaskan malamutes. one on jan. 5 and the other on jan 7,2007. i had switched to nutro from pro plan dry. at christmas both dogs were getting sick. not eating ,very lethargic,vomiting bile,diareha,not wanting to go outside.blood work on the 7 year old indicated her organs were shutting down and some of her numbers were off.she was also gassy and x-rays showed some unknown mass that could not be explained. she died before any further tests could be done. this happened before the recall became public so i will never know for sure what happened. i switched back to pro plan and so far have not had any problems with my other dogs. i want to know what happened that made healthy animals become sick and die so quickly but it would be devastating to know that i may have been responsible by feeding them contaminated food even if i didn't know there was something wrong with it.


[ Post a Reply to This Message ]
[ Edit | View ]

Replies:

[> Re: nutro natural choice dry dog food -- Cathy, 19:25:16 06/14/07 Thu [1]

Marge, I'm sorry for your loss. I want answers too, but I know I'll never get them. I still blame myself for not knowing that food was the problem. My springer got sick more slowly over the last year before he died. I'm so angry that 3 different vets didn't even mention food as a possibility. Two of them were supposedly 'specialists'. They say there are lessons that we are supposed to learn from everything and everyone who comes into our lives. I'm still trying to figure out what lesson I learned from losing my silly, happy, 6 year old best friend.


[ Post a Reply to This Message ]
[ Edit | View ]

06-07-07 -- Board Owner, 18:44:33 06/11/07 Mon [4]

As you may have noticed, we removed the countdown clock from the board. To be fair and balanced, we are happy to report that someone with Nutro Corporate office contacted us today. We were thankful to receive the phone call. The man we spoke with was very nice and helpful. He said he would send us an envelope to forward the remaining dog food we have, vet bills, information, etc. He said the company would investigate our dog's situation. He sounded sincere. We hope he is.


[ Post a Reply to This Message ]
[ Edit | View ]

Replies:

[> Re: 06-07-07 -- Cathy, 19:03:32 06/08/07 Fri [1]

Be sure to keep some. Don't send all of it.


[ Post a Reply to This Message ]
[ Edit | View ]

[> [> Hi Cathy -- Board Owner, 11:27:54 06/10/07 Sun [1]

Great advice. However, we poured our food out into a container. We do not have the bag and we have less than a cup of the dog food.

We finally found A TON of lost receipts from Petco. Petco was not interested in helping us, so we made it our job to locate the lost Petco receipts. Finally, we discovered them in a drawer. The receipts go back to 2005 but what is important is 2006-2007. From what we are reading, we did not know we had purchased Nutro Small Bites. We had received many emails from people with the opinion this particular food was not right. Our receipts for 2006 were more detailed than the ones from 2007.

Back in late February, our dog started getting sick. She was throwing up bile and refusing her food. We thought she was being a Diva, so we changed her food from (Nutro) High Energy to (Nutro) Lamb and Rice. She only ate the food with encouragement. She still did not care for it. Not understanding why she no longer liked the Nutro, we chose another flavor or Nutro, Small Bites. A lady at Petco told us some large dogs like the taste of small bites better. Since we thought our dog was being stubborn, we decided to believe the lady at Petco and buy the food. Again, she didn't want it but with encouragement, she ate it.

We went through three or four flavors before taking her off the food. We didn't understand after four years why she wouldn't eat Nutro products. Now, we feel guilty because perhaps our dog knew more about what was happening with the food than us. We feel like she refused it because in our opinion, something was wrong with it.

After speaking to Nutro corporate, we told them we couldn't afford to get all the tests done on our dog. We told them we didn't have the $1500+ to continue. Nutro corporate said they could not compensate us up front but they would reimburse us. That makes us nervous but what can you do? If your dog needs more, it needs more. We hope we don't get stuck with the vet bills and Nutro will be true to their word.

PS - We understand why some of you would write and tell us: "Don't hold your breath" and "Don't count on it." We get it. Really. :-) We realize many of you are going through the same process with little or no results. We appreciate the emails. We read all of them.


[ Post a Reply to This Message ]
[ Edit | View ]

[> Re: 06-07-07 -- Stephanie Kemp, 18:44:33 06/11/07 Mon [1]

My Dog Baxter is a Fox Red Lab or Red Doberman and Shepherd mix, we got him about 7 years ago from the local shelter. He's always been a loyal and trustworthy dog obsessed with his ball, and yet, very healthy. Just in the last six months, I started feeding him Nutro lamb and rice with Chondroitin and Gloscoamine, because I was at Petco, and the Distributor's rep was there promoting the product. He said it would improve my dog's coat and help his stiff joints. Baxter is a Large dog, and plays quite hard chasing his ball in the yard so I thought it would help.
About four months ago he had his first seizure. His coat became noticeably bare and he continued to itch wherever he could reach. The first seizure lasted about 5 minutes, and scared us to death. He froze, shook, collapsed, cried, drooled and lost a small amount of urine, became unresponsive, and then finally relaxed. Then he slept. We hesitated taking him to our Vet, because the Vet has a long history of charging a phenomenal amount of money for no clear results and a bottle of pills that we should try, and "maybe it will help him( and our previous pets for other reasons)". Thinking this was an isolated case, as he routinely chews up the darnedest stuff, it was probably something he came in contact with. Though, I now regret not changing his food permanently. I did change it when I ran out of the bag, and bought a small bag of Purina One. I don't know what I was thinking when I went and bought more Nutro. He had his second seizure last night at 1 am. He'd eaten five hours earlier, as he had the last time he seized. I knew then we had a bigger problem.
I knew about the recall, and about how government agencies work, and knew that it may not be limited to the canned food, so I found this site in my search.
I called the National Poison Control Center for animals at U of I in Urbana IL. 888-426-4435. They of course told me about all of the things that could cause the seizures, and told me to take Baxter to my Vet. IF ANY OF YOU HAVE NOT CALLED THEM YOU SHOULD NOW. It's all about record keeping. They have an extensive database of info, and they could have more influence on the Industry. They are DVM's with Board Certifications in Toxicology.
I have quit feeding my dog this food. I never connected the vomiting of yellow bile, his eating of grass and tree leaves, and hair loss with scratching(some spots are bare and flaking) to his eating Nutro products. I firmly believe the the issue is Quality control, as not every bag made him as sick as this. BAD batches???? Poor Clean out procedures between product changes and manufactured batches???? The Pet food Industry MUST be subject to stricter regulations, and this site may be the start of raising the awareness levels of the unknowing public.
I am making a photocopy of the product label, keeping several cups of it as proof for testing, and then taking the bag back to PetCo for my money back after I call Nutro. I wish I could get all of my money back for all of the bags I bought there, but as others have stated, "they won't cooperate with giving us back the product purchase history" They do however send you cards that tell you how many more bags you have to buy to get a free bag. This is the only thing I have to prove how long I've been feeding him this food.
IF ANYONE CAN RECOMMEND A BETTER FOOD, please email me at stephtrue24@comcast.net


[ Post a Reply to This Message ]
[ Edit | View ]

nutro natural choice lamb meal and rice -- rora, 11:03:27 06/10/07 Sun [1]

Hi everyone,

Question at the end of the message, but first some history.

The end of the week before last I purchased a new bag of Nutro Natural Choice Lamb Meal and Rice. My dog (roughly 6 years old) has been eating this brand since we adopted her roughly 4 years ago with no major problems. She has a history of ehrlichia but her titer levels show that it
is under control. She also had a potentially malignant mammery tumor removed a year ago, as well as her anal glands removed. Other than it's been pretty standard.

I always believed Nutro to be one of the best dog food brands. I carefully monitored the recall list and didn't see Nutro's dry food appear on it so I was not concerned with buying the new bag when she ran out the week before last.

Over last week her stool became very loose and runny, and within a day or two of that she was passing bright red blood. She's had some dry heaves but no vomiting and she's been quite alert despite the three days of chronic diarrhea but still not herself. I took her to my vet and he prescribed Flagyl and we stopped her food intake to clear her out for just over a day giving gatorade as suggested. I asked my vet to run blood tests to check her liver and kidney function and this morning he said there was nothing abnormal about them but that her illness was most
likely brought on by something she ate. She's an indoor dog and I'm pretty militant about her not being fed scraps whatsoever since it had given her loose stools in the past and the only change has been the new bag of dog food.

My doctor recommended continuing the Nutro once her blood test checked out but after all of the horror stories I've read through researching this recall over the last days I'm extremely hesitant. I wanted to give her boiled hamburger and rice for a couple of days to settle her stool down and then switch to a new dog food but my vet advised against this, and although I know he has more experience with this my gut is worried.

Today we went to look at other dog foods and decided to go with Innova. Since she does have a history of having loose stools when new foods are introduced I don't want to change her over too fast, but I'm scared of mixing in the Nutro in case it is indeed contaminated. I was planning on decreasing the amounts over the next week while increasing the Innova (which on a side not she loves compared to the Nutro! She literally nosed around all the pieces of Nutro to get to the tiny handful of Innova I gave her today!)

Any advice would be greatly appreciated!

On a side note I found an independent testing facility that can test pet food. I can't validate them so please check them out thoroughly if you're considering using them.
I believe the cost is around $200 to test the food for melamine or any other poisons. The site is accutracetesting.com but for how much it is I'm not sure that I can afford to with my dog's medical bills piling up. Good luck to all of you, and I'm deeply saddened and sorry for those of you that have lost their loved ones. Sorry so long!


[ Post a Reply to This Message ]
[ Edit | View ]

Nutro Natural Choice Lite dog food -- kellys story, 07:54:55 06/06/07 Wed [1]

My dog is normally a very healthy 4 year-old dachshund/lab mix. He has been in great health every time I've taken him to the vet and has a healthy appetite.

He was eating Eukanuba brand dog food up until this last week when I opened a new bag of the Nutro Natural Choice Lite dog food. Ever since he has been sick. He has thrown up several times and is lethargic. His pupils seem dialated. I called the vet and they said that only wet food has been recalled but I think it is much more far spread. I got it at PetCo. It is probably still on the shelves. The code for the product is 25-65156-01.

I want to get in on a class action law suit. I don't care about money but this may be the only way to have more regulation and laws on pet food. The pet food industry is a billion dollar industry and should have to go through the same FDA regulation as human food.


[ Post a Reply to This Message ]
[ Edit | View ]

nutro lamb and rice small bites -- kat's story, 07:46:27 06/06/07 Wed [1]

I have a 4 years old silky terrier and a ??mix terrier who have always eaten nutro lamb and rice small bites with no problems. About 2 weeks ago they got a new bag. I came home multiple times the first week from work to find they had gotten sick in the crates. Buddy, the terrier mix, woke up a few times in the night to throw up. I thought it might have had to do with his recent shots though. Then last week i switched them to a different food because they weren't getting better. Both of their stools solidified and neither threw up. I ran out and they have been eating nutro again for 2 days. Their stools became the light color yesterday, and it is 3 am and my silky got me up to take her outside because she had diahhrea. I am taking both of them to the vet tomorrow.


[ Post a Reply to This Message ]
[ Edit | View ]

Updates - 06.05.07 -- Board Owner, 08:16:47 06/05/07 Tue [1]

The Pet Food Tracker website has updated with important information that you will want to know. Click Here To Read


[ Post a Reply to This Message ]
[ Edit | View ]

Nutro Chicken and Rice dry food -- Kate, 05:28:49 06/01/07 Fri

My eight year old rescued boxer, China, died in February about a week before I heard of any recalls. I had her primarily on a home made diet for a few years, but with a busier schedule I turned to store bought dry food. Wellness food didn't agree with her system, and Nutro was recommended, so I went that route. About two weeks before China passed away she started peeing in huge amounts. She had had accidents in the past, but never when I was home. At this time she would pee rivers not four feet from where I was sitting.


After only a couple days of this I brought her to the vet. I brought in a urine sample and they reported that there were crystals, but no sign of kidney failure. They also ran full blood work and saw nothing wrong. It was determined to put her on incontinence supplements, and see what happened.


After a week of this, there was no change and she was brought in again. She was also showing symptoms of lethargy, dizzyness, blood in her stool, and vomiting bile. I also had reason to believe that she had had a siezure. As she was a boxer it was suggested that she might have a brain tumor. The other suggestion that was presented was an ear infection.


The next three days were very dificult. She would barely move even for a walk. While out walking she would sometimes stop and stand with her head tilted to one side. Encouragement didn't help her move at all.


On the last day of her life, she walked slowely with many pauses and spent a lot of it lying down. When the dog walker came, she refused to get up and take a walk for 15 minutes. She spent the time crying. When the dog walker called me, China heard my voice and started to lick the phone.


The dog walker came back that day to discover her seizuring on the floor. The amazing walker called her boss and drove her to the emergency clinic as I rushed from work to meet them. I found out when I got to the clinic that when she was in the car she calmed down, went to sleep and never woke up again, even though the clinic vets did CPR. I arrived at the clinic half an hour later.


I recently had the nerve to go into the petshop that I bought the food at. They assured me that the dry food was never recalled, but the more I read here indicates that they might not have had all the information. I blame them in no way whatsoever.


As China was a boxer, there is a possibility of a brain tumor. Her decline was incredible fast from stunningly healthy dog to the most heartbreaking sight I have ever come across. In some ways it would make me feel better if her demise was the result of poor breeding than my poisoning her every day for years. Reading this site has brought up my fear that the later is more possible than I had thought.


My heart goes out to everyone else that has lost a pet or has a pet ailing. I completely understand the pain that nothing can replace.

Thank you for hearing my story,
Kate


[ Post a Reply to This Message ]
[ Edit | View ]

Reminder -- Board Owner, 11:05:06 05/31/07 Thu

No Nutro Reps will be allowed to post on this board. In fact, Nutro Reps can stay off our board. Do not even dare to try to come over to this board and post nasty messages. We will disapprove the message but it will remain saved. Trust me, we definitely know who you are.

Mars, however, is always welcome to post in an official compacity.


[ Post a Reply to This Message ]
[ Edit | View ]

*Update* -- Board Owner, 09:17:23 05/31/07 Thu

We would like to share the following information:

We have received quite a few emails concerning, Nutro Natural Choice Chicken Meal, Rice, and Oatmeal dry dog food.

People reported their dog ate the food and they believe the vomitting, yellowing of eyes, lethargic behavior, eating grass, bloody stools, and sickness derived from eating the dry dog food. People reported taking their dog to the vet and being told the dog had kidney or renal failure. The dogs needed treatment to survive. Some dogs did not make it.

If you have a problem with this particular dry dog food, our opinion is to discontinue feeding this product and contact Nutro products and www.fda.gov. Even if you do not receive the reposnse you believe you deserve from either establishment, it is important you file the complaint. Save the dog food bag (if you have it) and the dog food.

Best to you.


[ Post a Reply to This Message ]
[ Edit | View ]

Why We Have Decided To Never Shop At Petco Again -- Board Owner, 09:05:24 05/31/07 Thu [1]

In our opinion, Petco is obviously not where pets nor people come first. At our Petco location, the people that work there are not educated on anything. Their answer is always, "I don't know." Our favorite answer is, "I don't know and my manager is out of town for a while." You get this answer regardless of what you ask.

We tried to write Petco Corporate Office to ask if we could have any kind of print out from being a Petco P.A.L.S. member. They never responded. We wanted to track all of the products we have ever bought for our dog, as far back as the P.A.L.S. card would let us track. This is for the purpose of the pet food recall. Keep in mind, we do have all receipts from purchases but we wanted to see if Petco would assist us.

Petco would not assist us. In fact, the manager and employees at our location acted not only rude but stunned we had a problem with the Nutro Products brand of dog food. We told them how sick our dog was and how sick other pets were. They did not care. They acted as if they were not even aware that Nutro had a wet food recall. The employees snapped a quick, "No" to the print out and then ignored us to speak to another customer. You would have thought the Petco employees were getting some sort of kick back from Nutro. We don't understand why a $5-$6 an hour worker would even care to be so locked on the Nutro topic. It was completely rude.

Petco is NO help. We have decided to take our business elsewhere. We will take our friend's business with us. We would rather buy from a pet boutique than a Petco where the people are rude and appear to be uneducated about anything that concerns PETS. We are begining to realize what a scam everything to do with Pets is.


[ Post a Reply to This Message ]
[ Edit | View ]

Nutro Natural choice treats -- Marta Littlefield, 01:21:54 05/31/07 Thu [1]

Our dog "Lucky" just died over the memorial weekend and deep inside myself, I believed that the "Nutro Natural choice treats caused his deaf. We rescued Lucky about a year and half ago, we took him, to our Vet, he found his overall health very well, for a dog his age, approximate 8 year old lab mix.
It took Lucky good 3 to 4 months to warm-up to us; evidently he has had some abuse in his life...
Lucky's name was my choice to show him how lucky he was to find a family that loves dogs and have had 3 dogs prior to "him" and had lived between 15 to 17 wonderful years. Lucky finally become our dog and filled the empty nest that ( Gigi left) he has turned to be the warmest, funny and playful black lab. During this year and half, Lucky has not got sick or showed any signed of illnesses or even a common cold that dogs usually gets.
On May 14th 2007, I went to the local petco store,I usually got for Lucky the mixed treats from their open treat- bar, but that day, I decided to purchased the treats "Nutro Natural choice" in a box for mature dogs, within days, Lucky started it to feel sick, he will not eat of drink anything, he started vomiting, my husband was not worry, he felt that it was just a stomach flu, but, by Monday May the 25th we took him to the vet,he treated him,for an upset stomac, after we with, great difficulty got his medicine down, Lucky started drinking water for a day ( from the sprinkles) which "he loved" to do that, but we took him back to the vet on Friday the 25th, because it was not signed of him getting better, at that point the vet told us, that in order to really know what was going on with him, he needed to do several test and maybe surgery and because Lucky was 8 years old, this also represented an issue, he asked us to think about it, but there was not time to think what decision we will take, because the treats produced by Nutri had taking its course and Lucky died Saturday May 25th, 12 days from the purchased of the product and he only had around 10 of them.
By the way during those days, that Lucky become ill, lethargic, dehydrated and at the end his entire system was shot down...I went back and pay a visit to the Petco Manager, who in his non-caring behavior assured me that the treats were safe, due to the fact that Nutro has not re-called the treats and maybe so, but how can we be so sure, specially when the last food Lucky ate was those treats. I will never know. I hope to save the lives of other dogs...

Lucky, I'm doing this for you, I loved you even thought it was a short time.......

M


[ Post a Reply to This Message ]
[ Edit | View ]

Puppy in renal failure after eating dry dog foods -- Christy Hottinger, 12:32:53 05/30/07 Wed [1]

Hi, My beautiful 7 month old bulldog puppy, Ruby, was diagnosed on 5/23/07 with kidney failure. She was losing weight but looked otherwise healthy and active. After 4 vet visits and being told each time I should not worry becasue her food was not on the recall list and she was probably just genetically smaller I finally demaned they do blood work and the results showed chronic renal failure. Meaning that this condition had been ongoing for a long time and did not just occur. She first became ill in Jan 07 at 13 weeks after eating Nutro Natural Choice lamb & rice dry puppy food. I fed her that becasue that was what the breeder had been feeding her. She refused to eat it after a few days, ran a fever and was very lethargic. This was before the recall and the vet could not figure out what was wrong. No blood work was done at that time and I did not know to ask for it. They tested for parvo and ruled out parasites put her on antibotics and switched to her to Royal Canin Med puppy 32 dry food. She seemed to get better for a while after the switch. In March around the same time as the recalls started her growth began to slow down and her appetite decreased but still she seemed energetic and healthy. We thought we were OK becasue at the time no Royal Canin foods were being recalled. We did keep the bag of Nutro food in case the dry food ever did get recalled though. In mid to late April she stopped eating the Royal Canin and seemed depressed. A few days later we heard about Royal Canin recalls so we switched her to Canidae dry (even though her specific food was not recalled) and she again began to eat and perked back up. However in May she began to lose weight. I took her to the vet but since she just started her first heat cycle they thought that might account for the few pounds of weight loss. But three weeks later when her cycle ended she lost more weight and I asked taht they do the blood & urine work which confirmed my worst fears. She was in renal failure with only 25% kidney function left! I have contacted and filed a complaint with the FDA and am waiting for them to re-contact me for food sampels of both the Nutro and Royal Canin. My Vet is investigating and trying to rule out any possible genetic reasons as well but said it likey could be the food since juvenile renal disease is not one of the more common genetic problems in Bulldogs. I wanted to share my story because I want everyone out there to know that just becasue the vets, pet food companies and the FDA assure you that the non recalled foods are safe does not mean that they are. They really don't know what is and is not safe at this point. I am not even sure they really know all the ingredients that may be affected. Also if your pet has eaten a food by a company that has had any recalled foods take your pet to the vet immediatedly and get the blood and urine work done to make sure they are OK. It is not enough to just switch food. If they ate this poison switching foods will not necessarily help- the damage may already be done and the earlier it is caught the better chance the animal has. I wish I had tested Ruby earlier when she first became ill or back in March when foods started being recalled. Maybe then her prognosis would be better. I just did not know to do it and believed the vets, pet food companies and the FDA when they said if the food is not recalled then don't worry. I was wrong and I am so sorry. Please don't make the same mistake I did. Christy


[ Post a Reply to This Message ]
[ Edit | View ]

Nutro Natural Choice Small Bites Dog Food -- Board Owner, 11:29:56 05/28/07 Mon [2]

After receiving many emails from people that live in the United States and Canada regarding this particular dry dog food, we decided to share the following information with everyone...



(Nutro Natural Choice Small Bites Dog Food)


We have received many emails from people that fed their dog this particular food. Reportedly, the dogs either died or became extremely ill. People reported their dog had seizures, bloody stools, and vomiting.

If you purchased this food and your dog became ill, contact the FDA. fda.gov

We read on the Hub page message board today the following comment:

--------------------------
ccorinth says:
13 hours ago
I talked to the fda in denver. the gentleman i spoke to was very helpful. he happened to mention he had taken his dogs off the food also. we can't just let this go. nutro needs to take responsibility for the problems the lamb and rice have created for pet owners. their lack of action is totaly irresponsible. i sent food to be tested to them, but i have my doubts i will get any truthful info back from them. how do you find an independent lab to test?



[ Post a Reply to This Message ]
[ Edit | View ]

Replies:

[> (To the top) -- Board Owner, 11:29:56 05/28/07 Mon [1]

[ Post a Reply to This Message ]
[ Edit | View ]

Is ADM Feed Nutro's Supplier? -- question, 10:54:29 05/28/07 Mon [2]

[ Post a Reply to This Message ]
[ Edit | View ]

Replies:

[> Not sure. -- Board Owner, 10:54:29 05/28/07 Mon [1]

Contact them and find out. Let us know what you discover.
Archer Daniels Midland/ADM -> click here to search ADM links + reports



[ Post a Reply to This Message ]
[ Edit | View ]

NUTRO MAX DRY DOG FOOD -- KATHY P, 10:48:43 05/28/07 Mon [3]

I EMAILED YOU. PLEASE TELL ME IF YOU KNOW ANYTHING ABOUT THE NUTRO MAX DRY DOG FOOD CAUSING DEATHS IN DOGS. MY DOG DIED AND NOW IT MIGHT BE CAUSE MY DOG ATE THIS BRAND OF FOOD. NOW MY OTHER DOG IS ALSO SICK. PLEASE CONTACT ME AT THE ADDERSS I EMAILED TO YOU.


[ Post a Reply to This Message ]
[ Edit | View ]

Replies:

[> Re: NUTRO MAX DRY DOG FOOD -- Pam B, 08:07:28 05/28/07 Mon [1]

I have four yorkshire terriers who were on Nutro Choice Natural Lamb and Rice Small Bites. Both females have had numerous Urinary Tract Infections in the last year, all 4 have had crystals in their urine,struvite and calcium oxylate. They also ate grass and vomited it along with yellow bile. I got an e-mail on my yorkie group about dogs having the same symptoms (vomiting and UTI's) on the same food. We switched food but still have crystals in three of them, one is clear right now, the vomiting stopped. I know other things can cause these crystals and wondered if anyone else had this same experience. I did file a complaint with the FDA,& called the Nutro company who said there were no issues with this food. Hmmmmm.
Any info would be helpful.


[ Post a Reply to This Message ]
[ Edit | View ]

[> [> Hello, Pam -- Board Owner, 10:48:43 05/28/07 Mon [1]

The small bites dry dog food is the most popular food we hear about on this message board. It seems many people use this food and they are writing us about it, explaining their dogs symptons. It is our opinion to recommend not feeding this food. In our opinion, something isn't right. Save the food, keep it for your records. We shared information regarding this dog food earlier this month. We will bring it back to the top for you to read. We encourage everyone to contact the FDA. Our best advice is to contact your Federal Trade Commission or the Governor's Office of Consumer Affairs because the FDA isn't listening too well. Something needs to be done here.


[ Post a Reply to This Message ]
[ Edit | View ]

*Photo Depiction* -- Board Owner, 11:57:13 05/26/07 Sat [1]



Sharing Photos



We want to remind everyone this dog food has not been recalled. But what would you think if your dog was sick?
[ Post a Reply to This Message ]
[ Edit | View ]

Update On Our Greyhound Dog -- Board Owner, 10:05:32 05/25/07 Fri [1]

Thank you to everyone that has written to ask how our girlhound is doing. She's still not right. She hasn't throw up in a few days but she's still eating grass.

Yesterday, she acted like she was having an asthma attack. She was breathing strange. Then she just stopped. We don't know what that means. Her hair is still coming out.

Personally, I'm exhausted from cooking for her and cleaning up after her. I love her but she keeps having urinary accidents in the floor...our brand new floor that we put down maybe three months ago. I know she can't help it but it's exhausting chasing after her. She has these accidents in night and day. Puppy pads don't always help, neither does letting her outside 101 times.

We are taking her to another vet to be looked at. However, people are warning us that she's going to need at least $2,000 in treatments. We do not have the budget for that. We couldn't make that up if we wanted to. We have spent too much already to continue down that road.

We hope the antibiotics that she has + us cooking the holistic food will help her on the road to recovery. We pray for her and the other pets struggling in this situation. We still can't believe this happened. Why our pet food? We trusted Nutro. Did I mention I was tired?

Best to all of you.

[ Post a Reply to This Message ]
[ Edit | View ]

Nutro Mars you can toot your own horn all you want -- Loving pet owner, 10:29:18 05/24/07 Thu [1]

Nutro Mars you can toot your own horn all you want on your website, but we pet owners that know our dogs are sick, and some have gone to Rainbow Bridge, from eating your brand of dog food, and we know better than to believe anything you say or write. You lied & denied to many times.

[ Post a Reply to This Message ]
[ Edit | View ]

This Is Our Concern For The Nutro Dry Dog Food -- Board Owner, 08:16:57 05/24/07 Thu [3]

BREAKING NEWS: Dry Dog Food (Nutra Nuggets) Not On Recall List Test Positive For Melamine

A central California vet is reporting that tests on a bag of Nutra Nuggets-brand dog food purchased from Costco tested positive for melamine. Nutra Nuggets is not on any current recall list. We are working on getting more specifics from the vet.

Nutra Nuggets is a brand of Premium Edge Pet Foods and is made by Diamond Pet Foods. A month ago, Diamond claimed that they did not use rice protein concentrate in their own foods. Dozens of brands have been recalled due to cross-contamination of pet food ingredients.

Veterinarian Dr. Matt Humason says "We began asking questions…we found the dogs all ate the same food from the same store at the same time… so we sent a sample to get it tested and it came back positive with melamine."

All four dogs ate Nutra Nuggets brand food.

A sample was sent to a lab at UC Davis and [the pet owner's] fears were confirmed. "All I'm trying to get people to do is notify the people and let them know we may have problem. Unfortunately I feel Costco has been very hesitant to do that."

They're working with the distributor to track down the specific batch number. A Costco representative tells KSEE 24 news once it's been tracked, they will immediately yank the product in question.

Click here to read full article
[ Post a Reply to This Message ]
[ Edit | View ]

Replies:

[> Point of the message = keeping them honest. -- Board Owner, 10:47:05 05/23/07 Wed [1]

The point of this article is DRY FOOD was tainted. Dry food that was not originally on the recall list...kinda like our argument concerning Nutro. This food mentioned in the article does not belong to Nutro (that isn't the point.) People complained about this dry dog food and the company did nothing until the test came back from an independent lab confirming the pet owners worst fears. Bottom line: people have better things to do than fight with their pet food company. Generally people will only voice their opinion and spend time on something they feel passionate about.

[ Post a Reply to This Message ]
[ Edit | View ]

[> [> Update** -- Board Owner, 08:16:57 05/24/07 Thu [1]

The FDA announced the recall of this Nutra - Diamond Pet Foods Product this morning. Bravo. Now, if only they would look into the DRY NUTRO NATURAL CHOICE DOG FOOD.

[ Post a Reply to This Message ]
[ Edit | View ]

Hair Falling Out [and Nutro Recall signs at Petco] -- Board Owner, 20:12:35 05/22/07 Tue [1]




The signs from Petco.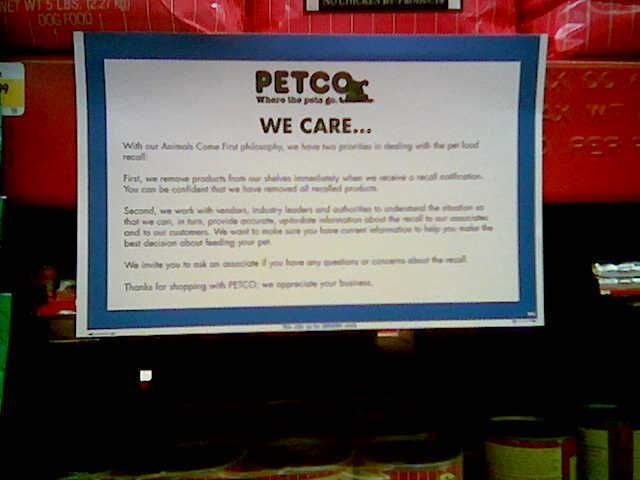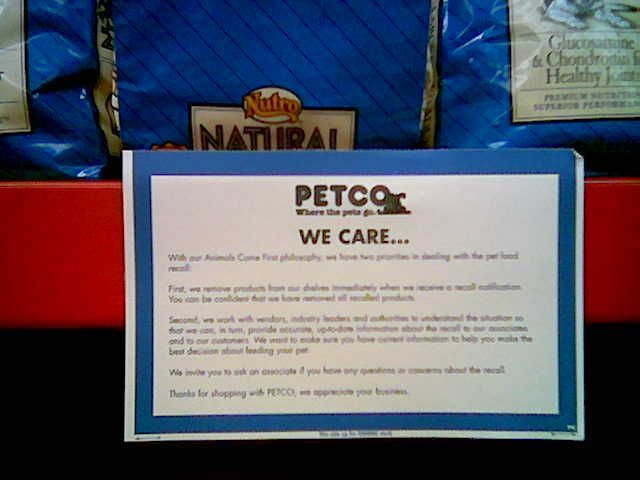 Our greyhound dogs hair that comes out in handfuls...all over the house and the backyard. Not normal for her.


[ Post a Reply to This Message ]
[ Edit | View ]

Whats Really In Nutro, Nutro Max, Natural Choice Pet Food Products -- Board Owner, 16:45:46 05/22/07 Tue [2]

PRESS RELEASE
FOR IMMEDIATE RELEASE

CONTACT: Russell Keith
Monday, May 14, 2007 (305) 358-6555

Nationwide Class Action Lawsuit Filed Against Pet Food Companies and Retailers For Misleading Consumers Regarding the Contents of Pet Food

"Premium" Pet Food Marketed and Sold as "Complete and Balanced" Has Historically Contained Such Items as Euthanized Dogs and Cats, Restaurant Grease, Hair, Hooves, and Diseased Animals, and Other Inedible Garbage
[MIAMI, FLORIDA] A cat and dog owner from Michigan and two cat and dog owners from Florida have filed a nationwide class action against food industry giants Mars, Inc., Proctor and Gamble Co., Colgate Palmolive Company, Del Monte Foods, Co., and Nestle U.S.A. Inc. These manufacturers have a combined approximate 70% of the market share in the $16 billion dollar a year pet food industry. The suit also names as Defendants Nutro Products, Inc., Menu Foods, Wal-Mart Stores, Inc. Target Corp., Publix Supermarkets, Inc., Winn Dixie Stores, Inc., as manufacturers and marketers of their own brand pet food and retailers PETCO Animal Supplies, Inc., Pet Supermarket, Inc., and Petsmart Inc.

The Plaintiffs maintain that these companies have spent $300 million a year in making false and misleading marketing statements regarding the contents of their pet food to the dog and cat loving American public. While these Defendants tout their pet food products as choice cuts of prime beef, chunks of chicken, fish, fresh wholesome vegetables and whole grains to induce consumers to buy them, the Plaintiffs contend the food is actually made from "inedible" slaughterhouse waste products of the human food chain such as spines, heads, tails, hooves, hair, and blood. Rendering companies who process this waste have also added other inedible "waste" such as euthanized cats and dogs from veterinarian offices and animal shelters, road kill, zoo animals, rancid restaurant grease, toxic chemicals and additives. Additionally, dead animals and those declared unfit for human consumption due to disease and illness are also placed in the mix.

The lawsuit was filed in United States District Court for the Southern District of Florida by attorney Catherine J. MacIvor of the 23 attorney Miami litigation law firm of Maltzman Foreman, PA. The case is pending before the Honorable Cecilia Altonaga. Class Counsel, Catherine J. MacIvor says that "The melamine debacle is not the only serious problem with pet food. The number and frequency of lethal pet food recalls in the last few years clearly shows the seriousness and extent of this problem."

The lawsuit alleges that pet food companies market their products as wholesome, choice cuts of meat, natural and complete and balanced diets even though they are fully aware that this food is largely carbohydrates and sugars combined with toxic preservatives and additives with very little to no meat at all. The lawsuit seeks damages to consumers for the false representations made in the Defendants' advertising as well as punitive damages.

"Sadly," MacIvor said, "the Defendant pet food companies and retailers recognized that American pet owners love their cats and dogs like members of their family. The Defendants deceptive advertising specifically marketed premium healthy food to the American public knowing that they want to buy the best food that they can for their loved one and knowing that the food consists largely of garbage, chemicals, additives, diseased meat and even residual pentobarbital from euthanized animals."

The 58 page lawsuit outlines in grotesque detail the actual manner in which most commercial pet food in the United States is made. The lawsuit also attaches and cites numerous news stories and research articles outlining the real content of the Defendant's pet foods and the misleading and deceptive advertising undertaken by the Defendants.

The Defendants targeted in the Complaint produce pet foods under a wide array of brands and names including: Pedigree®, Sheba®, Goodlife Recipe®, Royal Canine, Iams®, Eukanuba®, Science Diet®, Prescription Diet®, 9 Lives®, Amore®, Gravy Train®, Kibbles-n-Bits® and Nature's Recipe®, Snausages®, Milk Bone®, Pup-Peroni®, Meaty Bone®, Canine's Carry Outs®, Jerky Treats®, Wagwells®, Alpo®, Beneful®, Beggin' Strips®, Dog, Cat, Puppy and Kitten Chow®, Fancy Feast®, Friskies®, Mighty Dog®, Deli-Cat®, Pro Plan®, Purina One®, Natural Choice® Dog and Cat Products, Max® Dog Products, Max® Cat Gourmet Classics, Natural Choice® Complete Care® for cats, UltraTM Products for dogs, Americas Choice Preferred Pets, Authority, Award, Best Choice, Big Bet, Big Red, Cadillac, Companion, Compliments, Demoulus Market Basket, Eukanuba, Fine Feline Cat, Food Lion, Food Town, Giant Companion, Hannaford, Hill Country Fare, Hy-Vee, Iams, J.E. Mondou, Laura Lynn, Li'l Red, Loving Meals, Medi-Cal, Meijer's Main Choice, Mighty Dog Pouch, Mixables, Natural Life, Nutriplan, Nutro Max, Nutro Max Gourmet Classics, Nutro Natural Choice, Ol' Roy, Paws, Pet Essentials, Pet Pride, President's Choice, Price Chopper, Priority US, Publix, Roche Brothers, Save-a-Lot Special Blend, Schnucks, Science Diet Feline Savory Cuts Cans, Sophistacat, Special Kitty, Springfield Prize, Sprout, Stop and Shop Companion, Tops Companion, Wegmans, Weis Total Pet, Western family US, White Rose, Winn Dixie, Your Pet, LIFELongTM, Ol' Roy and Special Kitty brands of pet food.

The lawsuit alleges, among other claims, that the pet food companies have fraudulently and/or negligently misrepresented and concealed what is actually in their pet foods, violated Deceptive and Unfair Trade Practices, and Failed to Warn the public of the health risks to animals associated with a diet consisting of their commercial pet foods. Through the lawsuit, the Plaintiff's hope to recover financial damages for all pet owners who have been similarly deceived. "Ultimately we are hopeful that our lawsuit will force the Defendants to more accurately describe what is in their pet foods and to offer more healthful pet food options that provide pets with food quality similar to that provided in human food products."
A copy of the Complaint and supporting research materials is available at www.mflegal. com/petfoodlawsu it.

For more information about Maltzman Foreman PA please visit http://www.mflegal.com/

[ Post a Reply to This Message ]
[ Edit | View ]

Replies:

[> Shame On Nutro & Mars Company for killing our pets! -- Bill Davis, 16:45:46 05/22/07 Tue [1]

[ Post a Reply to This Message ]
[ Edit | View ]

Interesting Blog -- Board Owner, 11:53:13 05/22/07 Tue [1]

Interesting blog about why another pet owner refuses to feed Nutro Products - Click Here To Read




[ Post a Reply to This Message ]
[ Edit | View ]

Nutro Natural Choice Dog Food & Our Dog's Illness -- Board Owner, 10:45:51 05/22/07 Tue [1]

We will post a photo depiction this evening of our dog's hair loss. Generally, greyhound dogs shed very little.

If you have photos that you wish to share, feel free to post them to the message board or email the links to us.

[ Post a Reply to This Message ]
[ Edit | View ]

Something Helpful -- Board Owner, 13:35:18 05/19/07 Sat [1]

To everyone that has a pet that is sick:

We have received more than four emails regarding a helpful tip that might help your pet to recover, faster.

[Tap water, as well as the bottled spring water could be very high in phosphates. This is not good for kidney disease. People should try bottled, purified water.]

It's worth a try if it can help your pet to a speedy recovery. Thanks to everyone for their emails and helpful tips.

[ Post a Reply to This Message ]
[ Edit | View ]

We don't think you should purchase Nutro or Natural Choice Products -- Board Owner, 20:36:33 05/18/07 Fri

we voice our opinion on the nutro and natural choice aisles. potential customers we speak with do not end up buying the natural choice or nutro products. no, they dont want to take the chance with their pet, so they walk around to the other brands. we tell them the story of how sick our dog is and they just cant understand why nutro would not be willing to understand that something might be wrong with the dry food.

in the past, people had told us how wonderful nutro/natural choice was. we dont find their customer service to be wonderful, nor their food. we not only learned things about the company (in our opinion) we wish we did not know, but we are mad at ourselves for feeding the product to our dog.

our dog had a bad day today. she lost more hair. she urinated in the house twice (and felt so terrible about it.) she asked to go outside too frequently. sometimes, when she went to urinate, nothing came out. she was restless and she started this thing where she thinks she needs to throw up, so she heaves but nothing comes up.

we feel helpless. the nutro company wont help. her vet bills will grow to be SO EXPENSIVE...over something we never expected--a pet food scare from a company that may have/had poison in their dry pet food. but they won't entertain what we tell them. we are forced to fight the best way we can for our dog, while chasing the fda and anyone else that will listen.

[ Post a Reply to This Message ]
[ Edit | View ]

Products owned by the Mars Company -- Board Owner, 19:34:10 05/16/07 Wed [2]



Products Owned By the Mars Company



It is my opinion that you may want to consider boycotting these products. IMO, it's not right for Mars to purchase Nutro in the middle of the pet food controversy, denying any wrong doing and not assuming any responsibility concerning the dry food products. IMO, not very consumer friendly. BTW, NEVER received a call from corporate.

Snacks: M&M'S, MARS, MILKY WAY, SNICKERS and TWIX

Petcare: PEDIGREE, CESAR, WHISKAS, SHEBA, KITEKAT, TRILL, AQUARIAN and WINERGY

Meal Food: UNCLE BEN'S sauces and curries, DOLMIO fresh and chilled pasta, sauces and frozen pasta dishes and SUZI-WAN complete oriental dishes, soups, sauces and vegetables.

Drinks: The KLIX vending system in many countries in Europe and Asia. KLIX has since been joined by the innovative FLAVIA system, which vends fresh ground coffee, freshly made leaf tea and hot chocolate.

[ Post a Reply to This Message ]
[ Edit | View ]

Replies:

[> Thank you for caring & keeping everyone updated. This is world wide disgrace Mars should be ashamed -- Mia, 19:34:10 05/16/07 Wed [1]

[ Post a Reply to This Message ]
[ Edit | View ]

snoopy's mom -- s. white, 12:31:58 05/14/07 Mon [1]

last night i added up my vet bills from snoopy being sick and my husband almost fainted. it is at this point that i stop to look back and question why did i not think it was the food at the time and instead of still feeding it to snoopy i should have thrown it out. snoopy is still on iv at the vet. i worry that someone out there has a bag of this dog food that is back from dec or maybe even january, february, or march and their animal might not have got around to eating all of it yet cause they bought the biggest bag to save money. now think they are going to go home and continue feeding their beloved friend this food and the dog might get sick and die because they did not read the brand on the recall list. they are going to keep feeding that food because they bought the biggest bag and the bag was expensive and they dont want to be wasteful. they wouldnt have known not to feed this food. im willing to guess most people dont know about these boards. i almost didnt find them. they are going to spend thousands just like i did to try and save their companion while wondering while they are laying there miserable if this is the right thing to do.

[ Post a Reply to This Message ]
[ Edit | View ]

*Information* -- Board Owner, 11:57:01 05/14/07 Mon [1]

Get this....the FDA POSTS A RECALL FOR DRY DOG FOOD...

FOR IMMEDIATE RELEASE -- St. Charles, Missouri -- May 11, 2007 -- Royal Canin USA is announcing today the voluntary nationwide recall of eight Sensible Choice dry dog food products and seven Kasco dry dog and cat food products.

You can read the full story on the fda.gov website.

Why, why, why can't the Nutro Company look into their own dry food?!

--------------------------------------------------

I said a prayer for everyone's pets that are sick...including mine.

[ Post a Reply to This Message ]
[ Edit | View ]

Nutro Natural Balance Sensitive Stomach Treats -- Shelley, 19:41:16 05/09/07 Wed [2]

I was wondering if the Natural Choice Sensitive Stomach treats have been recalled. I haven't heard anything recarding the treats we give our dogs. Is this still safe to feed my dog who has a sensitive stomach??
Thanks for your help.
Shelley

[ Post a Reply to This Message ]
[ Edit | View ]

Replies:

[> i wouldnt feed my dog any nutro products -- no way, 19:41:16 05/09/07 Wed [1]

the biscuits havent been recalled
but melamine supposedly wasnt found in the newly recalled nutro natural choice cat food either but they recalled it "anyway" as a "precaution." there could be more recalls of products made by this company. i wouldnt use any products made by the nutro company even if they were free. i doubt they will ever come totally clean with how much food or treats were really affected.

[ Post a Reply to This Message ]
[ Edit | View ]

To those that have written us... -- Board Owner, 15:31:19 05/08/07 Tue [2]

Everyone:

We are reading your letters. Thank you for writing to us. We are saving each and every letter. We care about you. We are sorry for all of your losses. We understand what you are going through. Our dog is very sick, my best friends dog is very sick. Another one of my close friends has lost his dog.

We are responding to everyone today. If you do not receive a response tonight, something is wrong with your email service. Keep the letters coming.

To the Nutro Company, our pets are like children to us. This is not about money, this is about your company being accountable for what is happening to our pets. We care for our pets deeply.

If you cared anything about your customers and their pets, you would have the decency to at least return their phone calls and follow up with them. You are a huge company. If you cannot handle the call volume, that is troubling. Hire more people to be on your staff.

[ Post a Reply to This Message ]
[ Edit | View ]

Replies:

[> . -- :-), 15:31:19 05/08/07 Tue [1]

[ Post a Reply to This Message ]
[ Edit | View ]

Upon calling the Nutro Company - 05.08.07 -- Board Owner, 15:29:50 05/08/07 Tue [1]

Upon phoning the Nutro company today, we were informed that the phone numbers Nutro provided are outsourced by an independent call center, hired by Nutro to screen all the calls. No representatives from Nutro, nor C.E.O.s, nor owners, are directly accepting calls from consumers. They have taken the high road.

This information was provided by a woman by the name of Cathy, an hourly worker who does not work for Nutro. Kristy, another phone representative that does not work for Nutro also provided this information. The only call center supervisor was Vicki. She was NOT available. Cathy stated she did not know supervisor Vicki's last name. How do you work with someone and not know their last name?

We are beginning to wonder if any actual Nutro employees exist?

BTW - We phoned Nutro today to tell them that many pets are still sick and dying after eating the dry dog food. Again, we were told the food is safe. They say all tests on the dry dog food products came back clean. We do not believe them. They asked us AGAIN to send in more samples of the dry dog food. If they are so confident the food was not tainted, why would they need more samples?

---------------------------
*As precaution, do NOT feed your dog Nutro dry dog food. Please realize that since the recall of some Nutro products, the company has BEEN SOLD! The company is more evasive than ever before.

[ Post a Reply to This Message ]
[ Edit | View ]

NEWS STORY -- NEWS, 13:52:13 05/08/07 Tue [3]

Beloved friend or simply property?Chasing justice in pet-food lawsuits

By Emilie Lounsberry
Inquirer Staff Writer

GERALD S. WILLIAMS / Inquirer Staff Photographer
Goliath's owner vs. pet-food Goliath: Michelle Nocito says, "You can't put a value on what he meant."


As Goliath lay dying, Michelle Nocito told him she was sorry. Twice a day, she had fed the 9-year-old Italian mastiff a heaping bowl of Nutro Max chow. One hundred twenty pounds of hearty appetite, he always wolfed it down. Only after his kidneys failed did she learn that the brand was among dozens suspected of chemical contamination. By then, it was too late. On March 27, she had to have him put down.

To the grieving, guilt-ridden Nocito, both she and Goliath had become victims in the largest pet-food recall in history. Today, the Voorhees woman also is a plaintiff in what is quickly building into the largest wave of animal litigation ever to sweep into the American court system - one sure to pit ancient legal notions of an animal's practical worth against the emotional value of the new "fur kids" like Goliath.

Attorneys for hundreds of pet owners nationwide already have taken aim at some of the companies that have recalled more than 120 varieties of dog and cat food since March 16. By far, the target of choice is Menu Foods Inc., the Canada-based manufacturer of about 100 of the tainted product lines.

As of Friday, at least 50 class-action lawsuits had been filed in federal courts; most are in New Jersey, where Menu has a Pennsauken plant. State courts are likely to be hit, too. For while the Food and Drug Administration has confirmed only 16 deaths, informal tallies by veterinary groups and pet Web sites put fatalities above 3,000, with possibly 10,000 more sickened after eating batches made with melamine-tainted wheat gluten from China.

Only days ago, panic struck again with the recall of rice protein, also from China, shipped to U.S. pet-food makers. The importer said it, too, might contain melamine, used in fertilizers and plastics.

"It's just getting bigger and bigger," said Casey Srogoncik, a Northeast Philadelphia lawyer who is gathering up clients.

The owners' lawsuits seek compensation for costs ranging from burials to ongoing care of survivors. State Rep. Mark Cohen and his wife, Mona, of Northeast Philadelphia, nearly lost their Yorkie bichon, Cookie. They've joined a federal class-action lawsuit that, while typically not stating a specific dollar amount, asks for such relief as a fund for medical monitoring and treatment of lingering health problems.

How about a kidney transplant for Baby? Debra Waldauer, of Fort Walton Beach, Fla., has signed on to one of the class actions in hopes of getting Menu Foods to pick up the tab - usually about $5,000 - for her black cat's surgery.

But the big-ticket question is not who will pay the vet bills, legal experts say. It's whether owners will be entitled to damages for emotional distress.

Historically, courts have viewed animals as property, with bottom-line market value.

"Few judges have allowed owners - or guardians, as we call them - to recover for the [emotional] value of the dog or cat to that person," said Joyce Tischler, founding director of the nonprofit Animal Legal Defense Fund, an advocacy group based in California.

If judges are of a mind to plow new legal ground, "then there is money to be made in those lawsuits," she said. If not, "then you'll see [them] settle out very fast."

A Menu Foods spokeswoman told The Inquirer last week that the company had no comment on the suits. Nor did Del Monte Pet Products, named in one federal class action. A Nestle Purina spokesman said he knew of a few pet-food lawsuits against the company, but also declined to comment.

Plaintiffs' lawyers have not been nearly so reticent.

Some have built reputations as champions of animal rights, and see the litigation as an opportunity to advance their crusade. They include the likes of Adam P. Karp, professor of animal law at the University of Seattle and the University of Washington and vice chairman of the American Bar Association's animal-law committee. He has filed a suit on behalf of a couple whose dog, Shasta, died after eating chow made with the suspect wheat gluten from China.

A deluge of cases, Karp said, "will force courts everywhere, simultaneously, to really wrestle with these core questions" of animals' value as companions.

The recall also has drawn lawyers who specialize in class-action and mass-tort cases involving injury to complainants of the two-legged variety, such as the gargantuan litigation over the diet drug fen-phen and the pain reliever Vioxx.

For the Menu Foods filings, they are pulling in plaintiffs through Internet ads.

William Audet, a San Francisco lawyer who already has filed three federal suits on behalf of hundreds of owners, has a memorial page on his law firm's site. There, clients can post photos and eulogize departed pets. As of Friday, it held homages to ChaChee, Taco Bell, Jesse James, and 85 others.

Margie Hilgreen of Northeast Philadelphia lost her toy fox terrier, Sarah Lee, last month.

"[Pets] become your children," she said. "You can talk to them all the time, and they don't sass you back. They listen to all your problems."

Hilgreen said she wanted Menu held accountable not only for the death of "my baby" but also for any delay in notifying the public that something might have been wrong with the food.

Speculation about a time gap has heightened since the recent disclosure that Menu's chief financial officer, Mark Wiens, sold nearly half his shares in the company three weeks before the first recall announcement. The stock, which brought almost $90,000 then, would be worth about $53,000 now.

A Menu spokesman denied a connection, telling the Associated Press that the CFO "feels just awful that this link has been made."

Nonetheless, the question of "what they knew and when they knew it" could help propel the pet owners' lawsuits, said Carl Tobias, a University of Richmond law professor and mass-tort expert.

It will still be a tough road, he added. Legal fees can quickly drain the resources of plaintiffs who go it alone. In the economy-size class actions, lawyers generally take their cut from any monetary award. But those cases cannot even get into court unless the lawyers show that their many clients share "common issues," directly linking the pets' illnesses to the recalled brands.

Because individual animals might have eaten other foods, suffered other diseases, and been affected by a myriad of other factors such as old age, "I think it's going to be fairly difficult to prove," Tobias said.

If the owners get over that hurdle, larger ones loom - with the possibility, at least one expert cautions, of a double-edged dog bone at the end.

Western judicial views on animals' worth are rooted - some would say mired - in antiquity.

Plato, a vegetarian, argued that animals should be treated with respect. But Greece's philosophical rank and file asserted they had been created to benefit humans and were property.

That concept has stuck for millennia, even as animals have migrated from the barnyard to the backyard to the master bedroom. An estimated 60 million to 70 million U.S. households have cats or dogs or both, but "the legal system has really lagged behind how people feel," said Jonathan Lovvorn, vice president of animal-protection litigation for the Humane Society of the United States, in Washington.

Animals in Europe have fared somewhat better recently than their American cohorts. In 2002, Germany included animal rights in its constitution. In 2005, France enhanced their status in its civil code by making them "protected property."

But even in the United States, a movement within the legal profession to win them rights and protections has picked up such steam, Lovvorn said, that it is the "hot public-interest ticket."

The Humane Society can call on a stable of at least 500 lawyers to litigate a burgeoning caseload, often involving mistreatment of farm animals. Many, Lovvorn added, work pro bono.

Law schools now routinely teach animal law; at least a handful have animal-law litigation centers. The Animal Legal Defense Fund has student chapters at the law schools of the University of Pennsylvania and Pennsylvania State, Temple, Rutgers, Villanova and Widener Universities. Last month, Harvard University hosted a sold-out conference on the "Future of Animal Law."

As more counselors take up the cudgels, some courts have opened the door to the edgy issues of emotional distress. And they've allowed animals to be cast as higher-value property - in much the same way that an heirloom broach is worth far more to its owner than the $10 of tin with which it was made, said Gary Francione, a Rutgers University professor who specializes in animal law.

A California jury awarded $30,000 in "special value" damages for a dog that died in a veterinarian's care; the dog's fair-market value was $10.

In Oregon, a jury awarded $5,000 in damages for emotional distress to the owner of Max, a cat set afire by a local youth. The state Court of Appeals last year not only upheld the award but set a new legal principle: "malicious injury to a pet" can be factored into damages for emotional distress.

"I don't believe courts are blind to the emotional attachment that people have" for pets, said Alan Calnan, a law professor at Southwestern Law School in Los Angeles.

But at the same time, he said, many judges are "very fearful" of setting off an inevitable stampede of claims.

The pet-food recall appears to be doing it for them.

Calnan also cautioned that more courtroom clout for animals could mean problems for humans: higher malpractice insurance rates for veterinarians, rising medical costs, even legal complications for owners who want to euthanize their pets.

"There's all kinds of consequences," Calnan said.

Michelle Nocito also is thinking about consequences - for Menu Foods.

She had started feeding pouches of Nutro Max to Goliath around Thanksgiving. Her other dog, Cohiba, an American bulldog with a sensitive stomach, ate a different kind.

Goliath had two seizures soon after, she said, but only in mid-January when he started to lose bladder control did she realize something was terribly wrong. His thirst was unslakable and his lethargy so profound that he slept 16 hours a day.

When news of the recall broke, she checked the list. His food was on it.

"The guilt eats at me every day," said Nocito, 30, a financial adviser who is five months pregnant with her first child. "At night when I come home and Goliath is not here, it is rough. My house seems empty."

If she receives any monetary award from the class-action suit she has joined in New Jersey state court, it will go to the shelter where she adopted Goliath, Nocito said.

But "it's not about the money. It's more about [Menu] being accountable," she said. "You can't put a value on what he meant."


To see the complete list of recalled pet foods,go to http://go.philly.com/pets

[ Post a Reply to This Message ]
[ Edit | View ]

Replies:

[> Re: NEWS STORY -- Angelique, 09:11:19 05/08/07 Tue [1]

Please contact me at zeusleo@yahoo.com if you have had a loss like mine described below.

My dog (only 4 years old) died (Monday, April 30th) within 4 days of me buying a new bag of Nutro Max Dry Dog Food. It was purchased on 4/25 (started feeing him on the 26th from this new bag). It was purchased from Pet Supermarket located at 927 N. Federa This is not on the list of recalled foods but this was the only major change in his diet and he was never out of my sight. He was fine on Sunday until 2 am when he started having diarreha, vomiting, lethargy, bloody diarreha and by the time I took him to the hospital at 1pm the next day he was in shock. His system shut down and he died at around 430pm. The company refuses to acknowledge there is a problem, but if you just to a search on the internet you will find many, many people saying the exact same thing happened to them. This food needs to be recalled now. I am hoping you can help because no one should have to go thru what I and Makito went through.

[ Post a Reply to This Message ]
[ Edit | View ]

[> [> Your dog -- Board Owner, 13:52:13 05/08/07 Tue [1]

Angelique, we are sorry for your loss. We agree that something is not right. Too many people are reporting their dog as having the same exact problems from eating the dry dog food. Please save the dog food and the bag (if you still have it.) File a complaint with the FDA. This is the link to contact them: Click here. The FDA will walk you through the steps needed to file the complaint. Thank you for sharing your story.

[ Post a Reply to This Message ]
[ Edit | View ]

Updated List of Recalled Pet Foods As Of - 05.03.07 -- Board Owner, 08:50:44 05/03/07 Thu [1]

View May, 3, 2007 updated recalls

[ Post a Reply to This Message ]
[ Edit | View ]

New about the Nutro Company -- Board Owner, 08:41:56 05/03/07 Thu [1]

05.03.07

News about Nutro:

Mars, Incorporated today announced the signing of a definitive agreement to acquire the global pet food operations of Nutro Products Inc., a leading manufacturer of high nutrition, high performance dog and cat foods sold in pet specialty and farm and feed stores. Closing of the purchase of Nutro from funds advised by Bain Capital Partners LLC, a global private investment firm, is subject to normal regulatory approvals which are expected to be completed within a few months. Terms of the deal were not disclosed.

The transaction will bring together two of the most recognized names in the petcare industry. Nutro will operate as a stand-alone organization within the Mars family of companies and will maintain its commitment to the pet specialty channel.

[ Post a Reply to This Message ]
[ Edit | View ]

For the latest recalled pet foods, visit the link below -- 4.30.07 - Update, 15:11:09 04/30/07 Mon [1]

http://www.accessdata.fda.gov/scripts/petfoodrecall/

[ Post a Reply to This Message ]
[ Edit | View ]

Hello -- Board Owner, 20:57:13 04/28/07 Sat [1]

I have received an overwhelming number of replies to this message board. I am working to reply to everyone. Thank you for your interest. Please do not think I have forgotten about you.

[ Post a Reply to This Message ]
[ Edit | View ]

Sick Dog -- Debbie Rich, 10:39:31 04/24/07 Tue [1]

I started feeding my small dog chicken and rice Natural choice dog food thinking I was finding something more heathy. She seemed like it bothered her alittle with vomiting and runny stool so we changed it to the sensitive stomach kind. Her vomiting continued a few times a week, and gassy stomach has gotten worse and now the vomiting has increased to once a day. Not seeing a recall on that brand at first I thought it had to be heathy. Now I think your dry food has a problem. She likes the food and when I change to it she wasn't liking the kind she was eating.
I fear she is getting more ill and I have a Lg. bag of this but I think I will stop feeding her this dog food now, and have her see a vet for the problems before I lose her to this.

[ Post a Reply to This Message ]
[ Edit | View ]

Natural Choice High Energy Dog Food & Natural Choice Adult Lamb Meal & Rice -- Jen, 10:41:53 04/21/07 Sat [1]

my greyhound has been eating nutro natural choice high energy dog food and nutro natural choice lamb & rice dog food for five years. she is ALWAYS well behaved and has NEVER soiled in the house.

she is now acting sick. she is crying all the time, asking to go out frequently, she's urinating in the house. she paces, she acts uncomfortable. shes drinking TONS and TONS of water. she begs to go outside and eat grass. she then throws the grass up. i called nutro natural choice company as soon as the recalls of the wet food were issued. they assured me that the dry food was safe to feed. i continued.

this week, i called nutro natural choice on april 18th and they told me to continue feeding the dry dog food. they again said it was safe. they also said their dog biscuits were safe. i fed my greyhound the dog biscuits too. today, april 20th, i called nutro natural choice and spoke to connie. she said the dry dog food would not be recalled.

i dont know what to think. im SO worried. my gut feeling tells me something is terribly wrong with the dry food but the company claims the food is okay. i have now stopped feeding my greyhound any nutro natural choice products.

---------------------------------------

i realize they have not recalled the DRY nutro food yet. i called them myself. my concern is IF it will eventually be recalled...

i'm reading and learning that some dogs that ate the DRY dog food are showing signs of having the same problems as the ones that ate the WET dog food. this is including my own dog. she is not well. she only eats the dry food. my concern is for the possibility that the dry food is making animals sick. if it is being tested, that takes time. in the meantime, the animals are still eating it. this means there could be more dogs to fall ill. i hope that is not the case but i am very worried. reading online, i see that at least two dry cat foods were recalled. this means more dry foods MIGHT be recalled soon. its always a possibility.

as of last week, my dogs are no longer eating any nutro products.

[ Post a Reply to This Message ]
[ Edit | View ]


Thank you for visiting this forum.
[ Contact Forum Admin ]
---
Forum timezone: GMT-8
VF Version: 3.00b, ConfDB:
Before posting please read our privacy policy.
VoyForums(tm) is a Free Service from Voyager Info-Systems.
Copyright &copy 1998-2019 Voyager Info-Systems. All Rights Reserved.