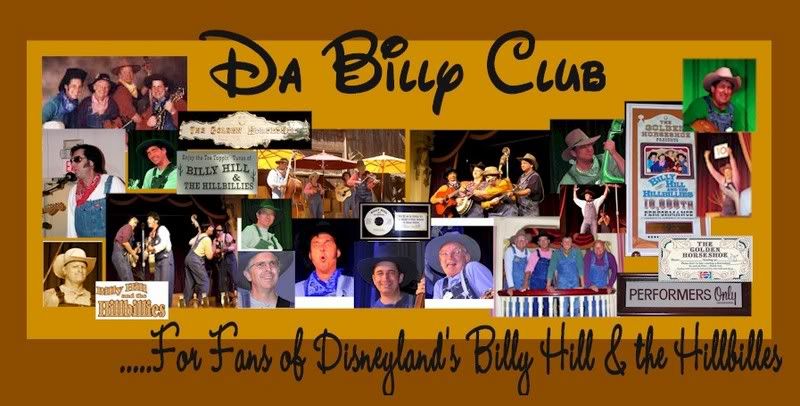 Fans of Billy and the Hillbillies meet here in between Hillbilly and other related bands' shows to discuss their plans, the shows, and their various Hillbilly/Big Shots/Miner 49ers/Swingtown... web sites (humm, with so many Dave Eastly bands perhaps this should be "Da Dave Club"). Some of the related web sites are:
KAT's hopelessly out of date DaBillyClub.com Founding site of Da Billy Club and board host;
Jan's Extremely Unofficial Billy Hill and the Hillbillies The best, most comprehensive Hillbilly fan site,
including A History of The Golden Horseshoe;
Dennis'(DA's) humorous Area 51, updated weekly;
Amber's Billy Hill & the Hillbillies, with puzzles and Hillbilly email cards;
The Hillbillies NEW official site;
Billy-in-Training, Scott Gates who started mandolin lessons with Hillbilly Evan at age 7 and first performed with the Hillbillies at age 12; Solomandolin.com, Evan Marshall's new site;
Scarlett's Hillbilly & Big Shots sites;
Penny Watson's Big Shots page; WallFans.org the official Kirk Wall Fan Club; SwingtownInfo.com, Swing Town's offical site,
The Billys Official Webpage at The Billys The Billys Official MySpace Page at The Billys Myspace and Grateful-Dudes.net, the official Grateful Dudes site.
This is a Message board dedicated to friends and fans of Billy Hill & the Hillbillies and it's various sub groups and Disneyland in general. Please keep your posts about these general areas. You MUST sign your post! If you're not brave enough to sign your REAL name to your thought, please don't post it. Da Billy Club likes to keep things POSITIVE.